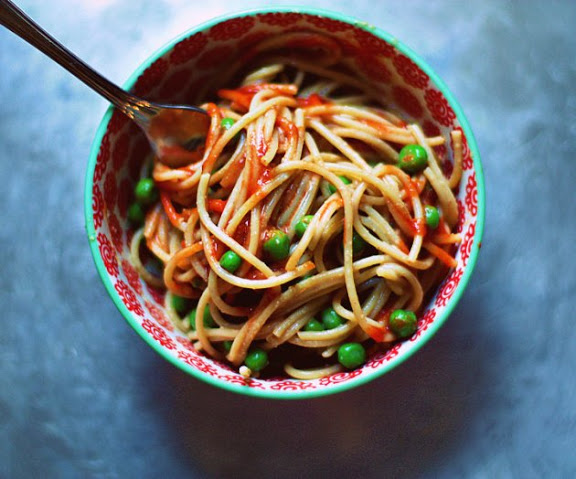 If there are three things my family loves to eat the most, its pasta, peas, & peanut butter (not necessarily in that order). Every trip to the grocery store always include whole wheat pasta, frozen peas, and natural peanut butter. So when I created this dish they were so excited!
In coordination with this dish, I am very excited to announce my partnership with the National Frozen and Refrigerated Foods Association & Easyhomemeals.com. As a working mother of two active toddlers I am always looking for ways to squeeze in the nutrients in a quick and convenient meal.
Not only is the whole wheat pasta high in fiber, and the peanut butter loaded with healthy fats, frozen peas are better able to retain their color, texture, and flavor than canned peas. Green peas are loaded with antioxidants and anti-inflammatory nutrients, and these health-supportive nutrients are provided in a wide range of nutrient categories. Antioxidant vitamins provided by green peas include vitamin C and vitamin E, and a good amount of the antioxidant mineral zinc is also found in this amazing food.
To make this dish you want to start by boiling water for the spaghetti. While the water is heating, make the peanut butter sauce.
To make the sauce you want to combine 1/2 cup all natural smooth peanut butter, 1/3 cup soy sauce, 2 tablespoons apple cider vinegar, 1 tablespoon sugar, & 1/3 cup water or more depending on how thick you want the sauce. Whisk together until smooth and store in the refrigerator.
Next, take 1/2 a box of spaghetti and boil according to directions on the box.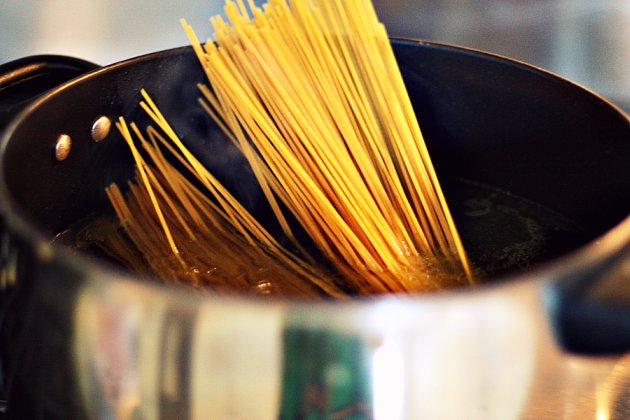 While the pasta is cooking, take 2 cups of frozen peas and run cold water over them until thawed. This step should only take a few minutes.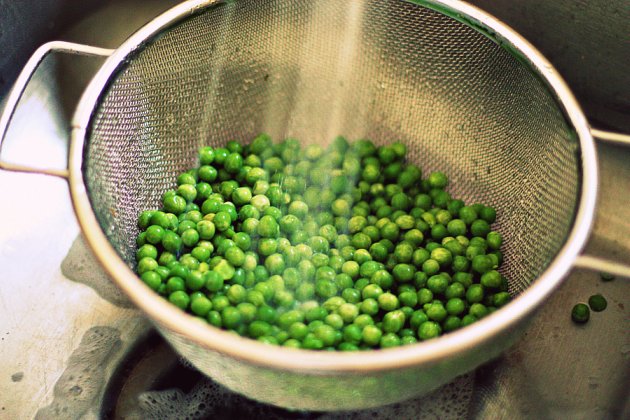 Once your pasta is cooked, drain it in a strainer (like the one above) and run cold water over the noodles until the pasta is nice and cold.
The final step is to combine your noodles with you peas and mix in the peanut sauce.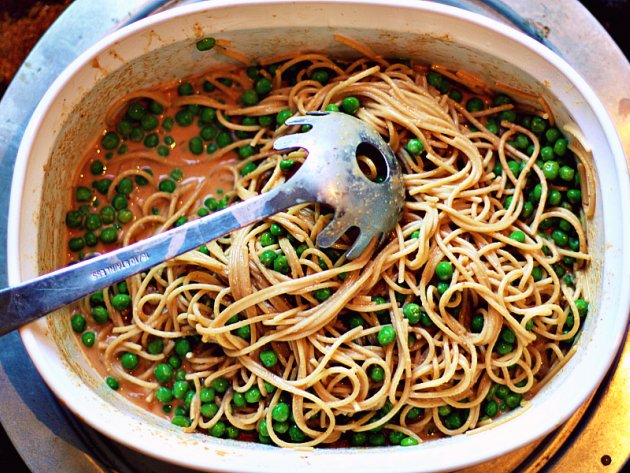 If like you food spicy like me, you can add a little siracha or hot sauce on top.
My family loved this dish and it's perfect for leftovers. Enjoy!
Cold Noodles with Peas & Peanut Sauce
Makes about four 1 cup servings.
Ingredients:
1/2 box whole wheat spaghetti
2 cups frozen peas
Peanut sauce-
1/2 cup smooth all-natural peanut butter
1/3 cup soy sauce
2 tablespoons apple cider vinegar
1 tablespoon sugar
1/3 water or more for desired thickness.
Combine all ingredients and whisk until smooth then store in the refrigerator.
Cook spaghetti according to directions on the box. While the spaghetti is cooking, place your frozen peas in a strainer and run cold water over them until thawed. Once the noodles are cooked, drain in a strainer and run cold water over the the noodles until they are completely cooled off.
Combine the peas, noodles, and peanut sauce and gently mix together. Serve immediately.
6 Responses to "Cold Noodles with Peas & Peanut Sauce"