Easy Meal Preps Your Children Will Love
Cries of "ewwww" and "yuck" from the dinner table can frustrate even the most masterful chef. If your children are less-than-enthusiastic about your meal preps, then it's time to cook up something creative and better yet, easy, to pacify the pickiest eaters in your household. The best way to do this is include your kid's in meal planning and prep. This is a process I have made into a normal daytime habit. Meal Planning = kids. Period.
From lunchtime to dinnertime, we can offer meals that are both tasty and healthy and will leave your children exclaiming "yum" and "wow" without having to go overboard and spend hours coming up with a masterful lunch or dinner. For example, over the weekend we were planning meals for my grocery store trip. I asked M what she wanted for dinner on Monday. The words "White Chicken Chili" came out so fast I couldn't help but smile.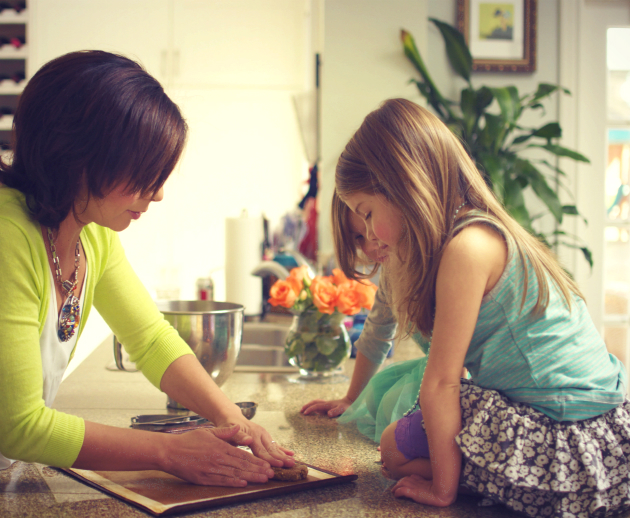 photo by kelsey erin photography
Beyond Mac 'n' Cheese
Children are creatures of habit. Even though our children may willingly eat mac 'n' cheese and peanut butter and jelly sandwiches for every meal, it doesn't mean you should serve these. Instead, opt for easy to prepare healthy choices that appeal to their sense of taste.
Begin by asking each child to make a list of their favorite foods. Depending on their age you will most likely have to help them write it down. Making the food fun is key for younger children. Add veggies to their pasta. Mac and Cheese could become 'Mac and Trees' with the addition of steamed broccoli.
If your child favors chicken, focus on recipes that will please the little rooster, such as veggie, cheese and chicken enchiladas or baked chicken with low-fat mac 'n' cheese. Mixing in their favorites with new foods will expose them to healthier options and help them keep an open mind to try new meals. When introducing new food, I always make sure there is one thing in the meal I know they will love like rice or some sort of potato or starchy side dish.
Beyond chicken, consider lasagna-style dishes with hidden veggies, reduced fat cheeses and whole grain noodles or turkey or lean beef chili made with less meat and more beans.
Tackling Time
To save time and effort, I recommend sifting through the freezer for fast meal preps. Pick and pair meatballs with frozen veggies or compile a homemade pizza with frozen tomatoes, mushrooms and your child's favorite meat topping.
You can also decrease meal time prep by taking stock of what you have on hand. Mix and match ingredients from the pantry, freezer and fridge for a variety meal. Jackie Keller, founding director and executive chef of Los Angeles' food company NutriFit, recommends making large sandwiches with a variety of meats and chopping them into sections to serve different days of the week. This will help you save time on days when you are running from dance lessons to soccer practices.
According to Bridget Swinney, a fellow registered dietitian, and author of Healthy Food for Healthy Kids, it also speeds up meal preps when you have your most-used ingredients on hand. Keep the following around for when you get in a pinch to whip up a magnificent meal:
Pasta (dry and frozen cheese ravioli)
Marinara sauce, pizza crust, pita bread or French bread
Leftover  chicken
Mozzarella, Parmesan, cream cheese and cottage cheese
Bread crumbs
Lemon juice
Olive oil
Vegetarian refried beans
Corn
Canned tomatoes
Black or kidney beans
Pineapple tidbits
Fresh potatoes
Frozen vegetables
All of these ingredients are staples in my house, amongst many more. I do have an 'emergency meal plan' that I will be sharing with you in the coming weeks. It comes in handy for those days where we 'accidentally' forget we have to cook dinner.
Save time, too, by using the same base protein different ways. You can mix up tacos, meat sauce and chili with one batch of ground turkey and freeze the meat for preps later in the week. Buying pre-cut or frozen vegetables can also help you save precious time when preparing meals.
Planning Pays Off
Planning is key when it comes to weeknight meals. Organizing weekly meals can save you time and money. At the beginning of the week, ask for meal suggestions from the entire family and prepare your grocery list accordingly. When shopping, only purchase the items on your list to prepare a week's worth of meals.
In some cases, you can prepare the meat ahead of time and freeze it for when you are ready to reheat and mix together a delicious meal. Long-term planning can free up your time and set expectations for meals. There will be no more "ewwww" or "yuck" from your children when they have had a say in the meal selections.
Put the kids to work, too, when preparing meals early in the week. Little ones can help you measure and older children can assist with chopping and stirring. If you make meal time prep a family affair, it's likely those moans and groans will diminish over time.
partial article contribution by mommyhood.com