An Apple A Day: Easy, Everyday Healthy Habits Twitter Party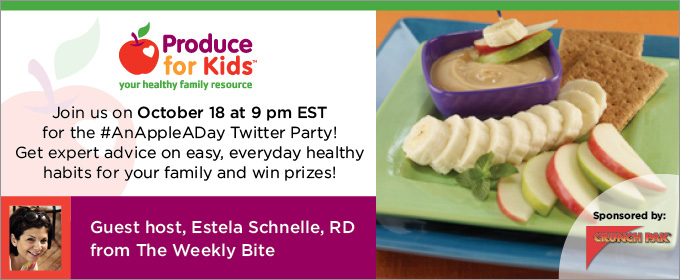 An Apple A Day: Easy, Everyday Healthy Habits Twitter Party
Hosted By: @produceforkids, @weeklybite, @crunchpak
Hashtag:   #anappleaday
I am so excited to be hosting my first ever Twitter Party with Produce for Kids and Crunch Pak . We will be dishing out tips on easy, everyday healthy habits during the Twitter party on October 18 at 9pm EST. Don't miss out on the opportunity to learn some easy ways to keep your family healthy, and the chance to score some awesome giveaways! Join in on the conversation by following the hash tag #anappleaday!
I will be sending out a lot of reminder posts between now and then be sure to look out for those.
Below is the tweetvite. We would love for you to join us! If you have any questions feel free to leave them in the comments section and I will answer as best I can 🙂
Don't forget to follow @weeklybite, @produceforkids and @crunchpak on Twitter! We'll see you on October 18!
http://tweetvite.com/event/anappleaday