7 Things I Love {Nursery Edition}
We took M shopping for a big girl bed yesterday…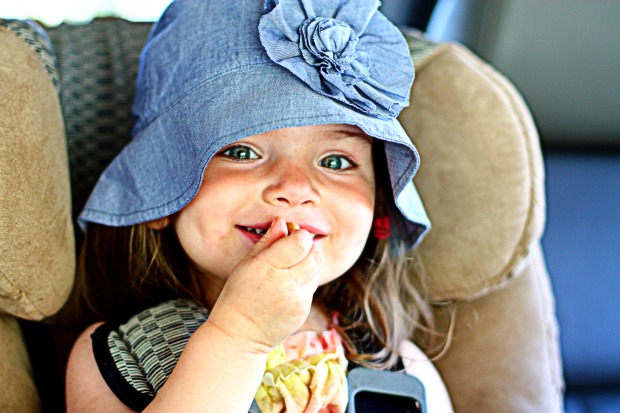 To say she had fun is an understatement. In fact, I'm pretty sure she thought she was at some sort of playground 😉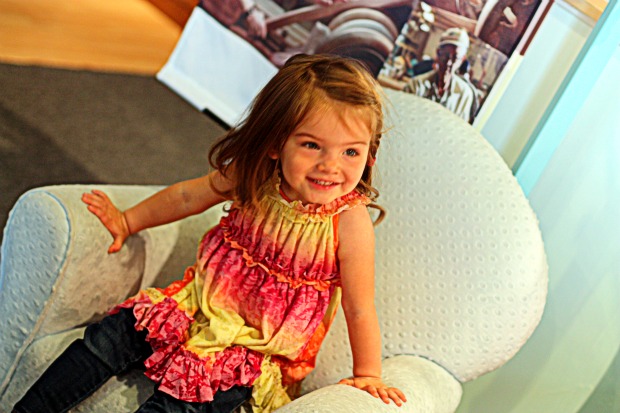 She made sure she opened and closed every drawer in the store.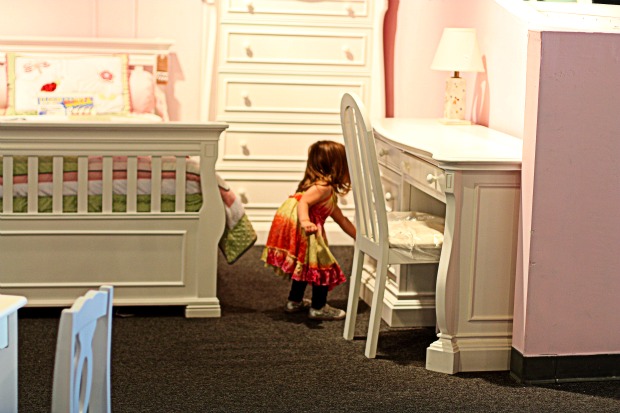 We haven't purchased a bed yet, but have a pretty good idea of what we'll be buying within the next day or two.
I finally ended up picking out a paint color for M's room and ordered some cute wall prints. I'm really happy with everything so far 🙂 Now that I have a good idea of what M's room will look like, its time to start focusing on the room for baby girl #2.
This is where I need your help. I just can't seem to make up my mind with what I want. Our moving truck arrives Monday. The plan is to buy M her big girl bed tomorrow. Mr. Weekly Bite will paint M's room over the weekend and set up her new bed. When the moving truck arrives Monday, M's old crib will go directly into Baby #2's room. We're hoping the excitement of a big girl bed will distract her enough that she won't  really care that her crib isn't her's anymore. (keeping finger's crossed)
For Baby #2's room, I've been book marking several looks I like, but I'm so indecisive I can't seem to make up my mind. I'd love to hear what you think 🙂
Here are my top 7 picks.
1) Aqua, Pink, & Black Nursery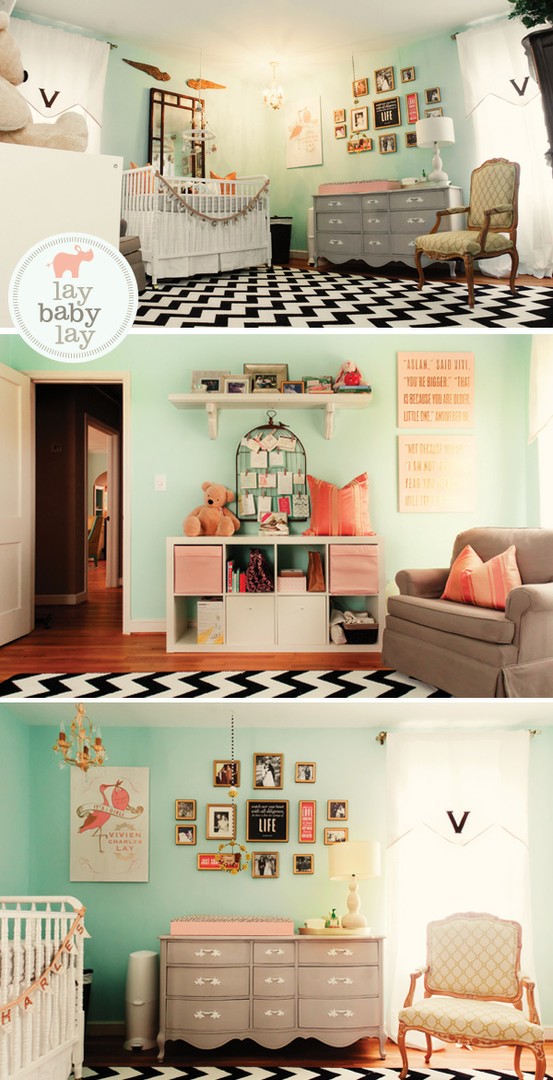 There are several things I love about this nursery from Lay Baby Lay. I really love the vintage feel, but my most favorite thing is the color of the walls combined with the pink and black accents. This would totally work in our new house. Of course I would change things up to make it unique, but the basics is what I love. My only concern is that the black & white chevron rug might be a bit harsh in person. The rug is very affordable, but I'm just afraid I would get tired of it.  Thoughts?
2) Yellow, Blue, & Green Nursery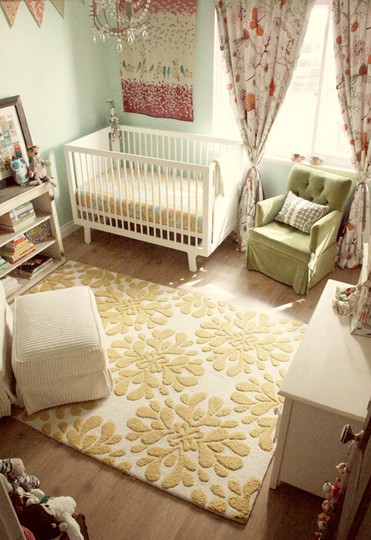 I looooove this nursery from ohdeedoh.com! It has the pale teal walls that I like, we already have a white crib, and we can add our own unique touches to the room. What I really love is the rug… but it's way out of our price range. I've been searching online for a similar type rug at a reasonable price, but have been out of luck.

I love the idea of adding "grown-up" touches to a nursery, that way the baby can grow into the room. I love the color combos here, as well as the rug and the lamp 🙂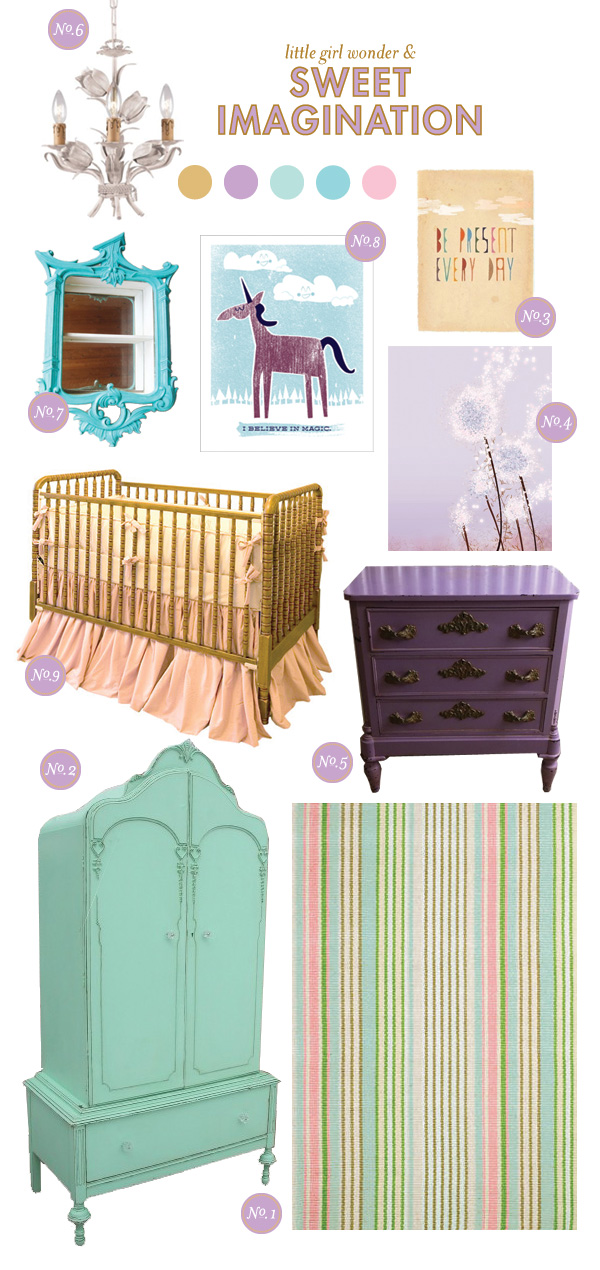 I've never been a purple gal, but this is just darling. I would most likely paint the walls the teal color shown above, and then use purple & pink accents like the prints. Not a fan of the rug though.
I know this technically isn't a nursery, but I really love the colors used here.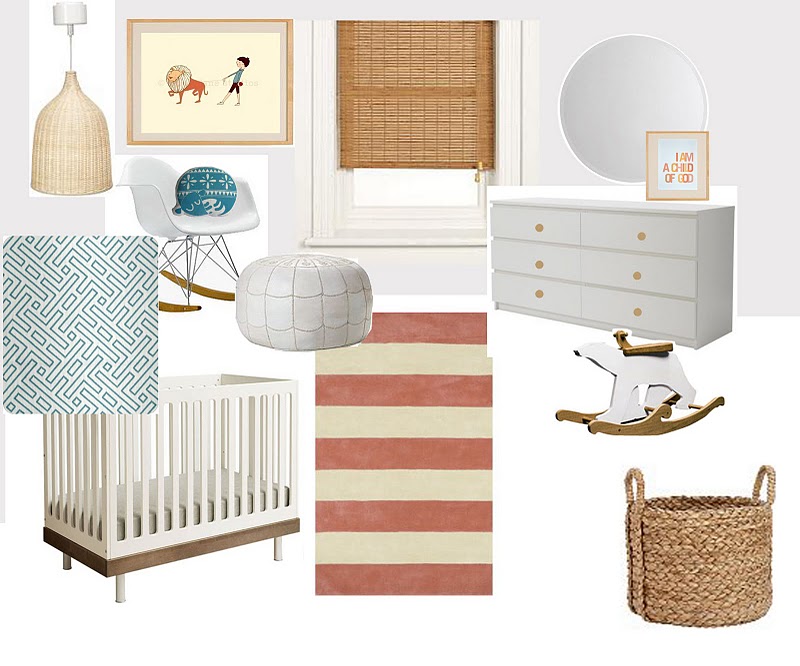 This is so pretty! Since I already have the white crib, I could paint the walls a pale teal and add touches of pink using the rug and other unique accessories. The only problem is the rug is out of stock 🙁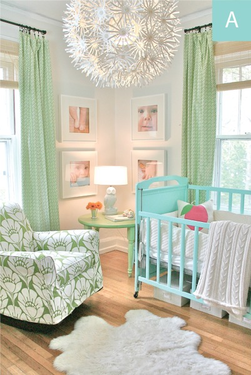 I have nothing that would make this nursery work, but it's just so pretty I had to post this picture. I love the combo of mint green with turquoise. So pretty!!
~~~~~~~~~~~~~~~~~~~~~~~~~~~~~~~~~~~~~~~~~~~~~~~~~~~~
So what do you think? Which one is your favorite? Or are there two styles you would combine? I'm at a complete loss. If I could find the rug in picture #6 I would totally do that look. Or at least something similar 🙂