a day in my life…
1:30 a.m.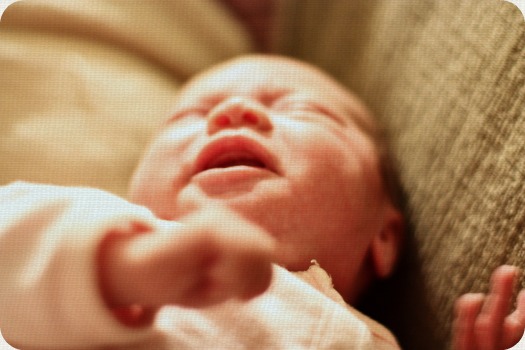 LK wakes up hungry and ready to eat. As much as I'd like to speed this process up, I can't. I end up going back to bed just after 2 a.m.
3:59 a.m.
LK wakes up again wanting to eat. I'm back in bed by 4:30 a.m.
6:30 a.m.
My alarm clock goes off. I would love to sleep in, but it's M's first day of school. I stumble in the kitchen and was pleasantly surprised to see Mr. Weekly Bite had not only set up the coffee maker for me…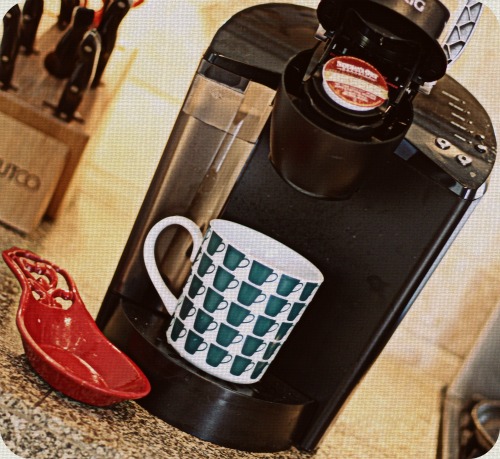 …but he also laid out M's breakfast plate & lunch box.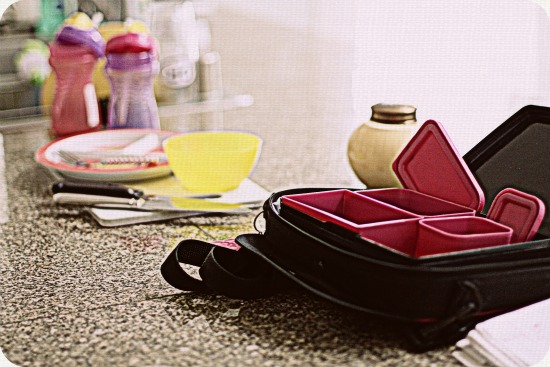 That made my day. It's the little things that make me happy 🙂
6:50 a.m.
M's lunch & breakfast are made.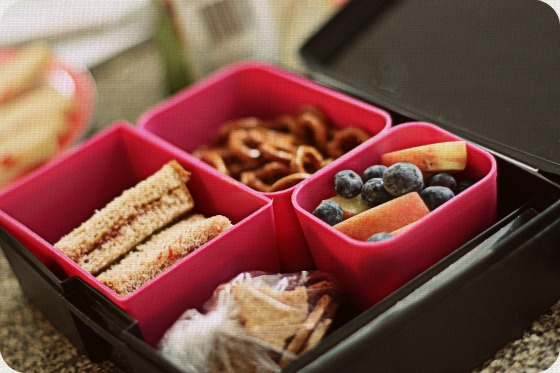 In her lunch box was a sunflower butter sammie, wheat pretzels, sliced peaches & blueberries, & animal crackers.
M's breakfast was a toasted whole grain blueberry bagel with cream cheese & sliced peaches.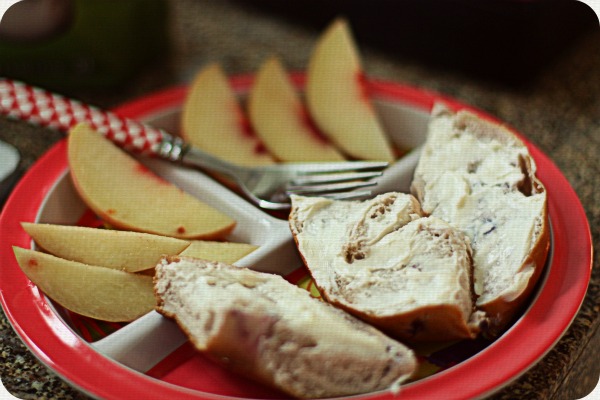 6:55 a.m.
Both M & LK wake up at the same time. I put LK in her bouncy chair and get M ready for  her first day of school.
I told M to give me her "happy first day of school face." This is what she did.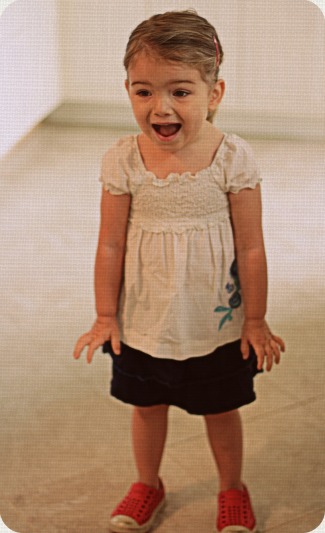 7:15 a.m.
M eats breakfast while I feed LK and eat my peanut butter toast.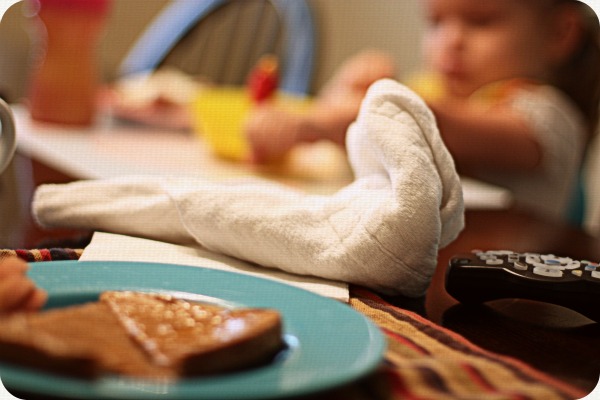 8:00 a.m.
Load the girls up in the car and take M to her first day of school.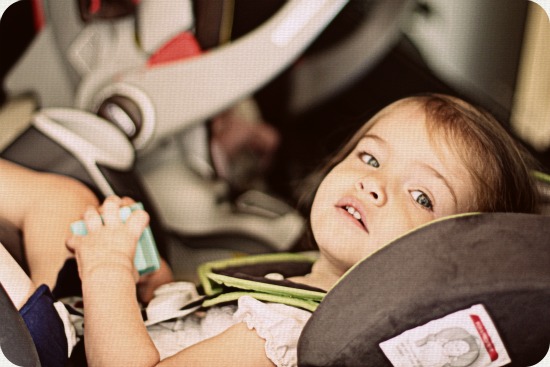 9:00 a.m.
LK tags along my doctor's appointment.
10:00 a.m.
Lace up my running shoes, put LK's car seat in the jogging stroller and go for a little walk/light jog.
11:15 a.m.
Feed LK
11:45 a.m.
Finally do the dishes that have been piling up all morning.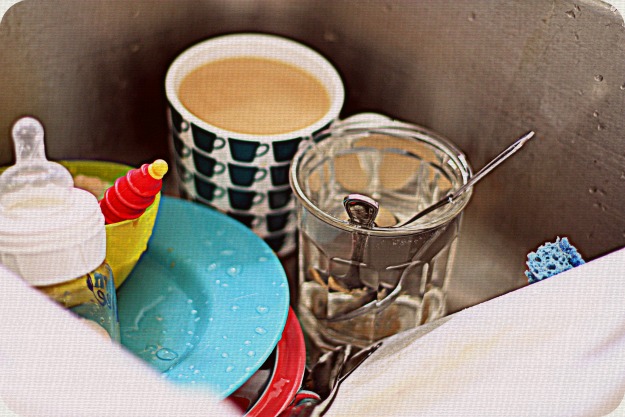 12:00 p.m.
Time to pick M up from school.
1:00 p.m.
NAP TIME!!!
M finally goes down for a nap. This is normally my time to do some computer work or take a little snooze myself… but LK had other plans for me. She was not a happy camper 🙁 Just to give you an idea… we both had to change outfits.
3:15 p.m.
M wakes up from her nap and LK is still pretty fussy. Poor kid.
4:00 p.m.
Mail time!
One of M's favorite part of the day is checking mail. We went out to check the mail and found a package at the front door. It was a gift for both LK & M.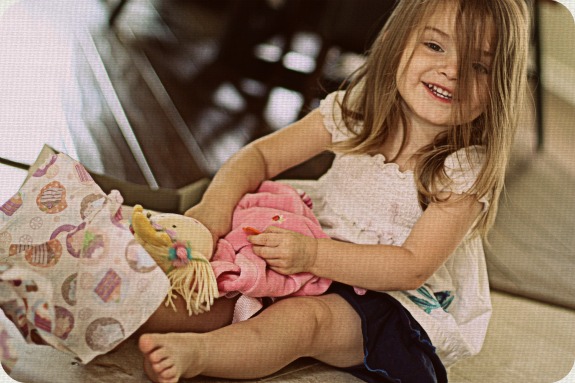 M was one happy girl.
5:00 p.m.
LK finally falls asleep.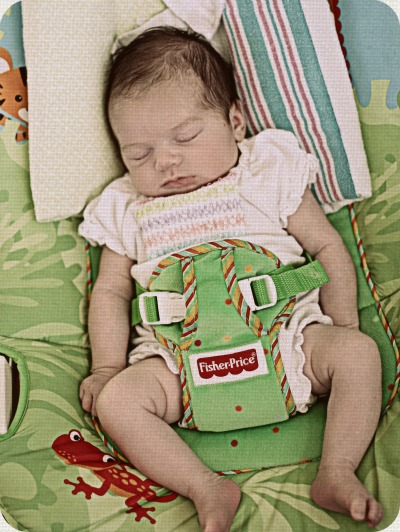 5:15 p.m.
I start to get dinner ready.

We had a simple dinner of roasted potatoes, steamed broccoli, and steak.
6:15 p.m.
Mr. Weekly Bite is home from work & we finally sit down to eat dinner.
6:45 p.m.
Mr. Weekly Bite takes over kid duty and I clean the dishes.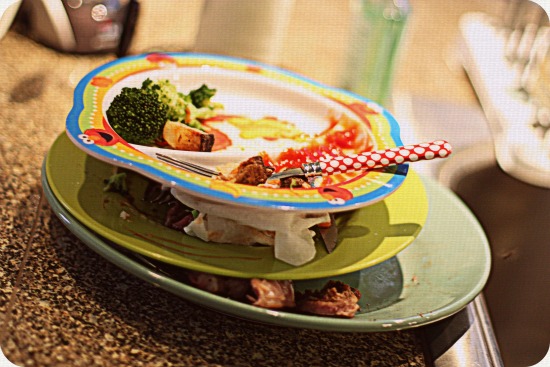 7:15 p.m.
M brushes her teeth & changes into her pj's. She gets to watch one show before bedtime.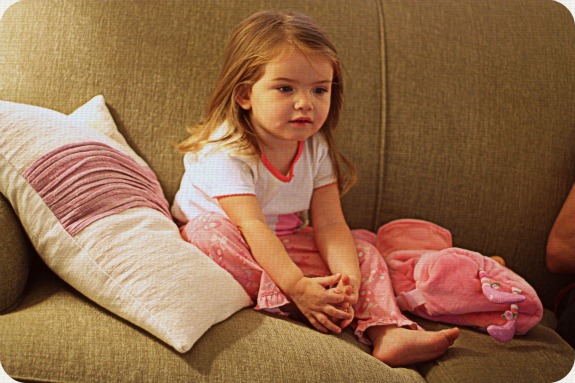 7:45 p.m.
M goes to bed.
8 – 10:00 p.m.
Mr. Weekly Bite & I use this time to talk about our day, watch our favorite TV shows.
10:15 p.m.
I go to sleep and keep my fingers crossed that LK sleeps just a little longer than the night before and do the whole thing all over again.
The. End.