Bites of Life:My Summer Reading List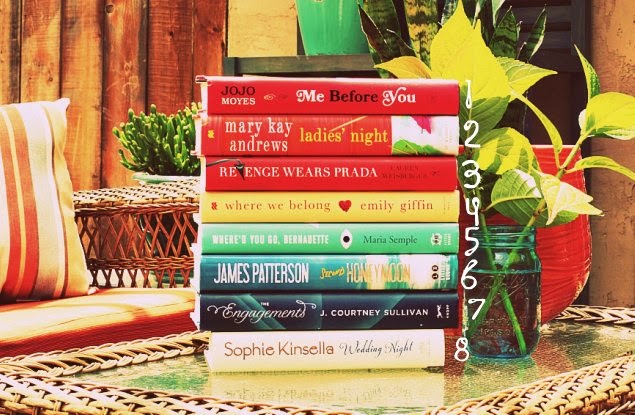 There's something I need to confess. I am a chicklit junky. While I love a good crazy book full of suspense, I long for mindless reading. Being  a mom of two very active girls, when it comes down to books, I want brain numbing mindless books that require no concetration. I like for a book to take me away in another life and fanticize. Because that's what books are about right? I view books as movies. They are a form of entertainment that doesn't make my brain hurt. I love imaginining what the characters would look like… And to be honest… I am a hopeless romantic at heart. I read chicklit and I like watching chick flicks. If I like a movie, I can watch it over and over and over again. Kind of like Gilmore Girls reruns. I can watch those any time of day and never tire of them. The same goes for books. If I truly love the book, I'll reread it at least 3 more times just trying to relive all those hopeless, sometimes predictable, yet complicated stories. Here are eight books that I've read in the past couple months. Some are great and some are just okay. If, like me, you enjoy a little light reading, maybe you'll find a little gem that you will want to reread over and over ;).
Have you read any great books lately? I'm always on the hunt for a good read!
1) Me Before You: Loved this book! It's a wonderful little love story about two very complicated people (my favorite kind). I read this book twice and both times got a little teary eyed. It was both entertaining and heartbreaking. Read it.
2) Ladies Night: This was my first Mary Kay Andrews book. This book had suspense, laughter, and love. I was shocked I hadn't read any of her previous books. I have started ordering all of her books and haven't been disappointed. I reread this book three times. It's the perfect beach read!
3) Revenge Wears Prada: Yes… I actually purchased and read this book. I read the first book 'The Devil Wears Prada' years ago when first published, then watched the movie. I have to say this book wasn't nearly as entertaining as the first. And while reading it, all I could picture was Anne Hathaway and Meryl Streep. It's not the best book I've read, but if you're curious to see what the characters are up to ten years later it may be worth the buy.
4) Where We Belong: I am a huge fan of Emily Giffin and have read every one of her books. She writes some of the best chicklit out there. Bottom line, this book is really good easy reading. It's catchy. Within the first few pages, you are hooked, and I guarantee you won't be able to put it down until you reach the end.
5)Where'd You Go, Bernadette: This book does not fall in the chicklit category, but it is awesome. This book is crazy, weird, and had me reading late into the night just to find out what happens next. I was hooked from beginning to end! This novel is fun and entertaining and I was sad to turn the last page.
6) James Patterson – Second Honeymoon: I just finished this book. Not chicklit at all, but full of suspense. It's an easy read with a great plot. I wouldn't let the summer end without reading this.
7) The Engagements: Kind of still reading this one. Hasn't got me hooked just yet… we shall see.
8) Wedding Night: This latest Sophi Kinsella book is very cute, very chicklit'ish, and a very easy read. If you are looking for an easy read for a long plane ride or a beach vacation, you will finish this book within two days at the most.