Cooking with your Kid in the Kitchen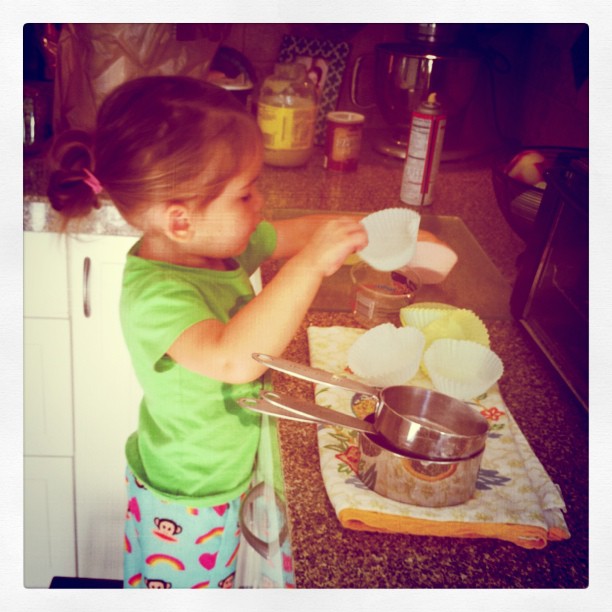 I have received several emails asking "When can I start to get my child involved in the kitchen?"
My answer? As soon as they start to show interest.
M has watched me cook in the kitchen since she was born and kid's naturally want to do what their parents do. I grew up cooking with my mother and wanted M to have that same bonding experience. Children also feel like they are being helpful while contributing to the family. When M started to become more active,  she showed more and more interest in the kitchen.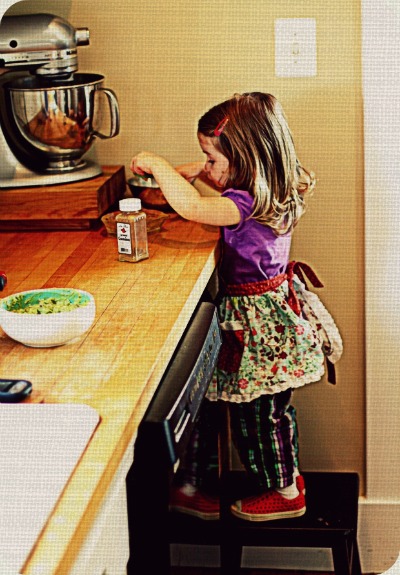 As soon as she started crawling she wanted to be in the kitchen with me. To make her feel like she was helping, I would give her a wooden spoon and a non-breakable bowl to play with. This phase lasted for a while.
The older she got, the more involved she wanted to be.
The number one thing I have always taught her was safety. The oven is "hot" so she knows not to touch it, and all sharp objects such as knives are beyond her reach.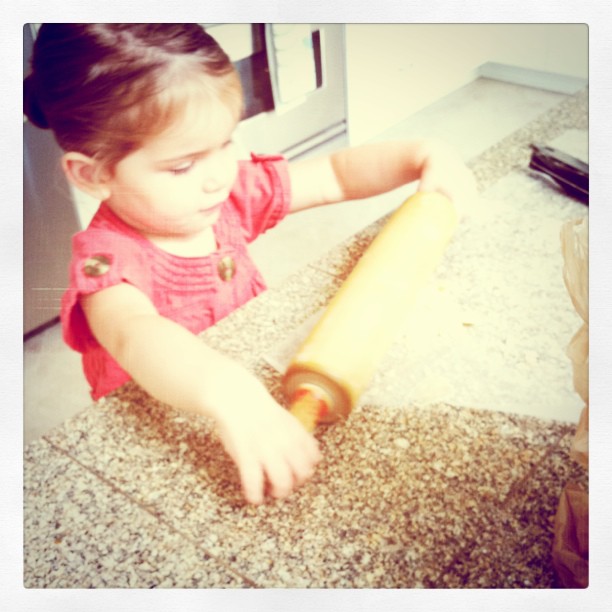 At about 14 months of age, the bowl and spoon lost it's excitement. I slowly included her in more meal preparation. If I needed a pinch of salt, I would let her sprinkle the salt or spices. She really loved doing this.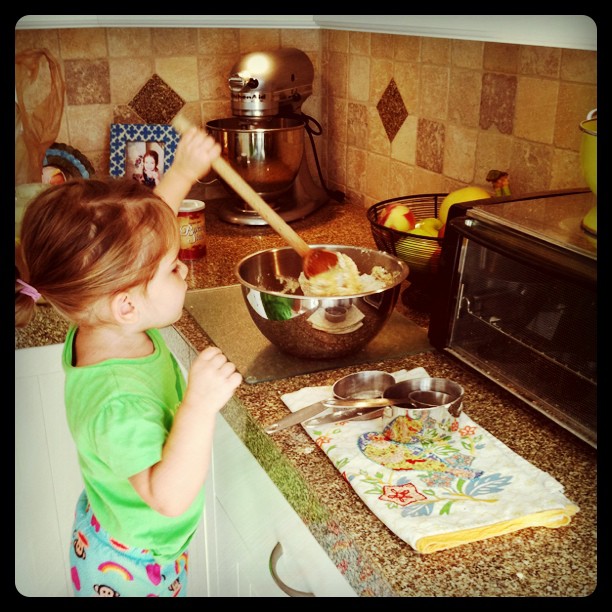 Now she helps by stirring, scooping, rolling dough, and even cleaning the counters. She also enjoys setting the table by putting a napkin at each place setting.
Here are some tips I use when it comes to kid's & cooking:
Make sure all hair is pulled back
Always have them wash their hand before, during (if needed), and after cooking.
Keep all sharp objects out of reach.
When cooking with your child, choose a time in the day where you won't be rushed. Mid-morning or early afternoon works well for us.
Keep kid friendly utensils handy such as wooden spoons, non-breakable bowls, measuring cups, cookie cutters, and a wire whisk.
Here are 10 easy ways to include kid's in the kitchen (via superkidsnutrition.com)
Set the table
Wash fruits and vegetables
Take foods out of the refrigerator or pantry
Set the timer and give updates on how much time is left
Measure ingredients
Stir ingredients in a bowl
Read the recipe
Spread or layer ingredients in a pan before baking
Cut out items using a plastic cookie cutter
Help clean up and wash dishes
I have also started including M in making her school lunch the night before. I find the more she is involved in preparing food, the more likely she is to eat it. This has worked wonders when it comes to introducing new foods to her.
The older she gets, I will start to involve in more tasks. For now, she loves being mommy's helper in the kitchen.
How do you get your child involved in the kitchen?
For more info on getting active with kid's in the kitchen, visit SuperKidsNutrition.com