getting ready for baby…
My due date is in less then 6 weeks and nesting syndrome has set in like crazy. The challenge is I'm not suppose be doing anything at all… but all I want to do is organize and clean. So frustrating 🙁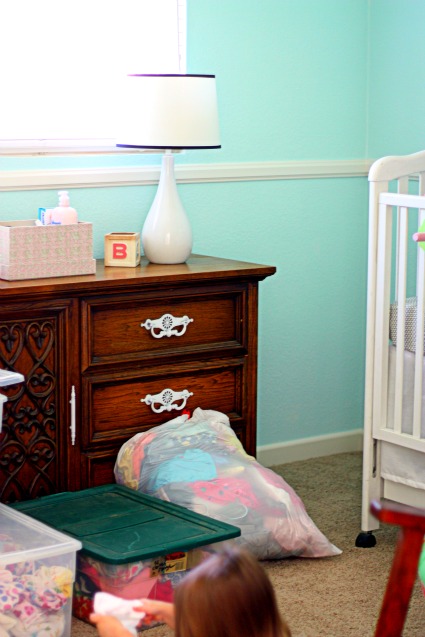 To give you a little history, baby girl #2 was trying to make an early appearance a few months ago (I was 24 wks pregnant to be exact). Talk about scary. The docs have been keeping a close eye on me and so far (fingers crossed) everything is looking good 🙂  But… since M was born 3 wks early, they are expecting #2 to make an early appearance. So, that means I need keep my feet up a little longer.
Good news is the baby's nursery is just about ready. Almost… but not quite.
Remember a few weeks ago I posted a 7 Things I Love Nursery Edition? My most favorite nursery of them all was this one. I'm using it as inspiration and making the most with what we have.  Only thing left is a decorative rug that's on order and a custom made stork print with baby girl's name on it (which we're keeping a secret till she's born) made by this talented lady. The canvas print arrived a week ago and is so super cute! It's getting framed as we speak 🙂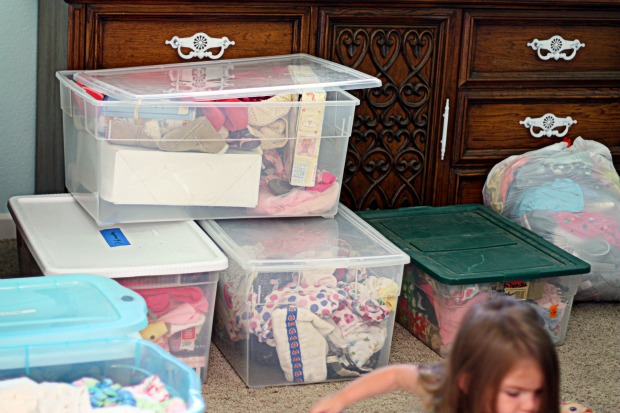 The only thing left  was to organize all the baby clothes and buy some baby necessities. Mr. Weekly Bite brought out all the baby bins and M & I started sorting everything out.
Can you believe that most of these bins contain 0-3 month clothes that M wore?! I couldn't believe how many onesies, swaddling blankets, and little dresses we had. So much that I ended up donating some to Good Will.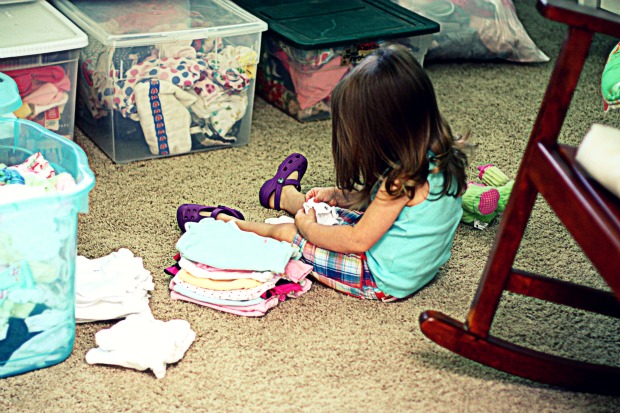 To keep myself organized I made a list of necessities needed for the baby. Here's what I came up with:
Diapers
Wipes
Diaper Cream
Burp Cloths
Bottles, nipples, & bottle brush (if not breast feeding)
Swaddling blankets
Light play blankets
Baby thermometer
Bulb syringe
infant pain reliever
I know this list is missing a lot of the bigger items like crib, car seat, high chair, stroller, etc… but lucky for us, we already have all those things from when M was younger. The only big item I have on my wish list is a double jogging stroller.
As far as the little things on the list… I think the only things I really need is a good bulb syringe, lots of thick burp cloths, and an endless amount of diapers and wipes.
Moms – Am I missing anything??
For now… I'm feeling good and getting very excited to meet this baby girl who's been demanding so much attention early on 🙂
I can't wait 🙂