let's talk baby weight…
Look who's one month old!!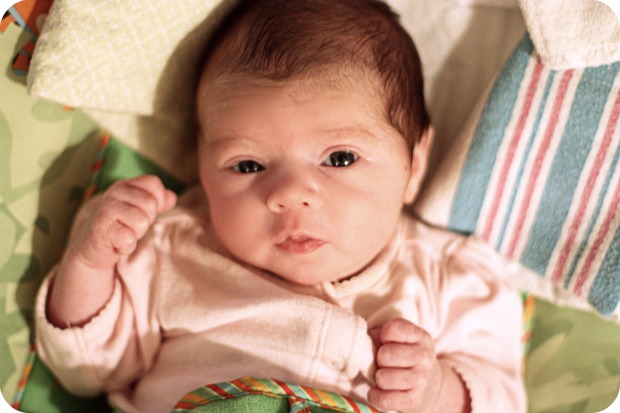 I can't believe how fast a month has gone. Before I know it I'll be celebrating her 1st birthday!!
Since I'm now one month post baby I thought I'd touch on the subject of baby weight.
I've gotten several emails asking if I'll be writing about post-baby weight loss/exercise. Since I am a  Dietitian I thought it made sense that I touch on the topic.
Before I get into the nitty gritty, I want to start by saying that I truly admire my fellow bloggers who document their post-baby weight loss. I think what they are doing is amazing! I won't be tracking any progress on my blog, but what I will be writing about in this post is how I plan on reaching my pre-baby body by slowly moving back into the lifestyle I lived before LK was born.
Exercise during pregnancy
Prior to finding out I was pregnant with LK I was an avid runner and practiced Bikram yoga about 3 times per week. I loved my little exercise routine.
As soon as I saw a plus sign on that pregnancy test I immediately cut out the hot yoga and my longer runs turned into 3 mile walk/jogs, which eventually turned into just walking. About 6 months into my pregnancy I fell into the high-risk category and cut out all physical activity. As my pregnancy progressed I slowly moved towards bed rest. So basically I was sedentary for close to 5 months of my pregnancy. Bed rest was not fun… but it was worth it once I saw LK's little face.
How I ate while pregnant
If you are familiar with my blog, you know that I am not into dieting or counting calories. If you are new to my blog, here's a little summary of my nutrition philosophy: My nutrition philosophy revolves around intuitive eating. I believe all foods are equal. Every single day I do my best to listen to my body, eat when I'm hungry, and eat exactly what I want. Some day's that includes nothing but healthy food, some days there are more sweets, but most days my body naturally eats about 70-80% healthy and the rest is whatever else my body craves. You can read more about my philosophy in my Nutrition Bites.
While pregnant, my body went through different phases. The first trimester I was so sick I felt like I had food poisoning. Once I hit 16 weeks my body became so ravenous I felt like I could eat anything and everything that was in front of me. And some days it felt like I did. It was a little frustrating to feel constantly hungry, but if that's what my body needed… so be it.
Once I hit the sixth month of my pregnancy my appetite normalized and I slowly fell back into my normal eating habits.
Don't get me wrong… I definitely had my moments of intense cravings and indulgence, but it wasn't every single minute of the day like the 4th & 5th month of pregnancy. Towards the end of my pregnancy, there were some days I felt I could barely eat a thing. LK was taking up so much space in my belly that even the tiniest of meals felt like I had just polished off 3 Thanksgiving dinners.
How I eat post- pregnancy
Like every woman who has just had a baby, I'm anxious to get back my pre-baby body back. After LK was born I didn't have much of an appetite. It took about one week post-baby for my appetite to come back. When it did, it came back with a vengeance. By the end my 2nd week post-baby I felt like my appetite was slowly getting back to normal. My body was still recovering and it clearly needed the extra calories.
I'm currently at a place where I feel my body has fully recovered from child birth. I wish I had some sort of plan that I will be following to show you, but I don't. What I am doing and will continue to do is to take it one day at a time. I will listen to my body and eat when it tells me it's ready for food. You may be thinking that this sounds so easy. But I, like every normal female, have cravings, hormones, and get tempted to eat when I'm bored, stressed, lonely, etc… Once my appetite normalized I have been eating when I'm hungry and watching my portions. Little by little, I feel my body slowly moving back to it's former self.
Exercise post-pregnancy
My plan is to slowly work my way back to my pre-pregnancy exercise routine. Having 2 kids will definitely make that a little challenging, but exercise has always been a stress relief for me. So… with the help of a double jogging stroller, me and my 2 kids will be doing it all together 🙂 I
With M, I almost always ran with my jogging stroller. As far as yoga goes… that's going to be a bit more challenging. When I lived in Alexandria, the yoga studio I practiced at had childcare. I realize how spoiled I was. Not a single Bikram studio in San Diego has childcare. I most definitely plan on going back to yoga, but for now, my yoga practice will have to be on the weekends when Mr. Weekly Bite can watch the kiddos.
So there you have it. That's my grand plan to get back into shape. No miracles, no personal trainers, no meal delivery services… just straight up exercise and healthy eating 🙂