playing the waiting game…
Wow.
I completely forgot how long and exhausting the final weeks of pregnancy are. Especially when I'm on very limited activity.
So. Not. Fun.
But it'll all be worth it when our baby girl arrives!
Luckily she's got a brand spankin' new nursery to look forward too.
There's a few more final touches I'd like to do… but here's the latest pic.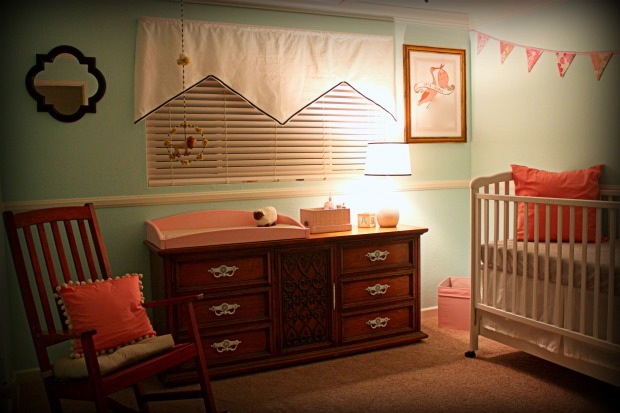 So far we absolutely love it!!
It's been organized ten times, cleaned ten times… even disinfected ten times (I know… I'm crazy).
On the right side of the window is the stork canvas that I had made. We love it!! If it looks a little blurry that's because I blurred the baby's name out. We're waiting till the big day to reveal the name 😉
So basically, there's nothing left for me to do but play the waiting game. The rest of my week is filled with doctor's appointments, and a lot of resting.
I'll be back on Monday with another update 🙂
P.S. Thank you so much for sticking with me during this crazy & exciting time of my life. I hope to be back to regular recipes & kiddie lunch box ideas when we get settled in some sort of routine. Thanks again 🙂