Anatomy of a Kiddie Lunch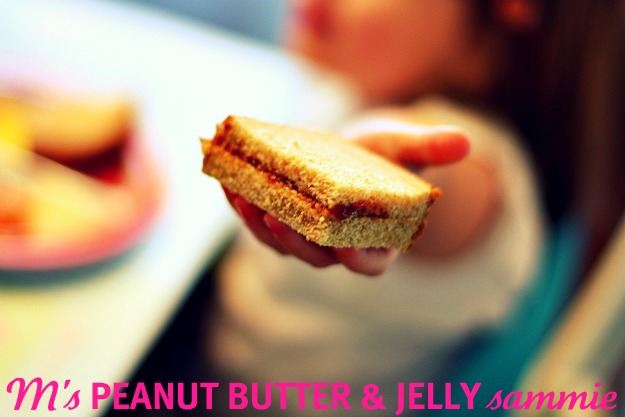 The most common question I get asked is if M's lunches are as creative and my kiddie lunch box posts. The answer? Umm, No 😉
While I try to offer her creative options a few times per week, I always have a staple food list that I stick to (and am constantly adding to as she explores new food). I, like every other mother, have a busy schedule, and with two kids I often feel like I'm being pulled in different directions. Having a variety of easy to grab foods makes life a little easier.
Below is a list of kiddie foods I have on my grocery list. These are all of M's favorites that I make sure we have continuous stock of.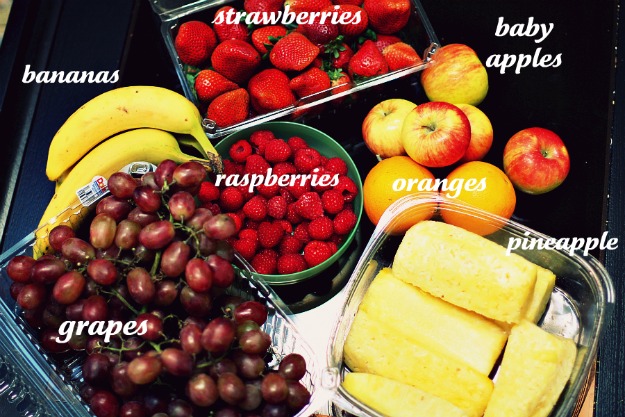 Strawberries: M loves every type of berry so as long and they are sweet and in season, I always make sure to include them on my shopping trip.
Raspberries: M loves these in her cereal.
Grapes: What kid doesn't love grapes 🙂
Bananas: These are a staple in our house.
Baby Apples: M love eating whole apples. These baby apples are the perfect size for her little hands.
Pineapple: I'm pretty sure she would eat pineapple as the main course of every meal if we let her 🙂
Oranges: With two orange trees in our backyard, we eat these every day and have started making our own OJ.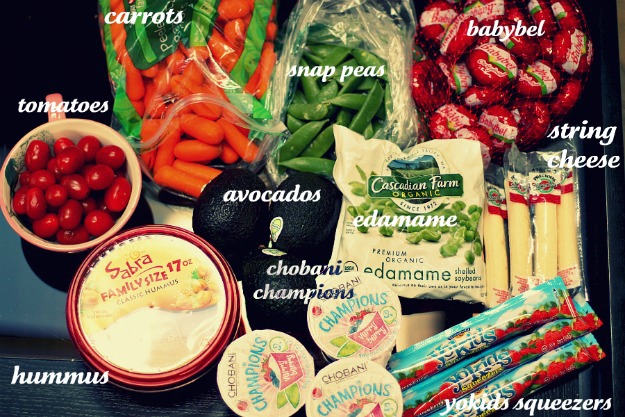 Hummus: I cannot express how much M loves hummus. She will dip just about anything in hummus.
Carrots: for dipping in hummus
Snap Peas: for dipping in hummus
Cherry Tomatoes: for dipping in hummus
Edamame: I buy these frozen, defrost them, and serve them to M as part of a meal or snack.
Avocados: When M was a baby she use to eat a whole avocado in one sitting. Now she likes them sliced up on her lunch plate.
Babybel: One of her favorite cheeses. I include these in her lunch or give them to her as a snack.
String Cheese: A classic kid favorite.
Chobani Champions: The first greek yogurt for kids, and M's favorite yogurt to date.
Yokids Squeezers: Made my Stonyfield, I store these in the freezer and give them to M as a snack or as dessert following a meal.
Not pictured:
Cucumbers: for dipping in hummus
Pickles: for dipping in hummus
Fresh turkey deli meat: for dipping in hummus
See? I told you she dips everything in hummus 🙂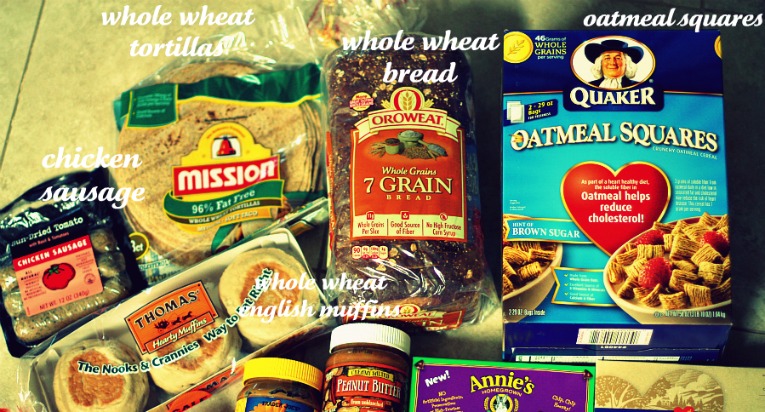 Whole Wheat Bread: Our entire family eats whole grain bread. I make to sure buy bread that has at least 3 grams of fiber per slice.
Whole Wheat Tortillas: M loves quesadillas. We also use these to make peanut butter rolls and turkey & cheese rolls.
Whole Wheat English Muffins: M likes to make English Muffin Pizzas 🙂
Quaker Oatmeal Squares: This one of M's favorite cereals. She loves eating these with milk, or dry as a snack.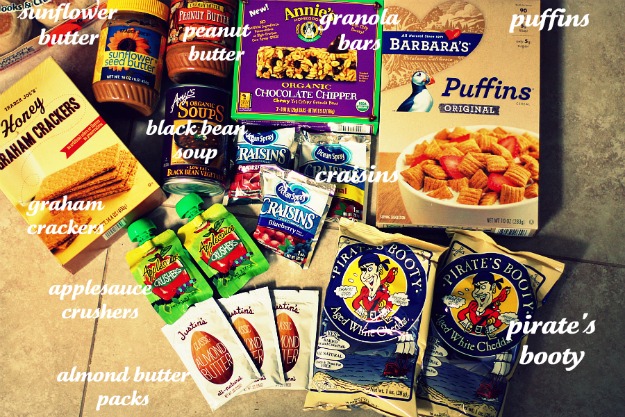 Puffins: Another one of M's favorite cereals.
Annie's Granola Bars: I like to put a treat in M's school lunch. She loves the surprise of finding her favorite Chocolate Chipper bar :).
Peanut Butter: Our household would not be complete with peanut butter. Everyone eats it on a daily basis.
Sunflower Seed Butter: M's school is peanut free so I often make her sunflower seed butter sandwiches. She loves them.
Amy's Black Bean Soup: M has started to really like soups. Her favorite's are black bean and lentil vegetable.
Applesauce Crushers: M loves applesauce and I found these produce the least amount of mess :).
Craisins: We buy a value pack of Craisins. They are perfect for grab and go snacks.
Graham Cracker: Another kiddie favorite.
Justin's Almond Butter Packs: When I know we will be out of the house for several hours, I like to pack these along with some crackers and veggies for a quick kiddie meal.
Pirate's Booty: This list would not be complete without Pirate's Booty. This is by far M's favorite treat.
Not Pictured: GOLDFISH – The classic kid staple which we have an endless supply of in our house.
So there you have it. This is basically everything I buy for our little toddler. I'm sure there are items I forgot, but this is most of it. I hope this was helpful.
What food items do you buy for your kiddos?