Kiddie Lunch Box Of The Week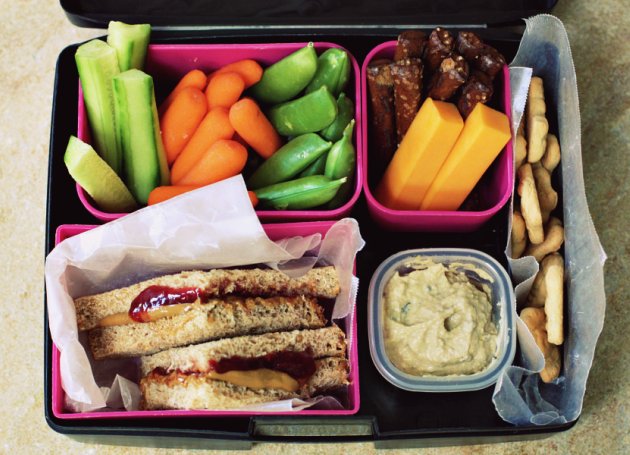 I have received several emails asking what I pack M for lunch. M goes to preschool a few days per week and we have fun putting her lunches together. I am going to start by saying that by no means am I a gourmet, I am just a a mom, and dietitian, trying to please my finicky eater. The older M gets the pickier she has become. What I started doing is including her in making her lunch. We talk about the food groups and what we should try to include in our meals. This meals includes all her favorites. Honey-Cinnamon Sunflower Butter Sandwich, with her favorite veggies, snap peas, baby carrots, and cucumber, cheddar cheese and pumpernickel pretzel sticks, chunky olive hummus, and organic animal crackers.
I'm aware that this may look like a lot of food, but as I mentioned… M's a finicky eater. Out of this lunch she ate a few bites of one half of a sandwich, all the cucumber (her fave), a couple snap peas, all the hummus, a couple pretzels and a couple bites of cheese. She saved the animal crackers to eat when she got home from school.
My goal is to post at least one of these per week. I'd love to hear what you pack for your kid's lunch! I am always looking for knew ideas.