chicken curry in a hurry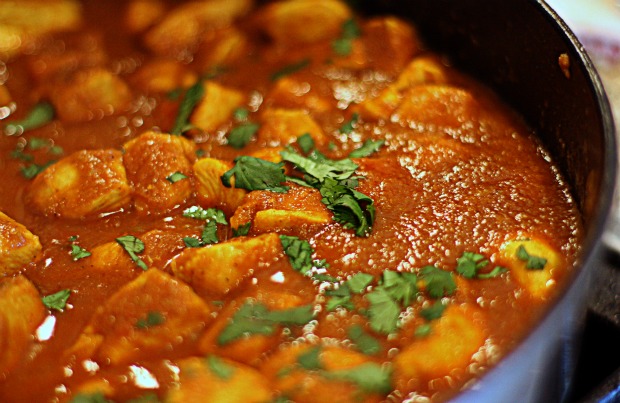 Back when I was pregnant with LK I received the cookbook My Indian Kitchen by Hari Nayak to review.
Having never cooked Indian food from scratch before, I was a little intimidated. With a 2 year old and a newborn, I didn't need complicated… I needed easy.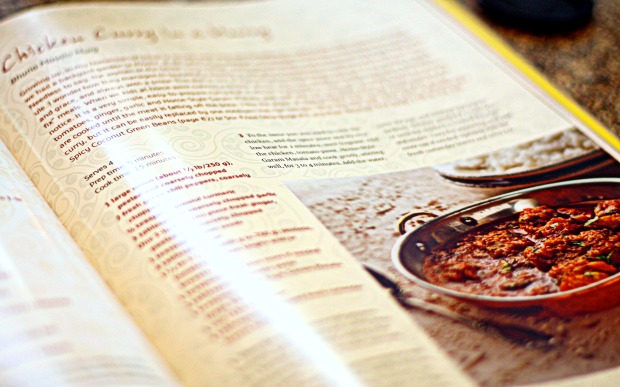 Hari suggested I try his Chicken Curry in a Hurry. He said it was an easy, fool proof recipe.
Not knowing what the heck I was doing, I followed his instructions step by step. The only step I didn't do was make his home-style garam masala because I already had a bottle of the ground version.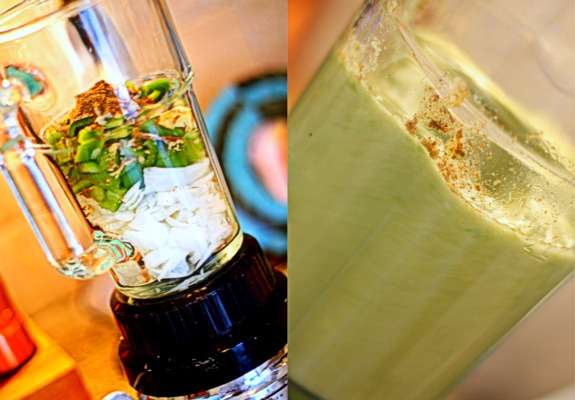 I was amazed at how fast this meal came together. Mr. Weekly Bite gave it two thumbs up! M even gave it a little taste, which I was totally happy with since she's never had Indian food before.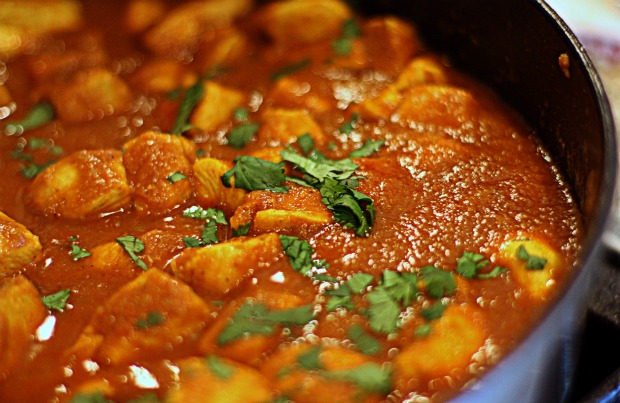 I served the chicken curry over brown rice with a cucumber salad on the side.
This recipe gave me the confidence to tackle more of Hari's recipes!
Chicken Curry in a Hurry from My Indian Kitchen
1 large onion roughly chopped
2 fresh green chili peppers, coarsely chopped
1/4 tsp turmeric
3 tablespoons coarsely chopped garlic
1 inch piece fresh ginger, coarsely chopped
1 teaspoon cumin seeds
4 tablespoons olive oil
1 1/4 pound boneless skinless chicken thighs or breasts, cubed
1 tsp salt, plus more to taste
2 tablespoons tomato paste
1 tsp garam masala (or Home-Style Garam Masala from the book)
1 cup water
4 tablespoons chopped fresh cilantro
Directions:
Place the onion, green chili peppers, turmeric, garlic, ginger, & cumin seeds in a blender or food processor. Add a few tablespoons water and blend until a smooth paste forms.
Heat the oil in a large saucepan or wok or medium-high heat. Add the chicken & salt. Cook for  7-10 minutes or until golden. Using a slotted spoon, remove the chicken and set aside. To the same pan, add the spice paste and cook over medium heat for about 3 minutes until fragrant. Add the chicken, tomato paste, garam masala, and cook, stirring well for about 4  minutes. Add the water, stir, and cover the pan.
Simmer over medium heat until chicken is cooked through. Taste for seasoning adding more salt if needed. Sprinkle with fresh cilantro and serve hot.