Chopped Asparagus Salad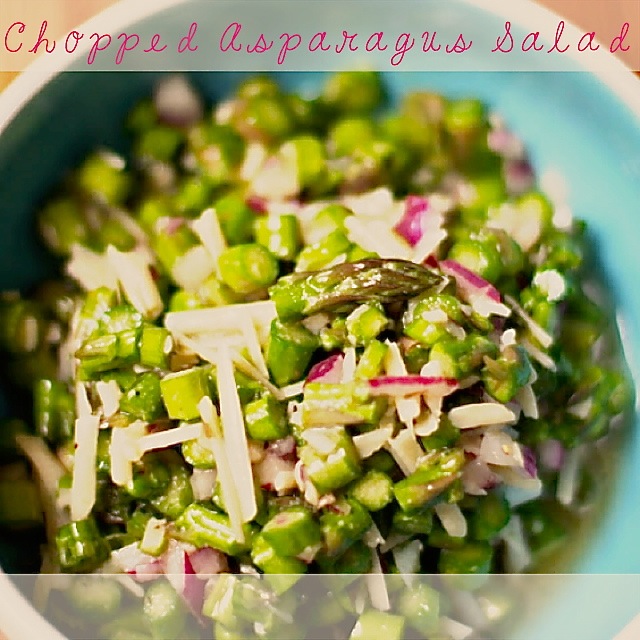 I have been craving a lot of fresh salads lately. Whether it be fruit or veggies, I love chopping up all sorts of veggies, throwing them together and enjoying. Before this salad, I had never eaten asparagus raw before. I've always either roasted them in the oven or grilled them.
The secret to this salad is buying pencil thin asparagus, slicing it up thin, and let marinate in the white balsamic dressing for about an hour. It is so delicious!
I love that the asparagus doesn't have a super strong flavor, and the addition of red onion and freshly grated parmesan cheese add's the perfect tang. With cookout season in full effect, this salad is the perfect side dish. You can even add some chopped grilled chicken, steak, or tofu for added protein.
Chopped Asparagus Salad
Ingredients
1 bunch pencil asparagus, tough bottom stems removed
1/3 small red onion, finely diced
1 cup coarsely grated aged pecorino
1/2 cup white balsamic vinegar (regular balsamic vinegar will so too)
1/4 Extra-virgin olive oil
1 tsp Kosher salt,  1/2 pepper to taste
1/2 tsp dijon mustard
Directions
Cut the asparagus, including the tips into very thin slices and place in a medium bowl. Add the red onion and parmesan cheese and toss to combine. In a separate bowl, whisk the balsamic vinegar, olive oil, dijon mustard, and salt and pepper until completely mixed through. Pour dressing over salad and toss again.
Refrigerate the salad for at least one hour before serving. Enjoy!