Cranberry Walnut Biscotti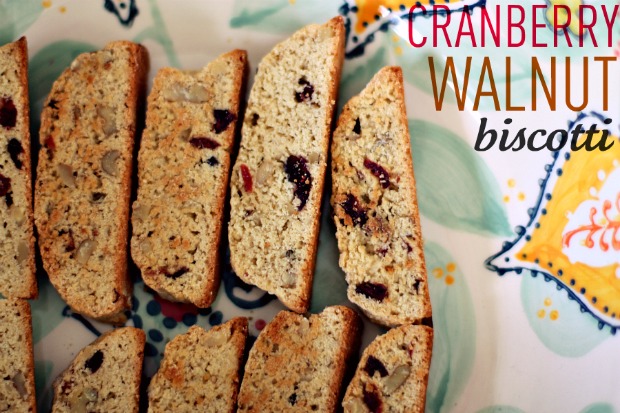 It's funny how things change once you have kids.
Pre-kid's, I use to make these elaborate cookie trays, create the cutest packaging, handmade gift tags, and pass them out to friends, neighbors, and coworkers throughout the holidays.
With kid's, the thought of making those same cookie trays is utterly exhausting. With a 2-year-old and a 4-month-old, I need easy. I still have a love for baking and love the idea of handmade gifts, but this year, I'm keeping it simple.
When it comes to simple and easy, biscotti is one of my favorites. Mostly anyone can eat them with coffee or tea. Plus, all you have to do is put them in a cellophane bag, tie a cute ribbon around it, and you're all set.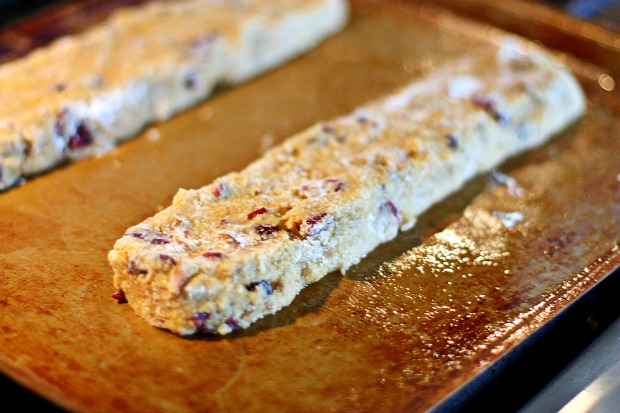 You can make them plain, or add in some fruit and nuts. My staple biscotti recipe is my Anise Almond Biscotti, but for a different flavor I changed up the recipe and added some dried cranberries and walnuts.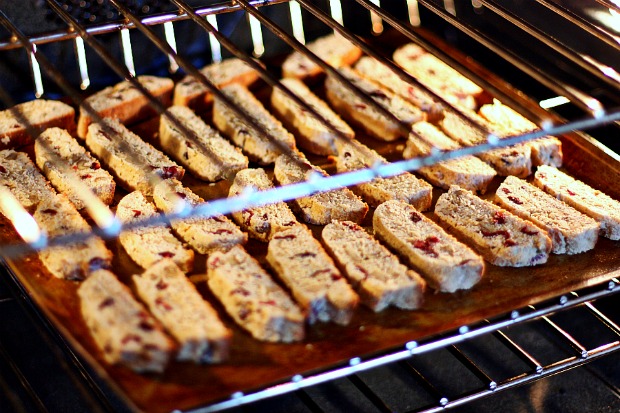 These were delicious, simple, and tasted perfect alongside my morning cup of coffee. Hopefully my friends and neighbors will enjoy them just the same 🙂
Cranberry Walnut Biscotti adapted from Taste of Home
Ingredients
2 cups all-purpose flour
3/4 cup brown sugar
1 tsp baking powder
1/4 tsp salt
3 eggs
1 tablespoon vanilla
3 tablespoon vegetable oil
1 cup dried cranberries
3/4 cup chopped walnuts
Preheat oven to 350 degrees.
In a large bowl, combine the flour, sugar, baking powder and salt. In a small bowl, whisk eggs, vegetable oil, and vanilla; add the wet ingredients to your dry ingredients and stir until mixed through. Fold in walnuts and cranberries .
Spray a baking sheet with non-stick cooking spray. Divide dough in half.  Lightly floured hands and shape each half into a 10-in. x 2-1/2-in. rectangle. Bake at 350° for 20-25 minutes or until golden brown.
Carefully remove to wire racks and cool for 10 minutes. Transfer to a cutting board and cut diagonally with a serrated knife into 1-in. slices. Place cut side down on ungreased baking sheets. Bake for 8-10 minutes on each side or until lightly browned. Remove to wire racks to cool completely.