Crock-pot White Chicken Chili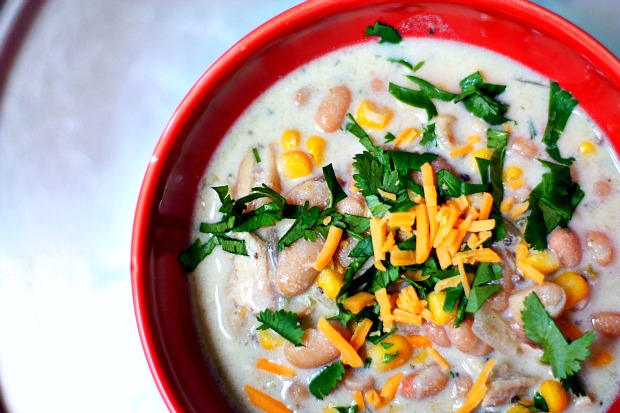 Fall is my most favorite time of year. It didn't dawn on me until recently that I am really going to miss the whole "East Coast Fall experience".
You see, since I was born and raised in South Texas, I never really experienced what Fall truly was until we moved to Virginia. The summers were brutally hot and I remember how glorious it was when that first little cold front blew in and broke the humidity. We would turn off our air conditioners, open up the windows, and savor the cool breeze.
Now that I live in Southern California, the weather is a bit different. Not to rub it in, but it's pretty much perfect year round with the temps dropping a few degrees for the Fall season. The main thing missing is that excitement that I felt when the cooler weather blows in. To get my self excited for Fall I pulled out my crockpot and made one of my favorite soups, Crockpot White Chicken Chili.
To make this chili, you want to combine chicken thighs, water, onion, garlic, salt, pepper, & oregano in your crockpot and let it cook on high for about 4 hours, or on low for 9 hours.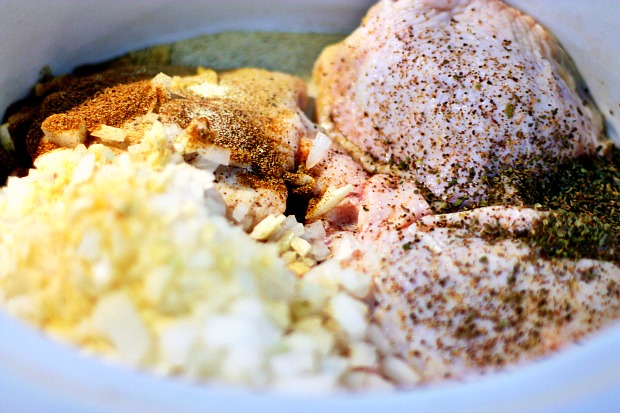 Next you remove the chicken thighs from the crockpot, remove the skin and shred the chicken from the bone.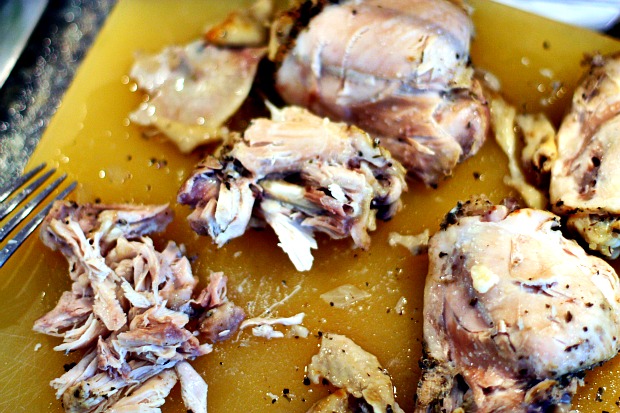 Add the shredded chicken, beans, green chili, corn, & sour cream to the crockpot. Stir and cook on high for 30 minutes.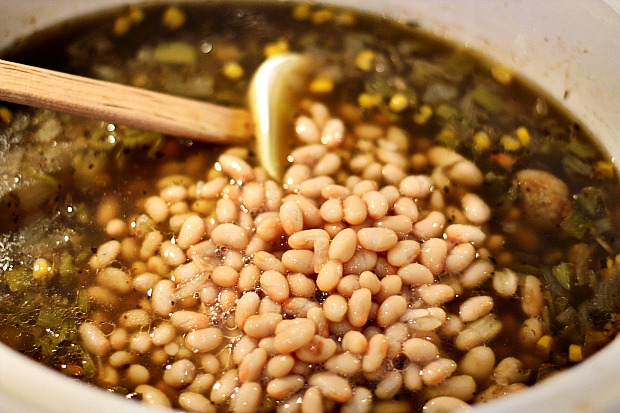 Garnish with fresh cilantro and cheddar cheese.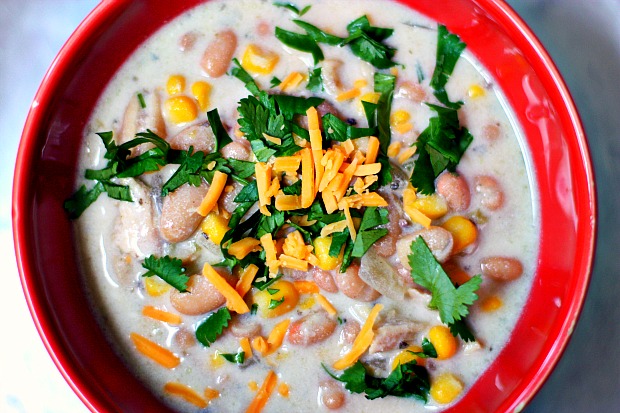 This soup put me in the mood for Fall immediately. Besides, nothing screams Fall more than a hot bowl of chili!
Crockpot White Chicken Chili
Ingredients:
1.5 lbs chicken thighs (bone in w/skin)
2 cups water
1 small white onion, chopped
2 cloves of garlic, chopped
2 tsp dried oregano
1 tsp salt (most to taste once soup is done)
1 tsp pepper
1.5 tsp cumin
2 cups frozen corn
2 4oz cans chopped green chili's
1 14oz can white kidney beans
1 14oz can white northern beans
1.5 cups light sour cream
fresh cilantro (optional)
cheddar cheese, grated (optional)
Turn you crockpot to low heat for 9 hours of cooking, or high heat for 4 hours of cooking. To your crockpot, add chicken thighs, water, onion, garlic, oregano, salt, pepper, and cumin. Make sure lid is on tightly and cook for either on high for 4 hours, or on low for 9 hours.
Remove chicken from the pot. Carefully remove skin and shred chicken from the bone. Add the chicken, corn, beans, and sour cream to your crockpot. Stir to combine all ingredients and cook on high for 30 minutes or until soup is heated through.
Garnish with chopped cilantro and grated cheddar cheese.
Enjoy!