Easy Valentines' Brookies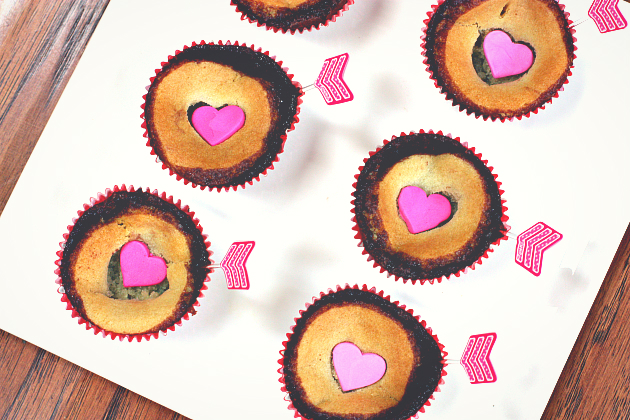 What is a Bookie? A Brookie is a combo of a brown and a cookie. They. Are. Delicious.
Today I found out I had to make Valentine's treat for M's class. We have been so busy that I had to opt for the easy version. Normally I like to make my brownie and cookie dough batter from scratch, but we didn't have time for that. I opted for the next bet thing. A trip to Michael's, and a couple pre-made mixes.
For this recipe I opted for Krusteaz. I purchased their Sugar Cookie Mix and their Fudge Brownie Mix. I love that their products are made from whole gain ingredients all in an easy to prepare mix. (editors note: i was not given these products for free or paid for this post) I just thought they were better of the pre-made mixes.
Ingredients:
Preheat oven to 375. Line a muffin pan with nonstick cooking sprat or cupcake liners.
One box Krusteaz sugar cookie mix

one box Frusteaz Fudge Brownie mix
Once package 12 candy heat
Directions:  Mix brownie mix according to package directions. Make sugar cookie mix according to package directions, Drop one rounded spoonful bownie mix on to muffin tin. Take a rounded teaspoon full of  of sugar cookie mix, roll into a ball, than planted into a disk. Place the sugar cookie on top of the brownie mix. Top wit   your favorite pink hear. Cook for about 15 minutes or until toothpick comes out clean. Be sure to check the brookies about halfway through baking to make sure they re not overcooked. Let cool in the pan for at least 10 minutes. The hearts will sink a little, but that just adds a little character to cookie 🙂
Happy Valentines' Day!
Prepare each box separately according to directions.