Greek Pasta Bake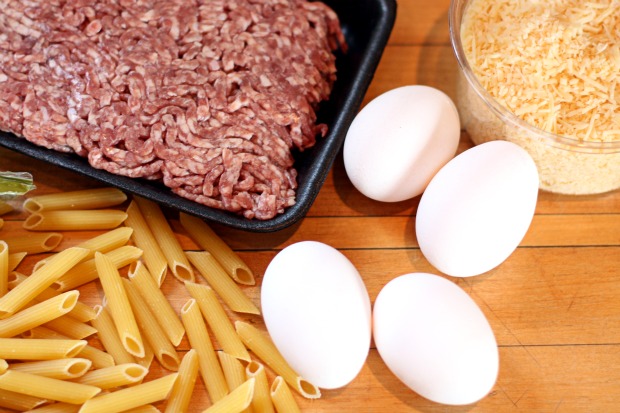 I have a confession to make…
I stole this recipe.
And when I say stole, I mean stole.
Ok, now before you start judging… give me a chance to elaborate….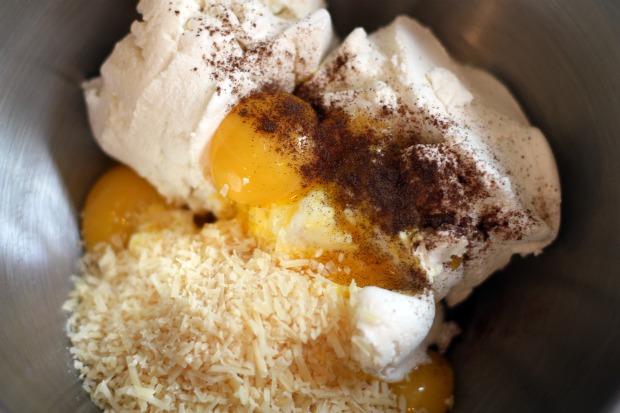 A couple weeks ago, right before we left for our house hunting trip, I paid a visit to the doc to make sure baby #2 was nice & healthy. I had been waiting for over an hour and there was a stack of back issues from Food & Wine magazine that were calling my name.
After thumbing through a few issues, I started fishing through my purse for a notepad to jot down some recipes. I suddenly had flashbacks of going to the doctor with my grandma and remember her ripping out recipes from magazines in the waiting room.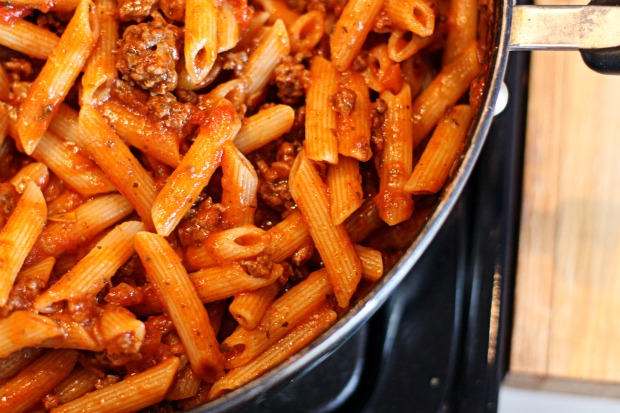 Unsure if there was a waiting room magazine etiquette rule, I took to facebook to ask for advice.
After getting tons of comments to just rip out the recipes, I went for it.
I took not one, not two, but 6 recipes! Yikes!!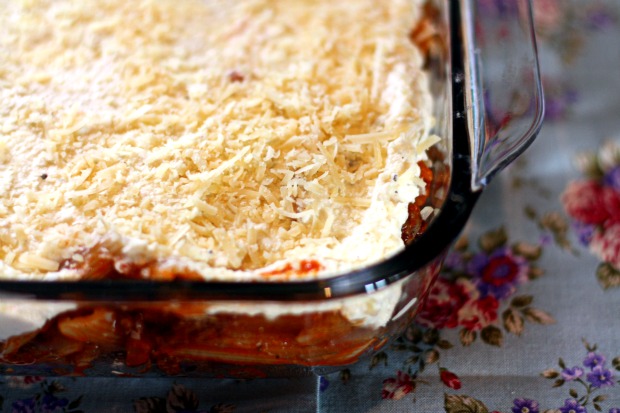 By this time my name had been called. I stuffed the recipes in my purse, saw the doctor, and drove home.
It was then that I noticed more comments had come in, saying the nice thing to do is to take a picture with my phone so others can enjoy the recipes too.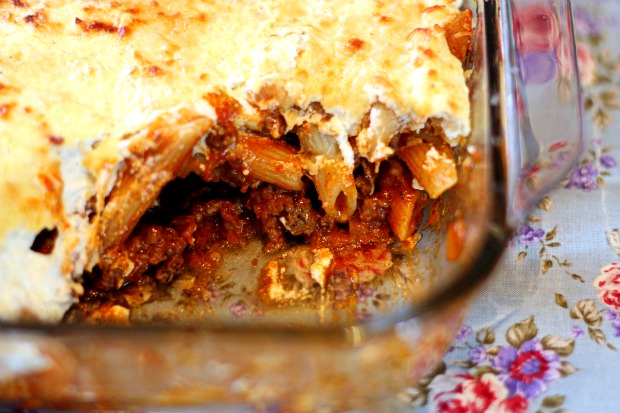 Oops!
Next time, instead of ripping out the recipes, I promise to take pictures… Promise.
Greek Pasta Bake adapted from Food & Wine Magazine
Ingredients:
1 tablespoon olive oil
1.5 lb lean ground lamb
1 large shallot, finely chopped
1 teaspoon dried oregano
1 tsp cinnamon
1 tsp ground cloves
1/2 tsp salt (more to taste if needed)
1 tsp pepper
3 cups of your favorite jarred marinara sauce
1 pound penne
3 cups part-skim ricotta
4 egg yolks
1/2 tsp ground nutmeg
1 cup freshly grated parmesan cheese
Preheat oven to 350 degrees
Bring a large pot of generously salted water to boil. In a large saucepan, heat olive oil to medium-high heat. Add lamb, shallots, oregano, cinnamon, cloves, salt, & pepper. Cook until lamb in browned and liquid has reduced (about 11 minutes). Add the marinara sauce and cook over medium heat until liquid has reduced a little ( about 10 minutes)
Cook the pasta al dente for about 7 minutes, drain & return to the pot. In a separate bowl, combine the ricotta, egg yolks, nutmeg, 2/3 cup parmesan, 1/2 tsp salt & 1/2 tsp pepper. Mix well until nice & smooth.
Add the lamb mixture to the pasta. Pour the pasta into a 9×13 inch oven safe dish. Spread the ricotta mixture over the pasta. Bake at 350 for 25 minutes. Turn the broiler on and boil for about 5 minutes or until the top in golden and a little toasty.
Enjoy!!!
p.s. my family LOVED this dish!!! it's definitely worth a repeat appearance!