Homemade Pesto Rolls
Hello Weekly Bite readers! My name is Josie Landon. This recipe is an attempt at satiating a craving I've had since leaving college.  In the small town of Moscow, ID, there is a Co-Op with a wonderful deli and bakery.  They don't just make regular cinnamon rolls, but have expanded on the tradtional idea by making savory rolls.  Their Pesto Rolls are to DIE for!!  Here is my version of Pesto Rolls and how you can alter the recipe for other types of rolls!
Pesto Rolls by Josie Landon
1/4 c. warm water (115 degrees F)
2 tsp rapid rise yeast
1-1/2 c. warm whole milk (115 degrees F)
1/2 c. butter, melted
1/4c. sugar (divided)
2-1/4 tsp salt
3 lg eggs
3 c. bread flour
3 c. all purpose flour
For inside the rolls:
1 cup Pesto (homemade is better but not easy to find this time of year)
1 cup freshly grated parmesan, divided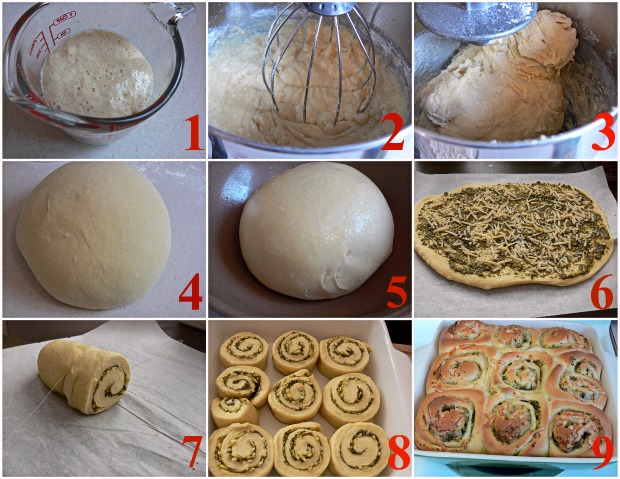 1.  Place warm water in a small bowl with about a teaspoon of sugar.  Sprinkle the yeast over the water and let stand until foamy, about 5 minutes (Fig. 1).  If the yeast doesn't foam, your water may be too hot.  Meanwhile, in the bowl of a stand mixer, whisk together the milk, remaining sugar, salt, and eggs.  Whisk in the yeast mixture (Fig. 2).
2.  With the mixer on low, mix in the 3 cups of bread flour (Fig. 3).  Give it a good whirl, then switch the attachment to the dough hook.  With the mixer on the lowest speed, slowly add the all purpose flour.  The resulting dough should pull away from the sides of the bowl and pull away from the bottom.  You may need more or less flour depending on how humid your kitchen is that day.  Once the dough ball forms, let the dough rest for about 10 minutes.  This rest helps the flour to hydrate a bit and will also aid in the formation of gluten while kneading.
3.    Mix on medium speed for 6 minutes.  Turn the dough out onto a lightly floured surface and form into a large ball (Fig. 4).  Grease a large bowl and place the dough ball inside, turning to coat (Fig. 5).  Cover with plastic wrap and let rise in a warm place for about an hour or until doubled in size.
4.  Butter two 9″x13″ pans.  Deflate the dough by gently pushing down and turning it over in the bowl.  Divide in half with a sharp knife.  Roll out into a rectangle that is about 1/4″ thick– I did this on a piece of lightly floured parchment paper.
5.  Spread the pesto over the rectangle of dough and sprinkle with 2/3 cup of parmesan (Fig. 6).  Roll up lengthwise so you have a long log of dough and pinch the seams to seal.  Roll the log over so that the seam is down.  Cut into 1″ thick slices– I like to do this using unflavored dental floss.  Just place the floss under the log and position where you'd like to cut the dough, bring the ends up, cross them over, and pull.  Perfect slice every time (Fig. 7).
6.  Place about 12 slices in each pan (Fig. 8)– don't overcrowd it (about 9 in an 8″x8″ pan).  The rolls will need room to rise.  Sprinkle the remaining 1/3 cup of parmesan over the rolls.  Cover with plastic wrap and let rise in a warm place for about an hour or until doubled in size.
7.  Preheat oven to 375 degrees F.  Bake the rolls, one pan at a time, for 40 minutes.  Turn the pans halfway through to ensure even baking (Fig. 9).
8.  Let cool and enjoy!!
Ideas for alterations:
These rolls can be made sweet or savory!  Try these alterations:
Cinnamon Rolls:
Follow directions through step 4.  Butter the rolled out dough with 4 tablespoons of softened butter, then sprinkle with about 1/2 cup of brown sugar.  Sprinkle with cinnamon.  Roll up, cut, and place in a greased 9″x13″ pan.  Sprinkle a bit more brown sugar and cinnmon on top, then place a little dollop of butter on top of that (Fig. 13).  Bake as directed (Fig. 14) and serve with cream cheese frosting!  For the cream cheese frosting, blend together 1 block (8 oz. ) cream cheese (I used the 1/3 less fat kind) and 1 stick of softened butter.  Add 2 cups of powdered sugar and 2-4 Tbsp milk (depending on how thin or thick you want it).  Spread over warm rolls and enjoy!
Pizza Rolls:
Use 1 cup marinara sauce and 1 cup of mozzarella in place of the pesto and parmesan.  Roll out and cut.  Place the rolls in a greased 9″x13″ pan, and top each with about 1 tsp of marinara sauce.  Let rise, then top with a thin layer of your favorite pizza toppings and the remaining mozzarella.  Bake as directed.