Lemon Rosemary Pan Roasted Chicken Legs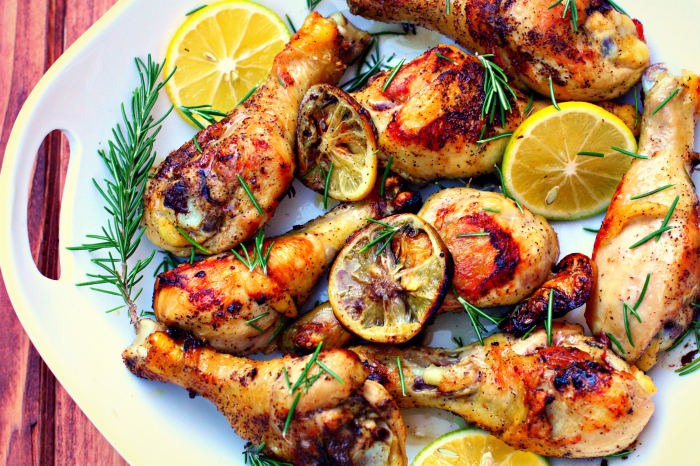 Chicken legs have always been a secret favorite of mine. When given the choice, I try to opt for the the leaner cuts of the chicken, but the legs just taste so much better! Plus… my family loves them and my kids devour them!
I love this dish because I get this ready, stick it the oven and get the side dishes ready while the chicken finishes cooking in the oven.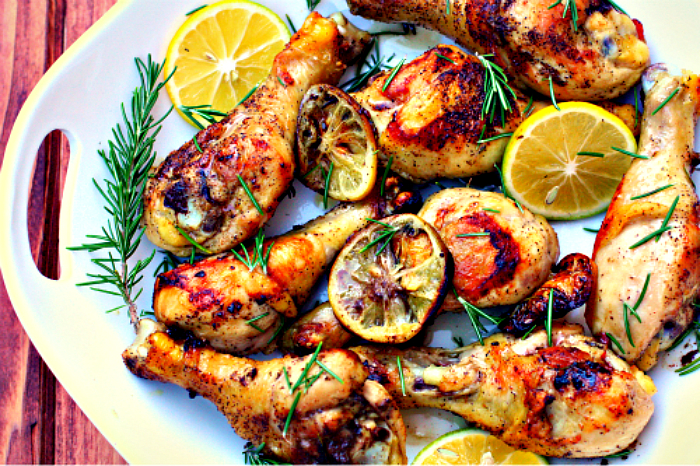 The best thing about this dish is if you don't have any lemon or rosemary on hand, just season with salt and pepper and you will still have a delicious tasting dish.
Ingredients:
eight chicken legs
2 tablespoons olive oil
1 lemon sliced
juice of one lemon
1 table fresh rosemary
½ teaspoon pepper
½ teaspoon salt
Directions
Preheat oven to 450 degrees
Drizzle olive oil and in a large heave skillet and bring to a medium high heat. Place the chicken legs skin side down. Add lemon juice, lemon slices, and rosemary to pan. Sprinkle salt and pepper over chicken. Cook chicken in pan for about 12-14 minutes until skin is golden and a little crispy. You may have to rearrange chicken a little to make sure all sides of skin is browned. Next, place the skillet in preheated oven and cooked for an additional 13 minutes until fully cooked and golden brown. Once cooked, let stand a couple of minutes before serving.
Nutrition Bite: I grew up thinking chicken breast was the only type of chicken I should be eating because they were healthier. I've always loved chicken legs and chicken thighs but stayed away because I thought they weren't the healthiest. Here's the thing, It's how much we eat that matters the most. Eating healthy is important, but how much we eat is just as important. Never rule out foods you love 😉