Peanut Butter & Jelly Smoothie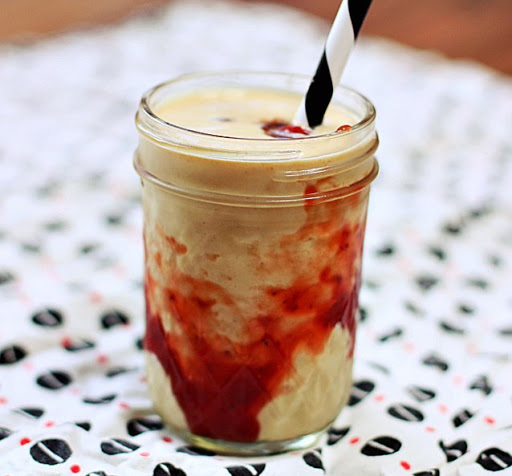 M's favorite sandwich is peanut butter & jelly. Turkey & Cheese comes a close second, but she'll eat PB & J any day. I asked what she thought about making it into a smoothie and she was game.
In M's words, she said this smoothie was "Aca-Mazing!" (yes. she watched Pitch Perfect with me. don't judge ;)) Then she proceeded to enjoy her delicious beverage.
This smoothie makes for the perfect snack, satisfying those little bellies well until mealtime.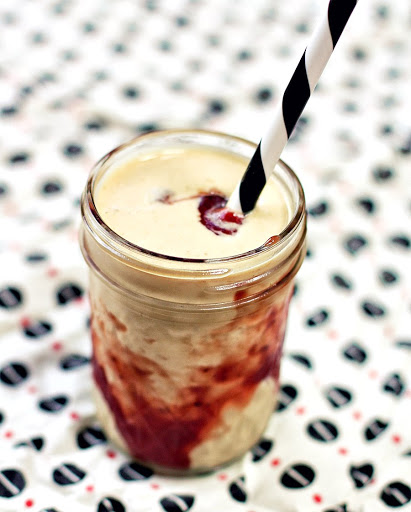 Here's how to make this smoothie yours.
Peanut Butter & Jelly Smoothie (1 serving)
1 frozen banana

1/2 cup low-fat vanilla yogurt
1/3 cup low-fat milk
1 heaping tablespoon all-natural peanut butter
1 heaping tablespoon 100% natural fruit preserves (we like strawberry)
In a blender or food processor, blend the frozen banana, yogurt, milk, and peanut butter until smooth. Take your smoothie glass and with a spoon or blunt knife swirl half the fruit preserves around the glass. Pour the PB smoothie in and add the remaining fruit preserves to the top and swirl around. Stick a cool straw in the smoothie glass and enjoy!