Pistachio Artichoke Hummus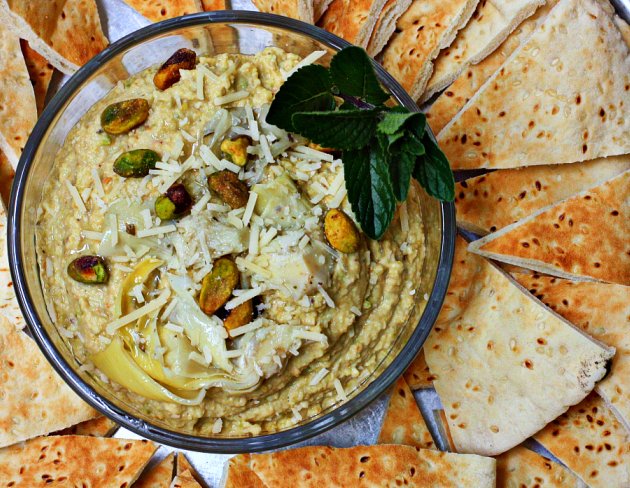 Several weeks ago I met up with a friend I hadn't seen in over eight years. I love when friends I haven't seen in ages feels like it was just yesterday when I last saw them. We were catching up on the latest like no time had past. It was so great to catch up with her and I promised myself wouldn't wait so long until I saw her again. Aside from the great company was the Pistachio Artichoke Hummus that I ordered. It was both interesting and full of flavor.  I made it my mission to recreate this amazing dish.
After several attempts and mistakes, I finally created a recipe I loved and felt similar yet unique to the original version I had at the restaurant.
With two kid's who are obsessed with hummus, I made them my guinea pigs. M, being the most critical, LOVED it and demanded I make her a Pistachio Artichoke Hummus Sandwich for lunch. I was so happy I had to give myself a little pat on the back. She even asked for extra artichokes to put in her sandwich.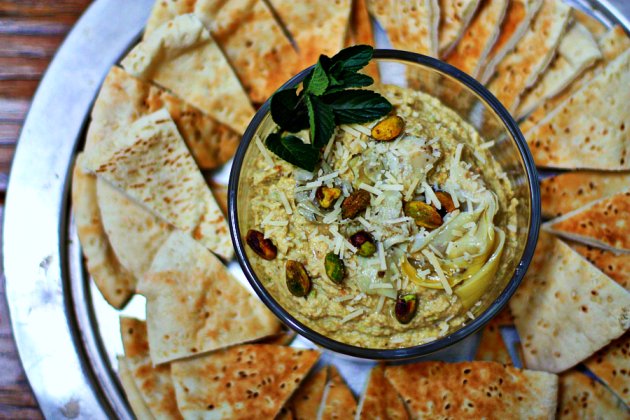 I hope you love this hummus as much as my family does 🙂
Pistachio Artichoke Hummus
One 15oz can garbanzo beans, drained and rinsed
12oz marinated artichokes (do not drain the marinade)
1/2 tsp pepper
1/2 tsp kosher salt
1/2 cup pistachios
1/3 cup grated parmesan
juice of one lemon
Pour the pistachios into a food processor or high speed blender. Blend until pistachios are crushed. Add the garbanzo beans, artichokes (with marinade), and the juice of on large lemon. Process until all ingredients are blended and smooth. Add salt and pepper to taste. Place hummus in a large bowl and fold in parmesan cheese. Enjoy with your favorite veggies and pita bread 🙂