Recipe Repeat: Mediterranean Salmon Salad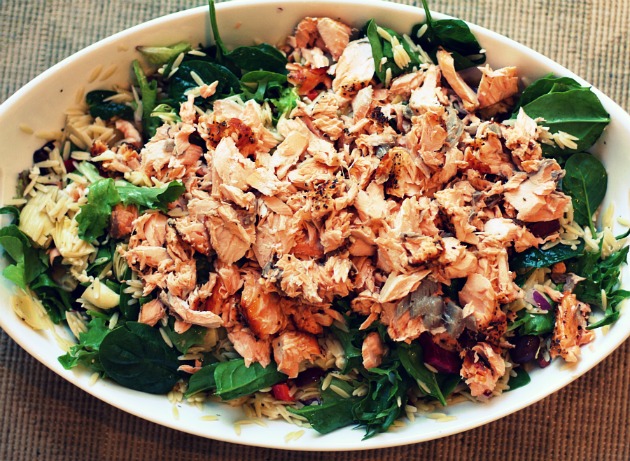 Oh how I love this salad. I've posted this recipe in the past but I've been making it so often I just had to repost it.
We had friends over for dinner and when I asked what type of food they wanted the only request was "something healthy". I knew exactly what to make. What I love is how easy this recipe comes together.
The first step is to make the recipe for Becky's Dressing. I like to to make it about an hour before dinner so the flavors have time to blend.
Lucky for me I had a very eager kitchen helper. M told me it was her job to make the dressing perfect 😉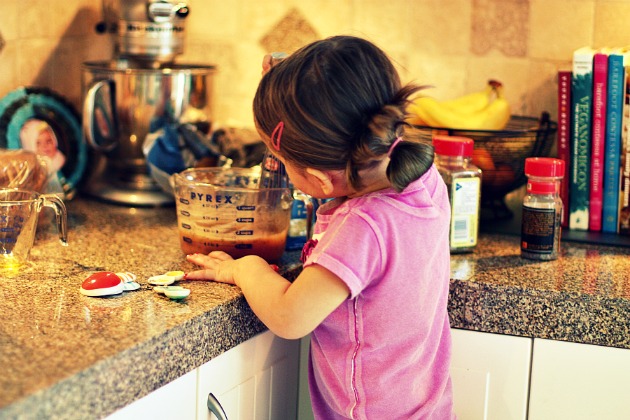 While M stirred her little heart out, I placed the salmon under the broiler, boiled the orzo, and chopped up the onion, peppers, artichokes, & olives.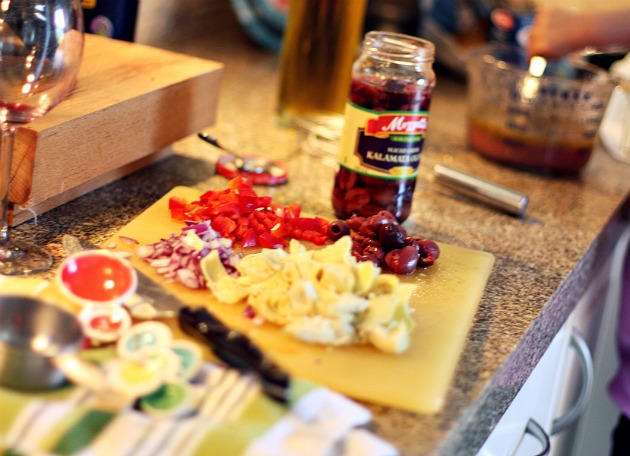 While the salmon was cooling I drained the orzo and poured 1/4 cup of dressing over it. I added the onion, feta, olives, artichoke, & peppers and mixed it all together. Next I gently mixed in a combo of baby spinach & arugula.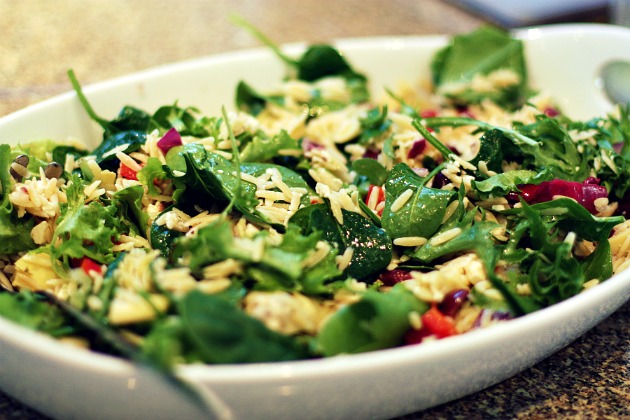 The last step was to top it with the shredded salmon.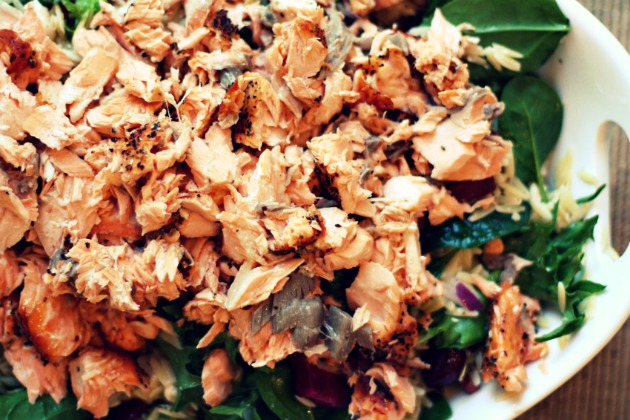 I served it with the leftover dressing on the side and sliced French Bread.
I highly recommend making this for dinner. It's delicious 🙂
Mediterranean Salmon Salad
Ingredients:
Becky's Dressing:
1/2 cup olive oil
3/4 cup red wine vinegar
1-1/4 teaspoon dried oregano
1-1/4 teaspoon dried basil
1-1/4 teaspoon garlic powder
1 teaspoon onion powder
1 teaspoon salt
1 teaspoon pepper
1 teaspoon Dijon mustard
Whisk all ingredients together and mix into salad just before serving.
3/4 lb salmon filet
1/4 tsp salt
1/4 tsp black pepper
1/4 tsp dried oregano
1 cup orzo
1/2 cup kalamata olives
1/2 cup red bell peppers (chopped)
1/4 chopped red onions
1/2 cup crumbled feta
1 14oz can artichoke hearts (quartered)
2 cups arugula
Becky's dressing (see above)
Directions:
1) Make recipe for Becky's dressing, set aside.
2) Preheat broiler
3) Sprinkle salmon with salt, pepper, & oregano.  Place under broiler for 10-15 minutes, or until center is cooked.
4) Cook pasta according to package directions.
5) Drain pasta and place in a deep casserole dish.  Pour 1/4 cup of dressing over pasta and gently toss.
6) Once salmon is cooked, flake salmon using two forks.
7) Too the orzo, add olives, red bell peppers, red onions, feta, artichoke hearts, & arugula.  Use a forked spoon to gently combine all ingredients.
Top with flaked salmon & serve with dressing on the side.