Southwest Stuffed Sweet Potatoes With Avocado Cream Sauce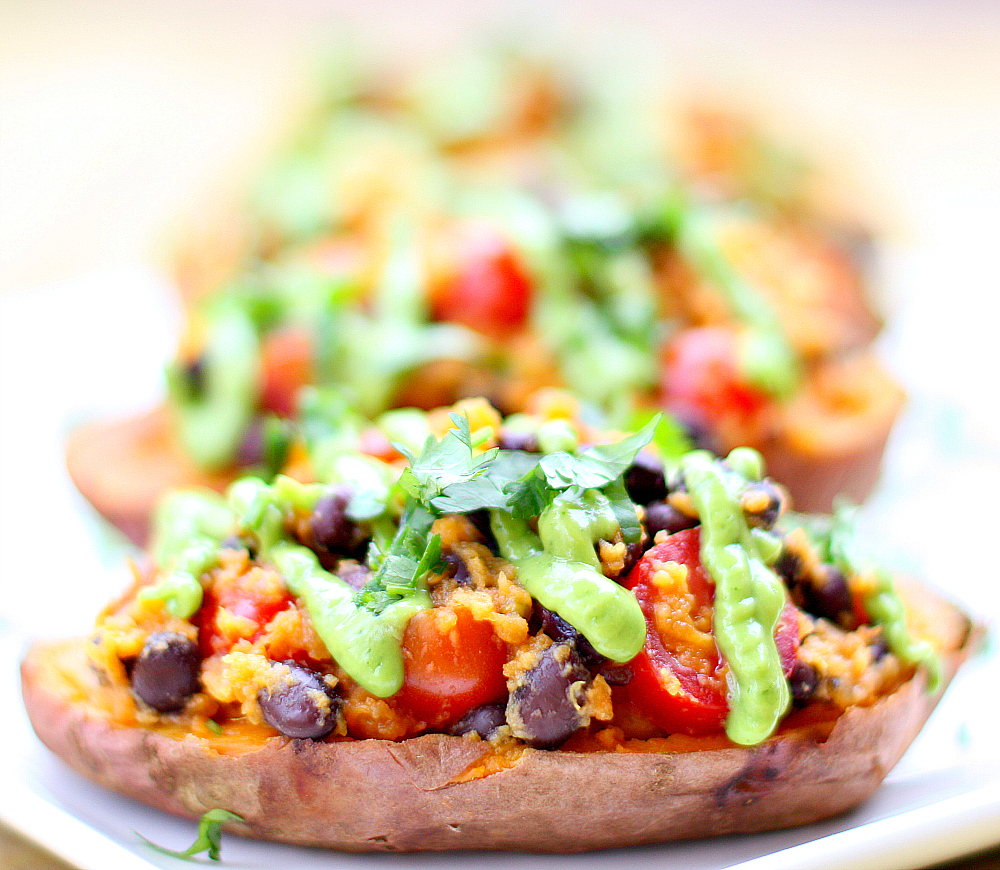 My love for sweet potatoes has no end. They are delicious and packed with nutrients! I love how they can take on any flavor, especially when there's avocado, cumin, black beans, fresh limes, tomatoes, and cilantro inside. Every single ingredient in this recipe is healthy and simple. This dish comes together easily and makes for a tasty meal. An easy tip is to make your sweet potatoes ahead of time and store them in the refrigerator. This way your sweet potatoes are ready for a quick and easy meatless meal.
Serves: 4-6
Ingredients
Four medium size sweet potatoes
Avocado Cream Sauce
2 avocados (chopped)
1-cup cilantro (chopped)
1/3 cup fresh lime juice
1 tsp cumin
2 cloves garlic (chopped)
¼ tsp salt, more to taste if needed
Sweet Potato Stuffing
2 tsp cumin
½ tsp paprika
½ tsp salt
2 cups cooked black beans
1 cup sliced grape tomatoes
Cilantro for garnish
Directions:
Preheat oven to 450 degrees. Thoroughly wash and dry your sweet potatoes.
Pierce sweet potatoes several times with a fork and bake at 450 degrees for 60-75 minutes or until soft. Time will depend on size of potato
While potatoes are baking, prepare avocado cream sauce. Using a blender or food processor, blend together avocado, cilantro, lime juice, garlic, & cumin until smooth. If sauce is too thick, add water one tablespoon at a time to thin it out. This will be drizzled over the potato so it shouldn't be too thin. Refrigerate until ready to use.
Once potatoes are cooked, carefully slice each potato in half lengthwise.
Using a spoon, carefully scoop out a little more than ½ of the flesh of each potato into a small bowl. Make sure to leave just enough flesh to keep the potato intact.
Combine the removed sweet potato with your cumin, paprika, and salt. Next add in your black beans and gently fold in the grape tomatoes.
Carefully scoop the mixture back into the sweet potato skins. Drizzle with avocado cream sauce and garnish with chopped cilantro.