Summer Shrimp Gazpacho
Follow my blog with Bloglovin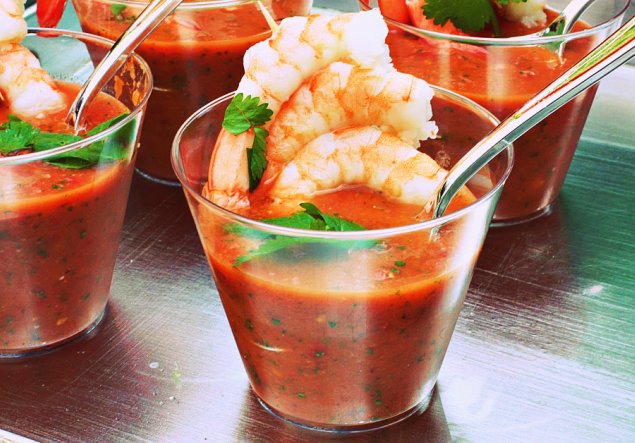 Summer is officially here! For our family, that means daily trips to the swimming pool, the occasional vacation, and hosting a lot of outdoor dinner parties. With the  temps getting warmer, cooked frozen shrimp has become a staple on my grocery list. As a lean source of protein, having frozen shrimp on hand makes summer appetizers a breeze. In coordination with the NFRA & Easy Home Meals, I created this Summer Shrimp Gazpacho. It's nutritious, refreshing, and makes for the perfect appetizer on those hot summer evenings. This dish can easily be customized to build a variety of flavors by using items from the frozen & refrigerated aisle at your local supermarket, and, create your own refreshing appetizer for your family. This appetizer was so good even my kid's said it was yummy!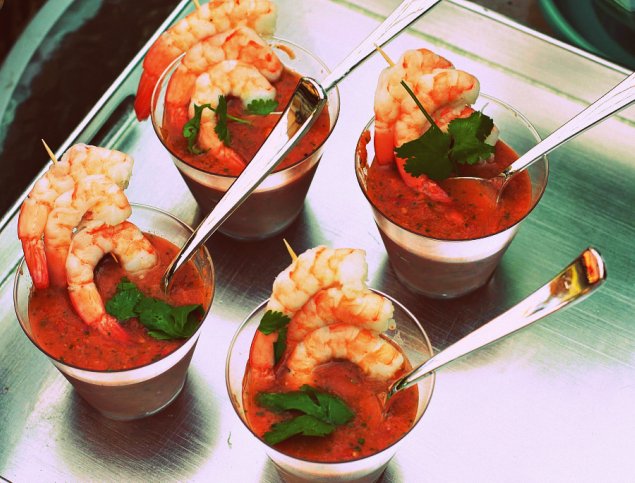 Summer Shrimp Gazpacho 
Serves 10 appetizer cups
1 pound frozen jumbo shrimp

6 large tomatoes (cut into chunks)
1 large cucumber, peeled, seeded, and cut into chunks
3 cloves of garlic (minced)
1/2 large red onion (chopped)
1/2 cup cilantro (chopped)
3 tablespoons red wine vinegar
1/4 cup olive oil
Juice of one large lemon (or two small lemons)
1/2 cup vegetable juice (I used V8 Juice)
1 tablespoon Worcestershire  sauce
salt & pepper to taste
Thaw your shrimp according to package directions. I like to put mine in the refrigerator the night before so they can safely thaw overnight. Once thawed, drain the shrimp and blot with a paper towel or cloth to remove any excess moisture. Store the shrimp in the refrigerator until ready to serve.
Using a food processor or high speed blender, add your tomatoes, cucumber, garlic, cilantro, & onion into the food processor. Process the ingredients until they are lightly blended. You want the texture to be a little smooth, but slightly chunky. To the vegetables, add the red wine vinegar, olive oil, lemon juice, vegetable juice, and Worcestershire sauce. Pulse until the ingredients are just mixed together (be careful not to over process the soup). Sample the gazpacho and season with salt & pepper as needed. Place the soup in an airtight container.  Store the soup in the refrigerator and chill for at least two hours. This soup can even be made the night before. The longer the gazpacho sits, the more the flavors develop.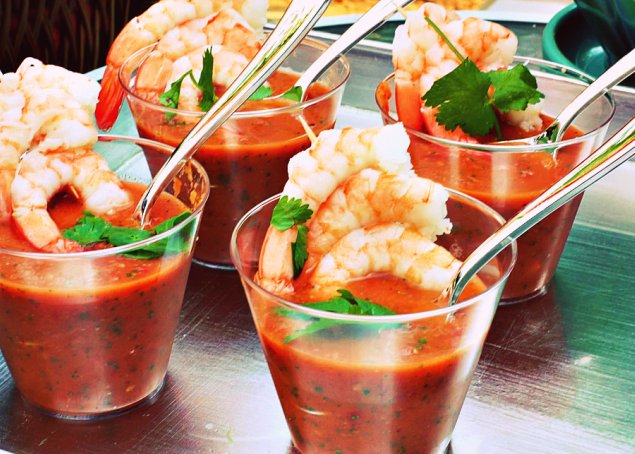 For serving, you can use small paper cups, clear plastic ones, or whatever you have on hand for an appetizer serving. Ladle the gazpacho into the cups. Using a long toothpick, skewer three shrimp and place in the gazpacho. You can garnish with additional cilantro for a pretty presentation. This soup can be served with a spoon or guest can drink it straight from the cup. I like to place the extra shrimp on a platter with lemon slices so my guests can add more shrimp to their soup if needed.
Enjoy!!