The Famous Compost Cookie…
This is the perfect cookie for a pregnant woman.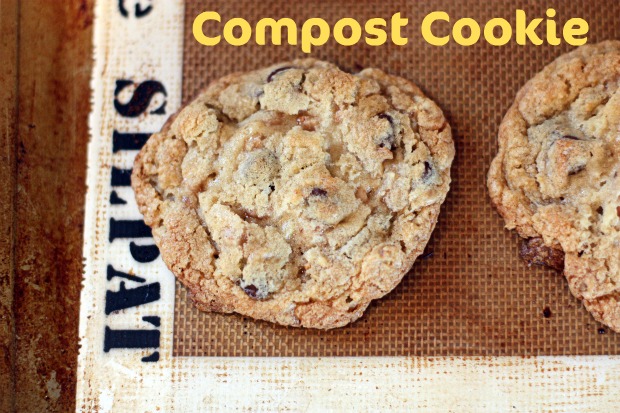 This cookie contains chocolate chips, toffee bits, Ruffle's Potato Chips, & pretzels.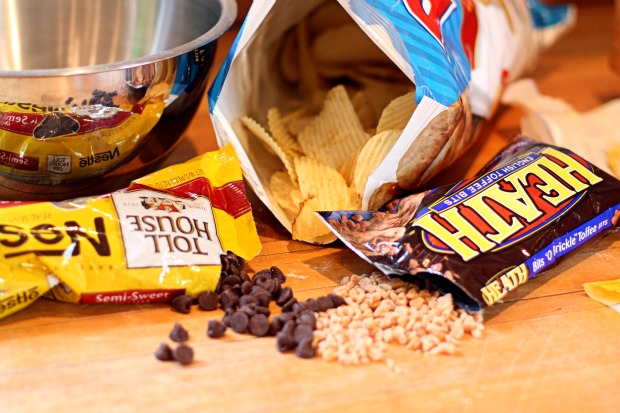 Yes, you read that correctly. There are potato chips & pretzels in this cookie. It is delicious.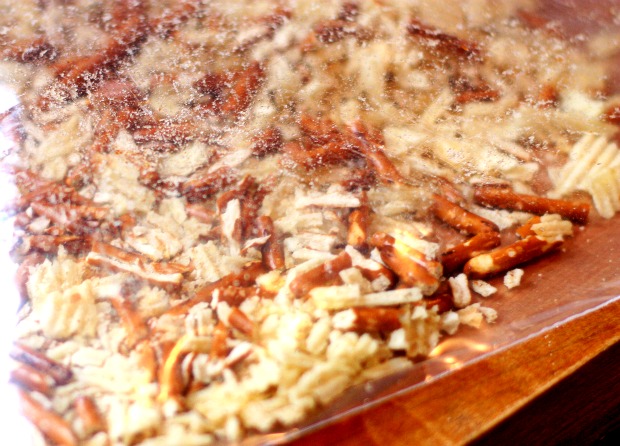 Several months ago I posted my Cap'n Crunch Marshmallow Treats. The inspiration for those came from an InStyle magazine article about Momofuku Milk Bar's Pastry Chef/Owner, Christina Tosi. One of her most famous cookies is her Compost Cookie. WB reader Natalee emailed me asking for the compost cookie recipe. The recipe for this cookie wasn't in the InStyle article, but it was stuck in my head. I needed that cookie in my life. After googling and googling, I found the recipe 🙂 And of course I emailed it to Natalee 🙂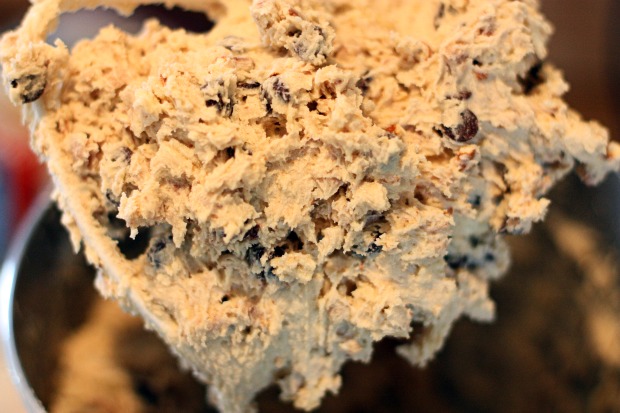 Both the ingredients and the technique involved in these cookies are unique. In addition to the cookie dough, you add 1 1/2 cups of your favorite baking ingredients (chocolate chips, rolos, cocoa crispies, etc…), then you add 1 1/2 cups of your favorite snack foods.  I used a combo of semi-sweet chocolate chips & Health Bar toffee bits. For my snack foods I used a combo of Ruffle's potato chips and pretzels.
The technique involves creaming the butter, sugar, egg mixture for ten minutes so the sugar can dissolve. Once the flour and all the mix-ins are added you're suppose to scoop the dough onto either a parchment paper or silpat lined pan using a 6oz scoop. I used an ice cream scoop & it worked great. Next you cover the pan with plastic wrap and put them in them in the fridge for at least one hour. I'm inpatient and stuck mine in the freezer for 45 minutes. It worked perfectly.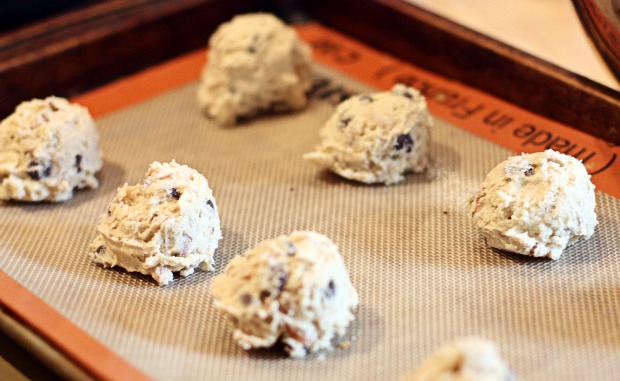 Recipe Adapted from Amateur Gourmet
Ingredients:
2 sticks unsalted butter (at room temperature)
1 cup granulated sugar
3/4 cup light brown sugar
1 tablespoon light corn syrup
2 eggs
1 tsp vanilla extract
2 cups all-purpose flour
2 tsp baking powder
1 tsp baking soda
2 tsp Kosher salt
1 1/2 cups of your favorite baking mix (chocolate chips, reeses peanut butter cups, junior mints, whatever)
1 1/2 cups of your favorite snack foods (potato chips, pretzels, etc…)
Directions:
In a medium bowl, combine your flour, baking powder, baking soda, & salt. Set aside.
In a mixer fitted with paddle attachment, cream the butter, sugars, and corn syrup until creamy. This will take about 2-3 minutes. Be sure to scrape the sides down. Next add the eggs and vanilla. Set the timer for 10 minutes and cream at medium high speed. The mixture will almost double in size. Next you want to add your flour mixture. Mix at low speed just until combined. This will only take about 45 seconds. Be sure not to over mix. Next add all your mix ins to the dough. Mix at low speed just until combined. Don't over mix.
Using an ice cream scoop, Scoop dough onto a parchment (or silpat) lined pan. Wrap pan with plastic wrap and refrigerate for at least 1 hour, or, you could do what I did and stuck it in the freezer for 40 minutes. When your dough is ready, preheat your oven to 400 degrees and bake for 9-11 minutes. Just until the edges are golden brown. Do not touch the cookies. Let them cool completely in the pan.