Three Easy & Healthy Salads
Today I am featuring three of my favorite salads. I like to eat these either as a main meal, or a side dish. They are made with wholesome, easy to find ingredients, and I love having extra for leftovers. These salads are healthy with loads of nutrition. My kid's love them too which is a huge bonus 🙂
Chickpea & Couscous Salad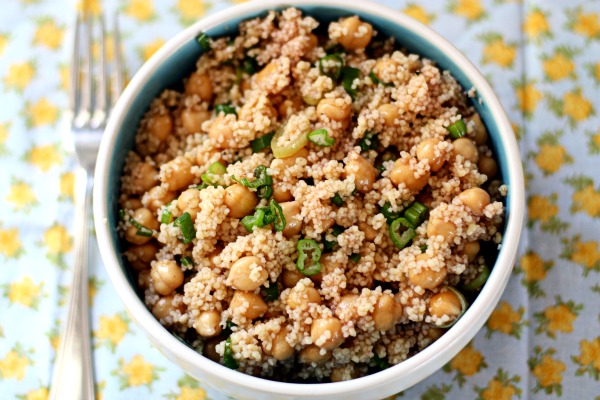 Ingredients:
1 14oz can chickpeas (drained & rinsed)
1 cup cooked couscous
1 green onion (thinly sliced)
1.5 tablespoons red wine vinegar
1.5 tablespoons olive oil
salt & pepper to taste
Combine all ingredients together in a bowl & serve. Salad can be served chilled or at room temperature.

Mediterranean Salmon Salad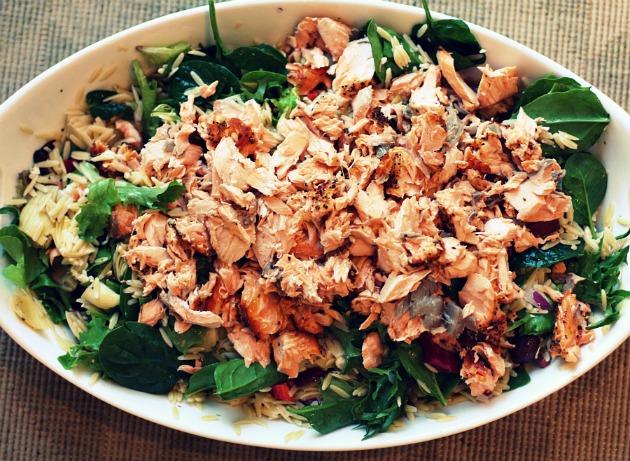 Ingredients:
3/4 lb salmon filet
1/4 tsp salt
1/4 tsp black pepper
1/4 tsp dried oregano
1 cup orzo
1/2 cup kalamata olives
1/2 cup red bell peppers (chopped)
1/4 chopped red onions
1/2 cup crumbled feta
1 14oz can artichoke hearts (quartered)
2 cups arugula
Becky's dressing (see recipe)
Directions:
1) Make recipe for Becky's dressing, set aside.
2) Preheat broiler
3) Sprinkle salmon with salt, pepper, & oregano.  Place under broiler for 10-15 minutes, or until center is cooked.
4) Cook pasta according to package directions.
5) Drain pasta and place in a deep casserole dish.  Pour 1/4 cup of dressing over pasta and gently toss.
6) Once salmon is cooked, flake salmon using two forks.
7) Too the orzo, add olives, red bell peppers, red onions, feta, artichoke hearts, & arugula.  Use a forked spoon to gently combine all ingredients.
8) Top with flaked salmon & serve with dressing on the side.
 Easy Broccoli Pasta Salad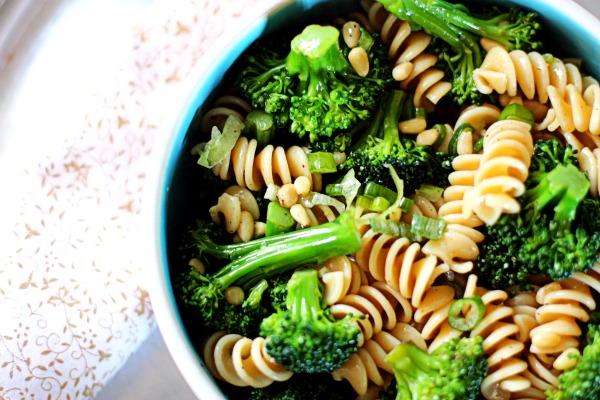 Ingredients:
2 cups cooked pasta ( I like penne or any short pasta)

2 cups fresh steamed broccoli
1 green onion, thinly sliced
1/4 cup pine nuts
1/4 cup olive oil
salt & pepper to taste
Mix all ingredients together, store in airtight container and chill for at least 2 hours before serving.
Enjoy!