Whole Wheat Spaghetti With Peas & Pancetta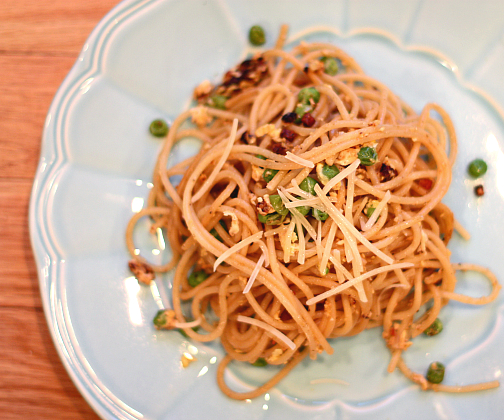 We did it! We successfully moved our family from the West Coast to the East Coast. The past two weeks have been very busy and the change of weather has been an… adjustment. We our family is happy that's what matters the most.
Now that I am back in the kitchen I wanted to share one our family's favorite new dishes. March Frozen Food Month and I've teamed up with the NFRA to bring you a recipe that fits perfectly into that theme! Being a mom to two little girls I'm a constantly brainstorming fun & healthy recipes that my entire family can enjoy. This recipe was a huge hit.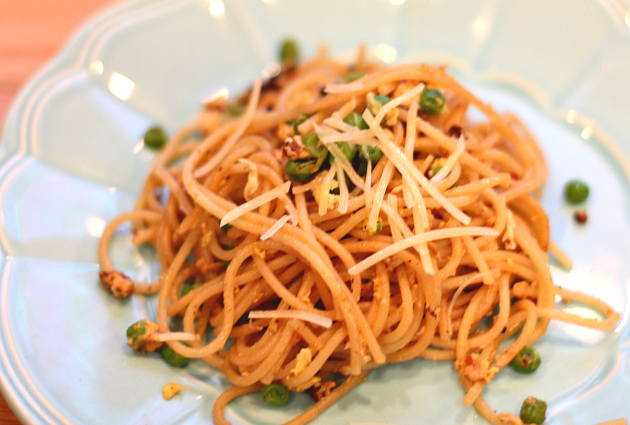 It includes every food that my family loves; pasta, cheese, frozen peas, and pancetta, which adds the perfect flavor to any dish. We will definitely be making this recipe again soon!
When you're on a tight schedule &have limited time (especially with moving ;)) We like to pick up one of Marie Callendar's mini pies, or Luvo's Greek Yogurt bars for a quick meal or snack. These come in handy when painting a house from top to bottom 😉
Don't forget to visit  NFRA's  contest page for a chance to win $10,000.
Enjoy!
Whole Wheat Spaghetti With Peas & Pancetta (serve 6-8)
Ingredients:
1 pound whole wheat spaghetti
1 tablespoon olive oil
1 cup chopped pancetta
1 1/2 cups frozen peas
4 eggs
3/4 cup grated parmesan cheese
Directions:
Cook spaghetti according to package directions. Drain spaghetti & set aside. While the spaghetti is cooking, heat olive oil in a large pan to medium heat. Add pancetta and cook until just crispy. Add frozen peas to pancetta and mix until peas are just thawed. Turn burner off. In a separate bowl, whisk egg and parmesan cheese together. Turn burner on to low heat. Add spaghetti to pancetta and peas and using a pair of tongs, mix through. Slowly add the egg & parmesan cheese mixture to spaghetti and and continue to mix through using your tongs. Be careful not let the eggs scramble. Continue to mix egg mixture through until even spread throughout the spaghetti and eggs are set.  Serve warm.