Chocolate, Broccolli, & Peanut Butter – Stocking A Healthy Kitchen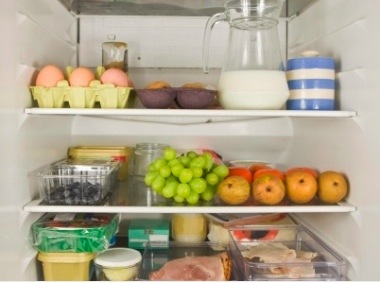 I bet you thought this post was going to be some kind of crazy recipe with chocolate, broccolli, and peanut butter… WRONG!!! This is about stocking a healthy kitchen. Everything you need in your fridge, pantry, and freezer! As many of you know, I am NOT a proponent of dieting or anything that involves not eating the foods I love. That being said… it's important to have a healthy well rounded kitchen having all types of food in your kitchen. For me, this means having everything from broccoli, to chocolate to wine!
In The Fridge
Low-Fat Yogurt: go for plain, lite, or greek
Skim, 1 percent milk, or fortefied soy milk
Low-fat cheese: keep reduced fat cheeses on hand such as Laughing Cow minis, Baby-Bel, String Cheese, and part-skim shredded cheese
Fresh Veggies: Either buy your own to wash and chop or buy the prewashed precut veggies
Tortillas: whole wheat tortillas are the BEST!
Lunch Meats: go for turkey or low fat ham or roast beef
Hummus: this is the perfect dipping food 🙂
Fresh Fruit: Go for what's in season! The fruit taste better and is more affordable!
Favorite food in my fridge…. ummmm…. A wheel of Camerbet Cheese & homemade grape jam from my mother-in-law 😉
In the Pantry
Whole grain pasta: Barilla Plus, Healthy Harvest, high fiber Ronzoni
Whole grain crackers: choose a cracker with at least 4 grams of fiber
Oatmeal: go for good old fashioned oats… no flavor or sweetener
Whole grain bread: choose bread that has at least 3 grams of fiber per slice
Brown Rice
Whole grain breakfast cereal: choose one that has at least 4 grams of fiber per serving
Nuts & seeds: go for almonds, walnuts, and basically anything that's unsalted 🙂
Jarred pasta sauce: always keep this in stock… makes for a good quick dinner
Salmon & light tuna: packed in water… great for salads and sandwiches
Peanut Butter: my favorite!!! try other nut butters too like almond butter!
Dried or canned beans: kidney beans, chick peas, and low fat refried beans are great to have on hand!
Favorite food in my pantry…. GOLDFISH!!! I always have to have these stocked!!!!
In the Freezer
Veggie Burgers: an anything veggie such as veggie sausages, veggie chicken patties, etc…
Lean ground beef – 90 percent lean
Frozen veggies: these are the next best thing to fresh! Just double check to make sure there isn't loads of sodium or fat from added seasonings and sauces.
Frozen fruit: go for the no sugar added! These are great when the fruit you love is out of season (like berries in the winter)
Boneless skinless chicken breast: clean the chicken when you get home from the grocery store and freeze in seperate freezer bags for easy access.
Ground turkey: make sure to buy lean or extra lean. Just cause it's turkey doesn't mean its low-fat… always check the label!
Favorite food in my freezer…. Edy's cookies and cream ice cream…. YUM!!!!!
So there you have it! These are some of basics.
What is the favorite food in your kitchen? Out of everything in my kitchen… cheese is tops!
Have a great day 😉