20 Vegetarian Meal Ideas
Today we are starting a new series on vegetarian meal ideas. This series will include snack ideas and getting kid's involved in the kitchen.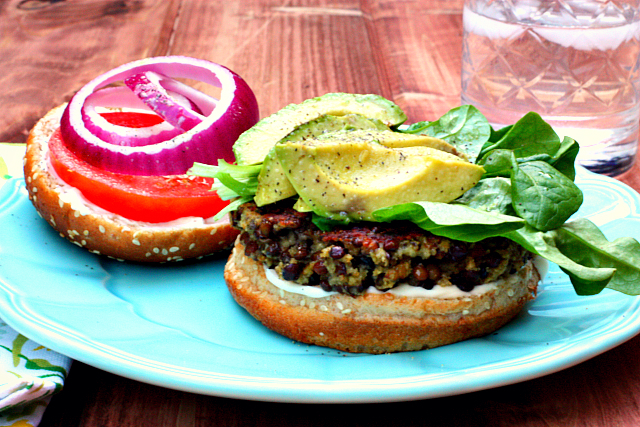 Lentil Veggie Burgers with Avocado
When making meals for the family, substituting meat-based favorites (like spaghetti with meat balls with spaghetti with falafel or using soy cheese or nutritional yeast instead of cheese to make macaroni and cheese for vegans) lets children enjoy these foods in a different way. In many cultures around the world, vegetarian food is an integral part of the cuisine. Experimenting with different foods adds variety and flavor to daily meals.
By Divya Nittala (weekly bite contributor)
The other day my 4-year old daughter asked me what was for dinner and I told her it was going to be lentils, quinoa, yogurt and grapes. She looks at me and says 'how are we going to get our vegetables?'. This made me realize that children are creatures of habit. If we give them healthy meals (which are appealing visually and taste-wise), they will anticipate and want to eat those type of meals.
Here are some meal ideas that I use to make meals for my family; the recipes of some of the lesser known dishes can be found below in the appendix of recipes (stay tuned for the appendix of recipes). The vegetables, fruits, grains, beans and dairy in these meal ideas can be substituted, added to and removed from, so feel free to experiment! I do bake a lot of my dishes because baking takes lesser oil, and is easier for me as I do not have to constantly keep an eye on the dish that is being baked unlike cooking, though baking takes a bit longer. Most of the recipes requiring baking but can be cooked on stove top too.
Fill-it-yourself Mini pita pockets with black eyed pea-feta salad and blueberry smoothie
Spaghetti with falafel and minty yogurt drink
Minestrone and sweet potato sticks with date dip
Lentil-rice pilaf and spiced cucumber yogurt
Quinoa upma with beetroot raita
Wrap-it-yourself Bell pepper, mushroom and cottage cheese wrap and pears
Vegetable and cheese quesadillas with peach salsa and guacamole
Colorful noodles with tofu stir fry
Stuffed Dosa (Indian lentil and rice crepe stuffed with potatoes) and tomato chutney
Injera bread with chard and chickpea stew
Spinach paranthas (tortillas) with roasted butternut squash and pomergranate-mint yogurt
Top-it-yourself Pita pizzas and tropical smoothie
Eggplant-legume rice with spiced carrot yogurt
Vegetables in Thai red curry sauce and rice noodles
Tricolor sandwiches and baked okra fingers
Sprouted mung bean stew with rice and baked cauliflower
Tofu scramble and roasted red potatoes
Mini bean-oat burgers and maple sweetened spaghetti squash
Grilled paneer sandwiches and baby oranges (cuties)
One pot pasta
These are just meal ideas to start with. We have some very yummy recipes coming up in the series so stay tuned!
In the meantime, here's a delicious recipe for Mini Pita Pockets with Black Eyed Pea & Feta Salad
Black-eyed pea and feta salad:
Ingredients for the salad: makes 3 cups of salad
–       1 cup soaked and cooked (or canned) black-eyed peas
–       ½ cup chopped cucumber or zucchini
–       ¼ cup feta cheese
–       ½ cup chopped bell peppers
–       ½ cup halved cherry tomatoes
–        ¼ cup chopped parsley and mint
–       1/4 cup Olive oil+ 2 tablespoons lemon juice+ 1 tablespoon maple syrup+ salt & pepper whisked together in a bowl or vinaigrette
–       Mix together all the ingredients and keep in refrigerator until meal time.
–       For serving, cut pita pockets into 2 halves and fill them with the salad. Enjoy!