A Conversation with Sandra Lee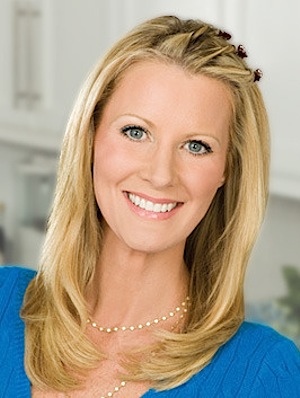 I was so excited to be one of four bloggers chosen to talk with Sandra Lee of the Food Network. This was my first time talking with a celebrity cook. To say that I was nervous is an understatement.
Sandra's recipes never appealed to me until M was born. I instantly became so busy and was looking for meals that were quick and easy to make.
Sandra was as sweet as can be! Her motto is spending less time in the kitchen and more time with family… hence the semi-homemade theme.
The phone call was part of her satellite media tour. She was in a large kitchen in NYC doing television cooking demos, radio interviews, and blogger interviews.
These other fabulous bloggers took part in the interview as well:
We each took turns asking our questions. Here's how the interview went…
Q1: What's your favorite little touch to add on a holiday table?
Sandra: The most important thing is to not get stressed out. I like to use holiday ornaments, & copper cookie cutters to decorate a table.
Q2: What's a great go to holiday cocktail?
Sandra: Try to buy spirits that are already mixed and ready to serve. Rename drinks: Christmas Cosmo, Mistletoe Mojito, etc…
Q3: What is one ingredient you like to keep on hand during the holidays?
Sandra: I like to go with ingredients that I can use at least 4 ways. Like instant coffee. I use instant coffee as a dry rub on pork chops, steak, and chicken. I use instant coffee in my chocolate chip waffles, and I love making mocha chocolate parfaits. I also like to buy pre-marinated meats. Never throw the marinade away. Put the marinade in a pot, reduce, then add cream of mushroom soup and fresh seasonings like parsley, rosemary, & thyme to make a quick and easy gravy for the meat.
Q4: What themes do like for the holiday season?
Sandra: Never have a sit down dinner… always do a buffet. Offer a ready to serve cocktail and comfort foods (like pigs in a blanket, shrimp, cheese tray's etc.) That's what people love the most. No one loves a dip you wanna try out on them.
Q5: What are your suggestions for Turkey day leftovers?
Sandra: Save or freeze your stuffing and use them to stuff mushroom caps for your holiday parties. Turn last nights dinner into your morning omelet.
Q6: What advice do you have for creating a tablescape?
Sandra: Always lay down the base first. A good tablecloth makes a great base. No need to buy anything fancy, get some inexpensive fabric or cover the entire table with construction paper. Lay down some colors and markers for the kiddos. Use fall leaves, pine cones, or mini pumpkins as decor. The tablescape is an accompaniment to who you are.
~~~~~~~~~~~~~~~~~~~~~~~~~~~~~~~~~~~~~~~~~~~~~~~~~~~~~~~~~~~~~~~~~~~~~~~~~~~~~~~
I had so much fun taking part in this interview. Here are my favorite tips from the interview:
Using copper cookie cutters to decorate a table. I love this idea!! I would put a cookie cutter at each place setting with a place card.
I've never used instant coffee in my cooking. I'm anxious to try it as a dry rub for steak, chicken, and pork chops.
I LOVE the idea of using leftover stuffing to stuff mushroom caps. What a clever idea!
Sticking with comfort foods for a party is key! Its very true that no one wants to try a dip you've made for the first time.
I'm a big fan of purchasing pre-marinated meat. Keeping the marinade and making a gravy is a fabulous idea!
I love the idea of rolling out construction paper as a table covering. This way the kids can be creative with colors and markers.
Sandra encouraged us to go to her website SandraLee.com for more recipe ideas.
Sandra was also sweet enough to give us a copy of her new cookbook to giveaway!! All you have to do is leave a comment on this post. A winner will be announced on Wednesday.
Disclosure: All of the opinions I've expressed are my own. I was not compensated for this post. A cookbook was given to me for a free giveaway.