Are You Taking a Nutrition Vacation?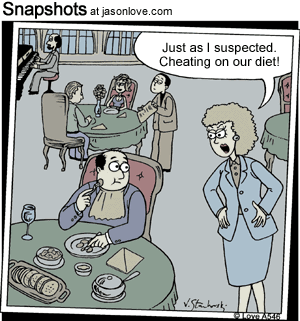 The Cheat Day…. What is it?
You all should know by now that I think diets are dumb. A waste of energy. A never ending cycle.
My motto is "Eat when you're hungry", "Eat real food", and "Eat everything in moderation."
With the holiday season in full effect, it's so easy to view every day as a cheat day and think "I'll just start eating healthy on Jan 1." "I'll start in the New Year." Instead of taking a "Nutrition Vacation" make it a rule to make 80% of your eating healthy and 20% whatever the heck you want.
There are thousands and thousands of diets out there that have a "cheat day". We are supposed to follow rigid guidelines all week and then have that one-day where we can eat whatever we want. The one diet the comes to mind that really preaches a cheat day is the "Body For Life" program. Eat super strict six days a week and on that seventh day, eat whatever, whenever. What this can do is eventually lead to an all out binge day (trust me, I've been there). We feel we have to eat everything we can't have during the week on that one-day. This leads to a mentality where we think to ourselves "tomorrow I'll start over again". The problem is that this mentality can spread to days other than our "cheat day". If we go off our diet, it's so easy to "just call it a cheat day"… which leads to a full on binge, which leads us back to the thinking "tomorrow I'll start over again". On so the cycle begins… and never ends.
Letting Go of the Cheat Day
Another common way of thinking is to eat healthy all week and "splurge" on the weekends. I definitely went through a phase of thinking this way. Don't get me wrong… I enjoy a good splurge every now and again… it's the quantity of the splurge that matters. Eating healthy during the week and allowing ourselves to eat out more on the weekend is perfectly healthy, but what we need to watch is the amount of food we splurge on. We still need to listen to our bodies, listen to our hunger, eat food we truly love, and stop eating when we've had enough. Remember… it's all about the portion sizes. If it tastes so good you want to keep on eating, keep in mind that you can take the rest home to enjoy the next day.
How to Splurge the Right Way
Be realistic in terms of the calorie content of your food. I'm not going to encourage full on calorie counting, but think of calories in a very loose and realistic way. If we order a dish of fettuccine alfredo, we know that dish has upwards of 1,600 + calories. Realistically, we do not need to be eating that much food. Think about the bread, side salad, and wine we've already consumed prior to our dish arriving. This can put us way over a 2,000-calorie dinner. Have a game plan and assess the menu before you order. If you really want the fettuccine, you can pass on the bread and/or wine, or, you can order it all and have a small taste of everything, but in reality, you're not eating much food at all. It's the amount of food we eat that matters the most.
Think of every day as a Cheat Day! Never Deprive Yourself
If we let ourselves eat the foods we love whenever, we don't need to have a designated day to enjoy them. Eighty percent of your diet should be healthy, and 20% is whatever else you want (healthy or not). As long as you are honoring your body, eating when you are truly physically hungry, and being mindful of your portion sizes, you can easily reach and maintain your healthy weight all while allowing yourself you daily "cheats".
~~~~~~~~~~~~~~~~~~~~~~~~~~~~~~~~~~~~~~~~~~~~~~~~~~~~~~~~~~~~~~~~~~~~~~~~~~~~~~~~~~~~~~~~~~~~~~~~~~~~~~
Question of the Day….
Are you taking a Nutrition Vacation? Have you ever fallen into the "Cheat Day?"
I've definitely had my moments when I've done this, but I've learned my lesson. I use to view the weekends as two days where I could eat whatever I wanted. Not anymore. I pretty much eat healthy, but I eat when I'm hungry and eat what I want.