Asian Chicken Orzo Salad & Falling into a New Routine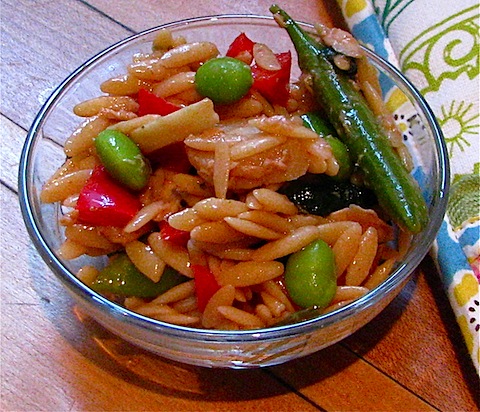 One thing I've loved about my new job (other than being around my daughter) is being able to finally work out consistently. I've always been good about getting my exercise in… but when I was working, I was always in such a scramble to get out the door. And by the time I got home I wanted to spend time with my baby instead of going for a run.
Even though I have a teething baby… I've actually been able to get more sleep and even better… I'm falling into a consistent routine. I'm still trying to fall into a consistent groove… but everything is slowly falling into place. And more importantly… I'm happier!
OK… moving on…
I've mentioned before how much I love meals/dishes that contain all three major food groups in one shot.
Sandwiches are on the top of my list. I love them! Whole grains, protein, veggies… plus all the yummy add ons!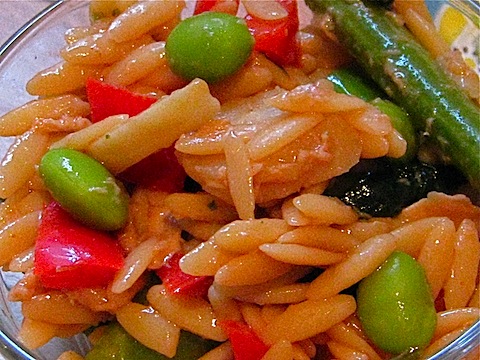 This meal is my "sandwich."
It's got it all! Carbs, Protein, Veggies, some healthy fat… and FLAVOR!
I've never made any type of Asian inspired dish before… meaning… I've never cooked with Hoisin sauce before 😉
This dish can also be made vegan by switching out the chicken for tofu!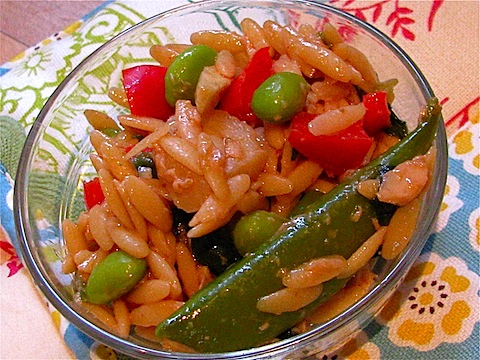 This recipe make A LOT of food! It's great to eat all week, or make when you know you're having guests over.
Adapted from Paula Deen
Ingredients:
2 cups orzo cooked according to box instructions.
2 cups cooked chicken breast, chopped.
1 red bell pepper, chopped
1 cup sugar snap peas
1 cup edamame
1 cup asparagus, roughly chopped
1 cup broccoli
1 small can sliced water chestnuts, drained
1/4 cup toasted sesame oil
1/3 cup hoisin sauce
1/3 cup soy sauce
1/2 cup rice vinegar
1/2 cup slivered almonds, toasted
Directions:
Bring a large pot of water to boil. Once water is at a rolling boil, add bell pepper, snap peas, edamame, asparagus, and broccoli. Boil for just a few minutes to blanch the veggies. Quickly remove from boiling water and set aside.
In a large bowl, combine orzo, chicken, and all veggies. Gently toss to combine. In a separate bowl, whisk together sesame oil, hoisin sauce, soy sauce, and rice vinegar. Pour sauce over pasta mixture and gently toss to mix through. Top with toasted almonds. Cover and chill until ready to serve.
~~~~~~~~~~~~~~~~~~~~~~~~~~~~~~~~~~~~~~~~~~~~~~~~~~~~~~~~~~~~~
Random Question of the Day?
Are you a breakfast person? I've noticed since I've been home that I'm almost never hungry for breakfast anymore… and I don't eat late at night either. Maybe because I'm less stressed?