Asparagus Pasta Toss & Mailman Terror
Happy Friday!!!
We have some fun things planned for this weekend… so I'm excited 🙂
On another note… our AC was NEVER fixed yesterday. We ditched our regular AC guy and have someone new coming to look at it. Thank goodness a mini-cold front blew in. We've got temps in the upper sixties today! YAY! The weekend is expected to peak in the upper seventies… so no AC is fine with me!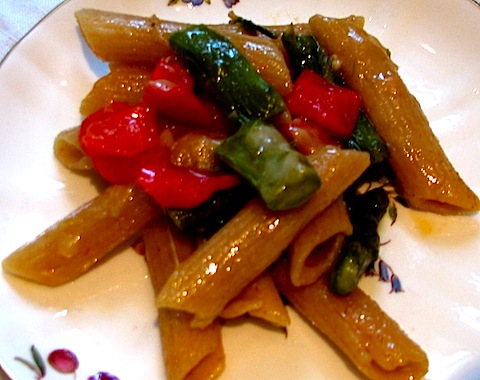 I made this Asparagus pasta toss the other night and my husband went crazy for it! This made the perfect side dish for his favorite food… steak…
This recipe was adapted from Southern Living.
Ingredients:
1 – 16 oz box of penne pasta
3 tablespoons olive oil
1 large bunch of asparagus
1 large red bell pepper seeded and chopped
4 cloves of garlic, minced
1 cup low-sodium chicken broth
salt & pepper to taste
1 cup shredded parmesan cheese
2 tablespoons butter
Directions:
Cook pasta according to directions on the box. Drain and rinse.
Pour olive oil in medium skillet. Bring to medium heat. Cut asparagus into 2 inch pieces. Cook asparagus, red bell pepper, and garlic for 5 minutes until asparagus is tender. Stir in chicken broth and bring to a boil. Reduce heat and simmer for addition 4 minutes. Stir in pasta, butter, and parmesan cheese. Mix until cheese in melted.
MAILMAN TERROR
For you those you haven't met him… this is Shiner. My dog 🙂 He's a Lab/Chow mix. Shiner's ten years old. My hubby and I got him from the pound when he was six weeks old. Shiner was our first big investment together as a couple. You can read more about Shiner here.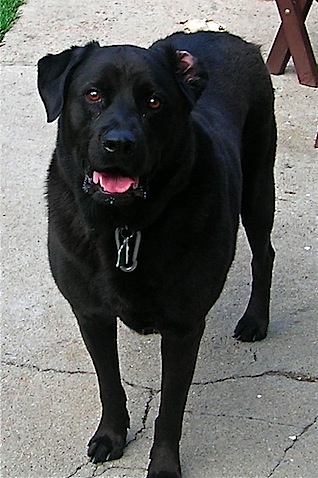 In his old age… Shiner's gotten pretty mellow. He pretty much just lays around all day long. He's a kind, playful dog…. except for one thing…
THE MAILMAN!!!!!!
What is it about dogs and the mailman?!?!! Ever since he was a puppy he turns into a terror when the mailman comes! Its almost like he can sense it.
The funny part is the mailman comes at different times in the afternoon. Sometimes its around 2 p.m., other days its close to 5 p.m. No matter what time of day it is… within 45 seconds of the mailman coming to our door, he turns into crazy dog. I'm talking crazy barking, saliva throwing, body thrashing dog. At first it didn't bother me too much…
It wasn't until little M came along that it began to make my blood pressure rise!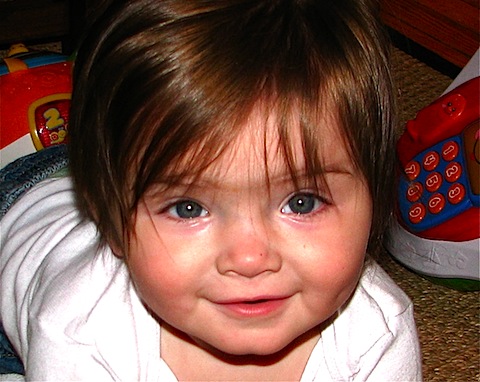 She can be playing peacefully in the living room (which is rare) and Shiner disturbs the rare peace because of the mailman! Leading to a unconsolable crying baby.
I love my dog… I can't imagine life without Shiner… but mail delivery time is the worst part of our day….
What do I do now?
I stalk the mailman.
When I see his truck parked down the street I know he's in the area. That's when the stalking begins. If it's after M's nap time, we'll leave the house or go for a walk. If it during her nap time, I make sure to pay extra special attention to Shiner so when the mailman comes… he's distracted… Phew!
~~~~~~~~~~~~~~~~~~~~~~~~~~~~~~~~~~~~~~
Question of the Day?
Do you have a dog? Does he/she have mailman terror? Any tips for me?
Have a great weekend!