Chicken Vegetable Pot Pie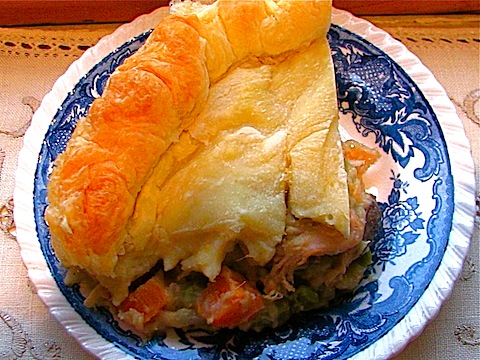 I told my husband to name a dinner and dessert… anything he wanted… and I would make it and put it on the blog.
I was a little nervous about this. He's been known to request some odd meals, or just straight up guy food. Most of the food he requests I've never made before, including this one.
The words "Chicken Pot Pie" flowed out of his mouth so fast it was like he had it on his mind for days, weeks, months…
I hesitated… did an eye roll in my head, even thought about cooking something else. I felt way out of my comfort zone, but I sucked it up and went to the store then made his requested dinner.
My husband was happy, even giddy at times. He kept on peeping in the oven to make sure the crust didn't burn. It was actually kinda cute…
You'll need some chopped up carrots, mushrooms, onions, and yukon gold potatoes (I only cook with yukon.)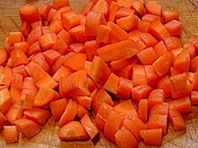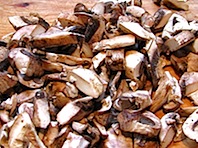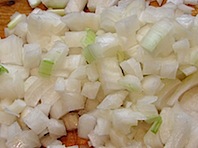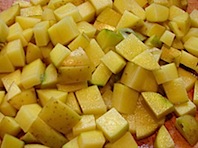 You'll also need some frozen peas, and cooked chicken either shredded or chopped.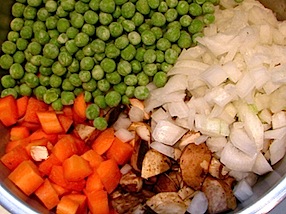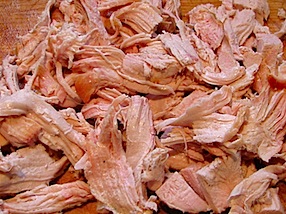 I'm not much of a chicken pot pie gal, but this came out really good! This dish screams comfort food!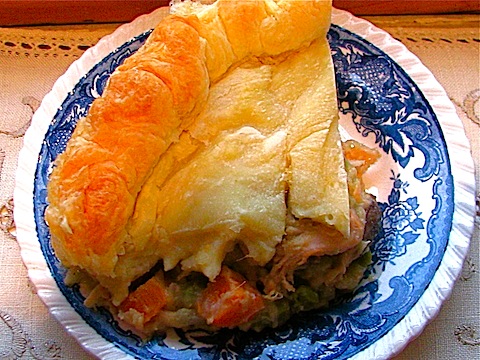 As for what he requested for dessert… you'll have to wait for tomorrow 😉
Adapted from Real Simple
Ingredients:
1 pound boneless skinless chicken breast, cooked and shredded or chopped
2 tablespoons olive oil
1 tablespoon butter
1 small onion, chopped
3 carrots diced
3 small yukon potatoes, chopped
1 cup mushrooms, roughly chopped
1-10 oz bag frozen peas
3 tablespoons flour
1/2 cup white wine
1 cup 1% milk
2 cups low sodium chicken broth
kosher salt & black pepper to taste
1 store bought puff pastry
Directions:
Preheat oven to 400 degree F.
In a large saucepan, heat butter and olive oil. Add onions, carrots, mushrooms, and peas. Cook for about 8 minutes until onions are translucent.
Sprinkle flour over veggies and cook through for about 2 minutes.
Add white wine to pan and cook until evaporated.
Add the milk and chicken broth and cook for about 10-20 minutes until mixture is nice and thick.
Add salt and pepper to taste.
Transfer mixture to a shallow 2 quart baking dish
Cover baking dish with puff pastry, sealing the edges.
Bake for 30-35 minutes or until pastry is golden brown.
Enjoy!
~~~~~~~~~~~~~~~~~~~~~~~~~~~~~~~~~~~~~~~~~~~~~~~~~~~~~~~~~~~~~~~~~~~~~~~~~~~~~~~~~~~~~~~~~~~~~~~~~~~~~~~~~~~~~~~~~~~~~~~~~Question of the Day?
Have you ever cooked or baked something out of your comfort zone? This dish was definitely out of my comfort zone!