Chocolate Chip Coconut Macaroons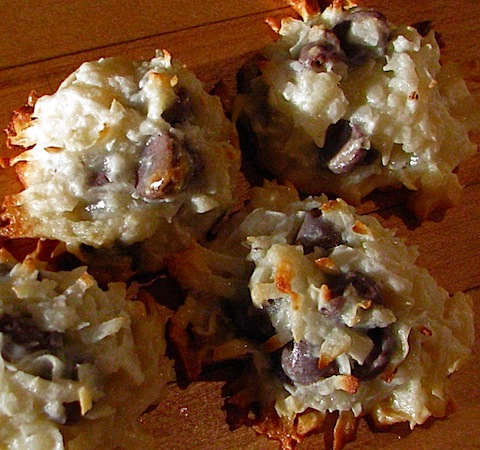 Hi! It's Friday!
Raise your hand if you're excited! **Raising Hand**
What I'm about to say has absolutely nothing to do with macaroons, but I'm so excited about it!
My daughter ate french toast for the first time this morning! Egg-free french toast that is…
I'll post the recipe very soon. It was so good I made one for myself 🙂
Ok, back to these macaroons.
This weekend I'm attending a birthday party for some very close friends of mine.
This family has three birthday's all in one week!
One girl turns 3 years old, the other girl turns 1, and their Dad turned 35 on St. Patty's Day… so it'll be one heck of a party!
My job is to make cookies.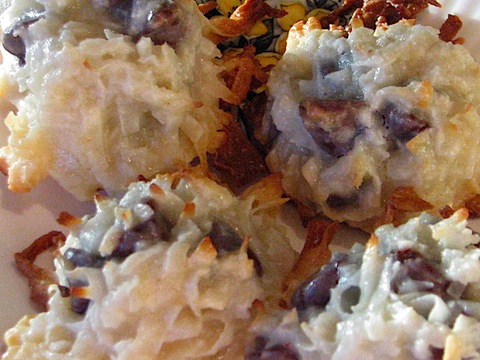 I'm making two different types of cookies.
I decided to try my hand at these macaroons… just cause I've never made them before.
What I never realized was how super easy these are!
The recipe was just for plain coconut macaroons, but I decided to throw in some chocolate chips to make it more like a Mounds Bar 🙂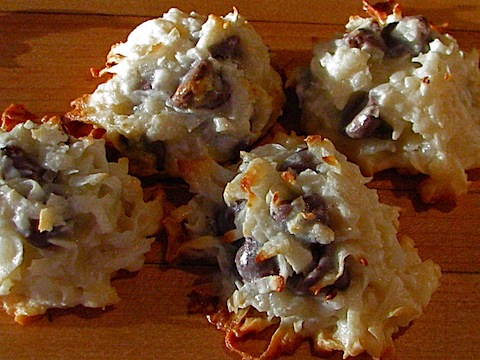 I used my handy melon ball scooper to make the perfect bite size treat!
These are delicious!! And did I mention easy?
Ingredients:
1/3 cup flour
1/4 teaspoon kosher salt
2 1/2 cups shredded coconut
2/3 cup sweetened condensed milk
1 tsp. vanilla
1/2 cup semi-sweet chocolate chips
Directions:
Preheat oven to 350 degrees.
Combine flour, salt, coconut, condensed milk, and vanilla. Mix until a very thick batter forms. Stir in chocolate chips until combined.
Spray cookie sheet with non-stick cooking spray.
Use a melon ball scooper or spoon to drop batter onto cookie sheet.
Bake about 13 minutes or until golden brown. Keep a close eye while baking… these can burn quickly 😉
Enjoy!!!
~~~~~~~~~~~~~~~~~~~~~~~~~~~~~~~~~~~~~~~~~~~~~~~~~~~~~~~~~~~~~~~~~~~~~~~~~~~~~~~~~~~~~~~~~~~~~~~~~~~~~~~~~~~~~~~~~~~~~~~~~
The weather is suppose to hit the mid 70's here in DC!!! To say I'm excited is an understatement!
Have a great weekend everyone!!