Chocolate Oat Jumbles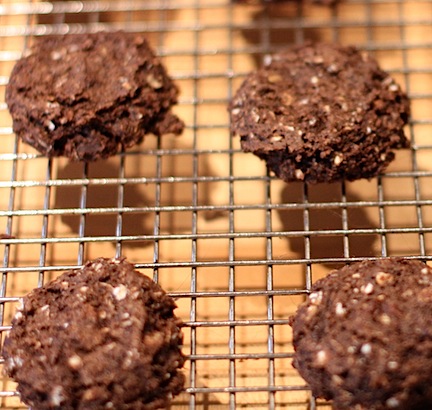 Before I get to these incredibly awesome cookies… I want to give a big fat thank you to everyone who commented on my last post.
Its good to know I'm not alone when it comes to blogger insecurity. If I could give each of you a hug I would :)… so consider this your virtual hug 🙂
Its obvious I'm still trying to figure out a balance… which ironically is what this blog is about.
I will try to post as often as I can. As far as commenting… I will try to comment as much as I can 🙂 There are days when I get so busy and my google reader is busting at the seems. It would take me hours to get through all those blogs. So if I don't get to your blog right away… bear with me… I still love you 🙂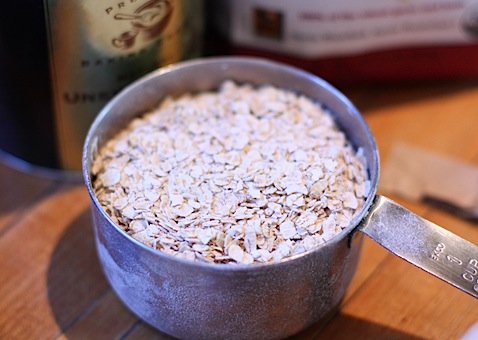 Okay… now onto these cookies.
I'm gonna start by telling you these cookies are not sinful, they're not decadent… they're just straight up good!
I love them cause they're teeny tiny… and they're a healthy way to satisfy my chocolate craving.
These cookies have barely any fat in them… They have just enough to keep them moist.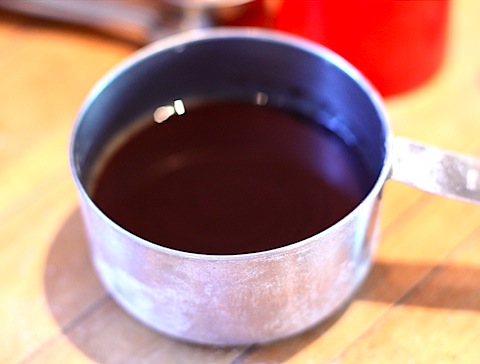 Yes… I used Hershey's chocolate syrup in them.
Because why not….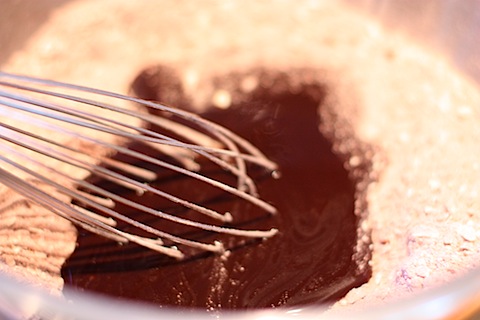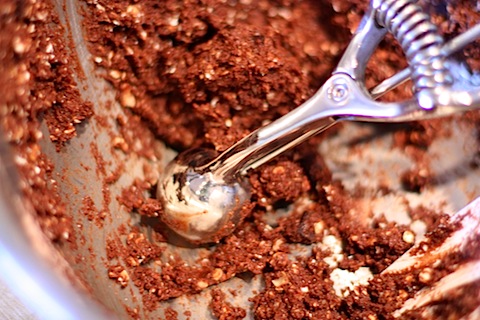 My melon ball scooper is perfect for keeping these portion small!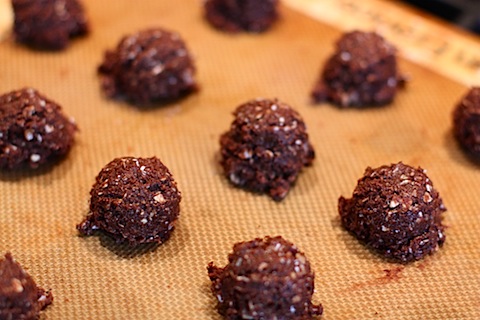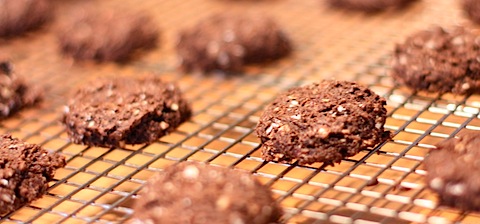 Like I said before… these aren't any sort of decadent cookie… but its the perfect end (or start) to a meal 😉
My picky husband even liked them!
Ingredients:
1 cup whole wheat flour
1 cup quick cooking oats
2 tablespoons flax meal
1 teaspoon baking soda
1/4 cup sugar
2 tablespoons cocoa powder
2/3 cup chocolate syrup
2 tablespoons canola oil
1/4 cup soy milk (or cow's milk)
1 teaspoon vanilla
1/3 cup semi-sweet chocolate chips
Directions:
Preheat oven to 275 degrees
Combine flour, oats, flax meal, baking soda, sugar, and cocoa powder. Whisk together until combined.
Add chocolate syrup, soy milk, vanilla, oil, and chocolate chips.
Stir until all ingredients are mixed well.
Spray cookie sheet with non-stick spray, or use a silpat.
Drop cookie dough onto pan using either a melon ball scooper or a teaspoon.
Slightly flatten each cookie with you fingers.
Bake for 15 minutes.
Remove from oven and let cool in pan for a couple minutes. Remove cookies from pan onto cooling rack.
Once cooled, store in airtight container.
ENJOY!!