Cranberry Pie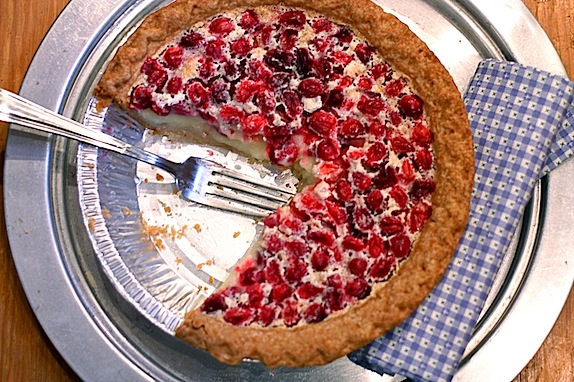 I heart cranberries. If I could eat `em raw I would…. but that would just be gross.
The first time I ever cooked Thanksgiving dinner by myself I made from scratch cranberry sauce. It was nothing fancy, just the basic recipe for cranberry sauce. I put them on the table and everyone looked at me like I was forcing them to eat alien cranberries.
Where's the canned stuff??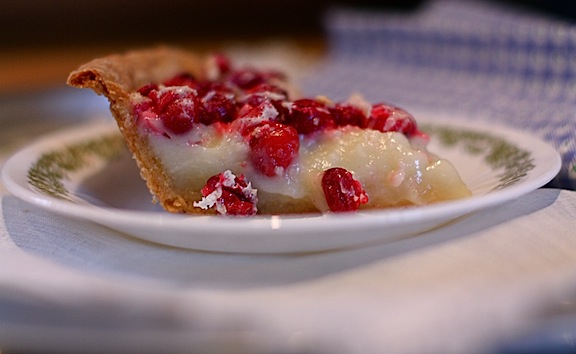 Nobody ate them. Just me 🙁 And one other very nice person (thanks Nicole 🙂 )
You'd think this would've scarred me for life… But I've stuck to my guns and continue to make cranberry sauce from scratch. Only this time, I put a little plate of the canned stuff on the table 😉
Now that my guests are use to my cranberry sauce, I figure it's time to scare them again.
Enter Cranberry Pie! This pie has a rich creamy custard filling with tart sugar coated cranberries floating on top.
Here's what you need: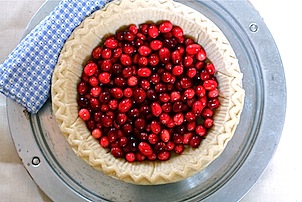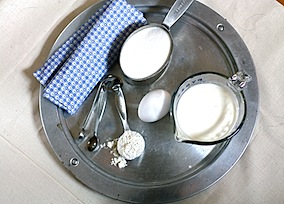 9″ frozen pie crust
fresh cranberries
sugar
egg white
heavy cream
flour
Combine the flour and sugar in a bowl. Whisk together and set aside.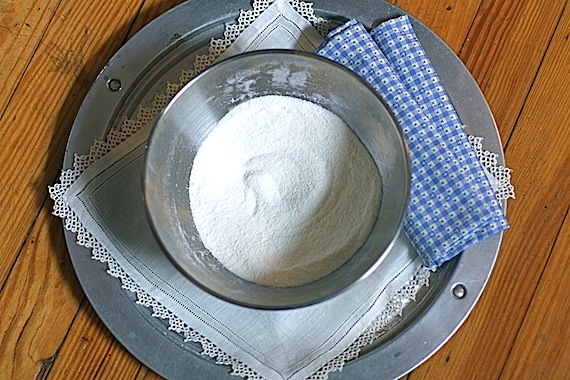 Using a mixer, beat one egg white until stiff peaks form (this takes a few minutes).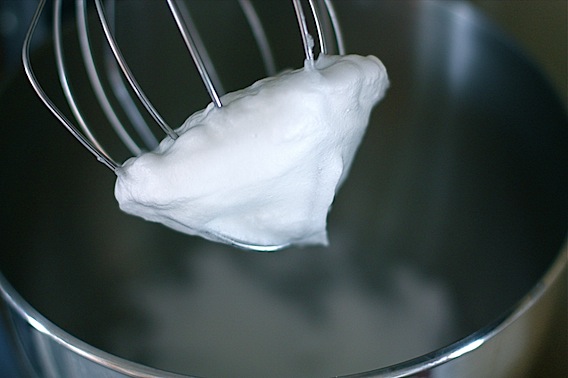 Fold the egg white into the sugar flour mixture.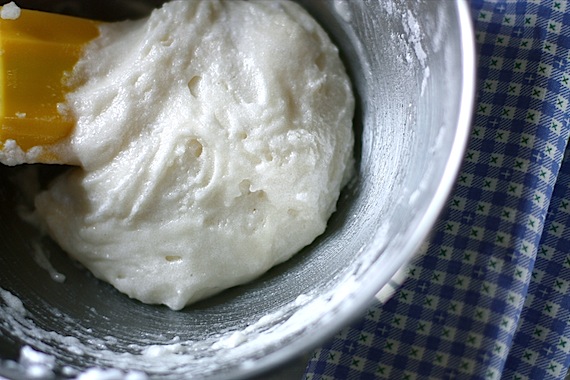 Slowly stir the cream into the egg white/sugar mixture.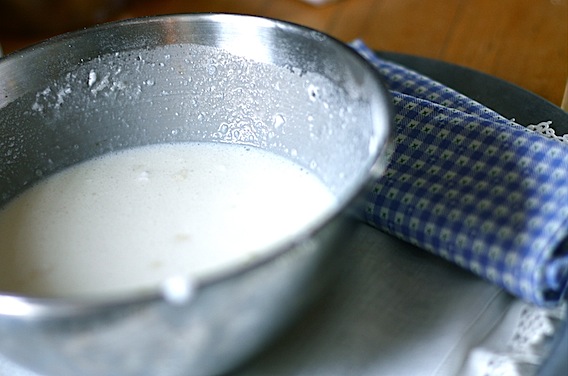 Pour the fresh cranberries into the pie crust. I like to buy the pie crust that's already in the tin.
Sprinkle remaining sugar over the cranberries.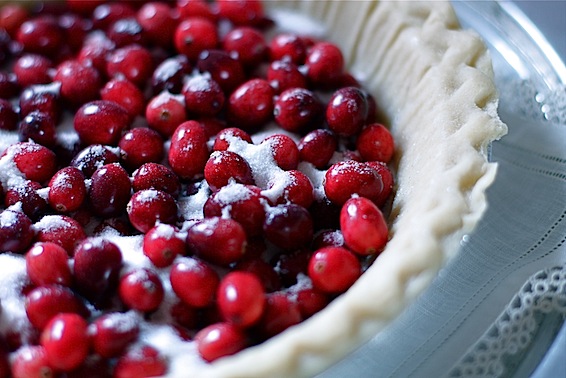 Pour cream mixture over the cranberries…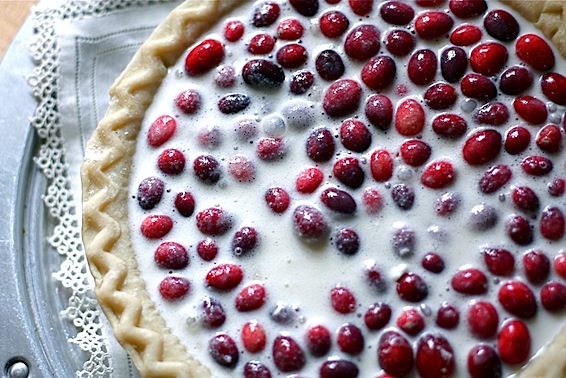 Bake for about 50 minutes or until the center of the pie has set. Let pie cool completely. If you cut this too soon, the center of the pie will spread all over the place.
Recipe Adapted from Country Living
Ingredients:
one 9-inch pie crust (I use the frozen kind in the tin)
1 1/2 cup fresh cranberries
1 cup sugar
1 heaping tablespoon all-purpose flour
1 egg white
1 cup heavy whipping cream
Preheat oven to 425 degrees
Pour cranberries into pie crust
Sift together flour and 3/4 cup sugar
In separate bowl, beat egg white until stiff peaks forms. Then fold into flour mixtures. Slowly stir in cream until combined.
Cover cranberries with remaining 1/3 cup sugar. then pour cream mixtures on top. baking pie for 10 minutes then low temp to 350 and bake about 40 more minutes. Let pie cool before serving.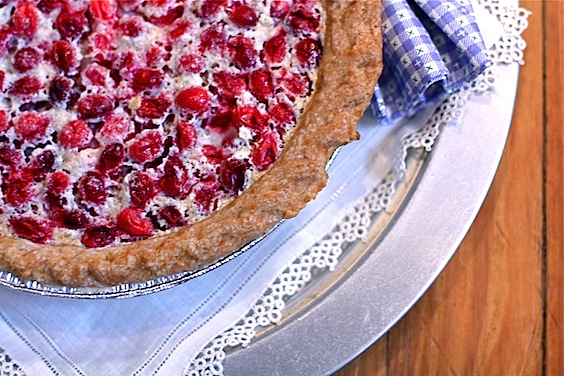 The verdict?
I love this pie… but I also love cranberries. Its sweet, rich, creamy, and tart.
If you kinda like cranberries this pie isn't for you.
If you don't love cranberries, this pie isn't for you.
Mr. Weekly Bite did not like this pie. He took two bites, said it was different, and left the kitchen. Hmph….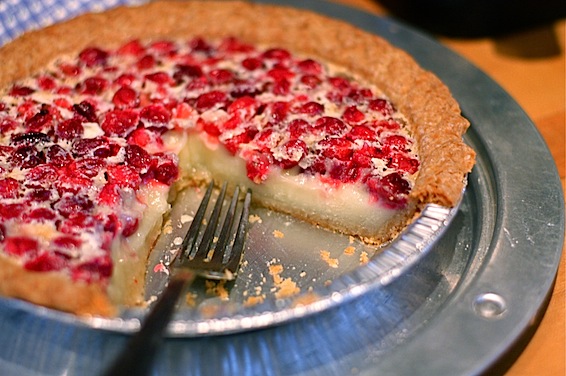 That's okay… more pie for me 🙂
Pull up a fork… and enjoy!
~~~~~~~~~~~~~~~~~~~~~~~~~~~~~~~~~~~~~~~~~~~~~~~
Looking for more Thanksgiving menu ideas? Click Here!