Create Your Own Quiche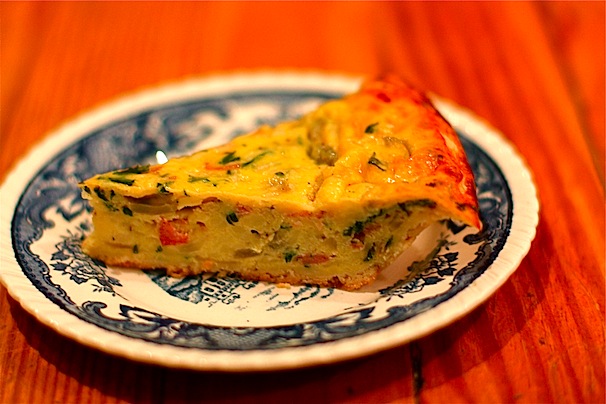 You're going to have to excuse me… I'm still on the I met Ina Garten high.
With all the excitement yesterday, I was inspired to cook something new for dinner. Well… new to me.
Would you believe me if I told you I had never made quiche before? Crazy… I know!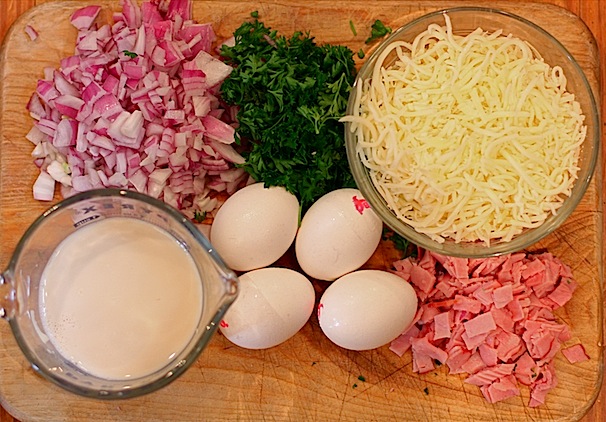 I'm all about eating eggs at any meal, but Mr. Weekly Bite is normally an eggs for breakfast only kind of guy. All other meals must involve meat. I sent him a quick email yesterday to make sure quiche was okay for dinner.
Me: I want to make quiche for dinner.
Mr. Weekly Bite: Sounds good.
Me: Really?
Mr. Weekly Bite: Yes, really. Quiche sounds good.
Me: Really?
Mr. Weekly Bite: Yes, really. Quiche sounds good.
Mr. Weekly Bite: Can you add some meat to it? Like Ham or something?
(this is what I was waiting for)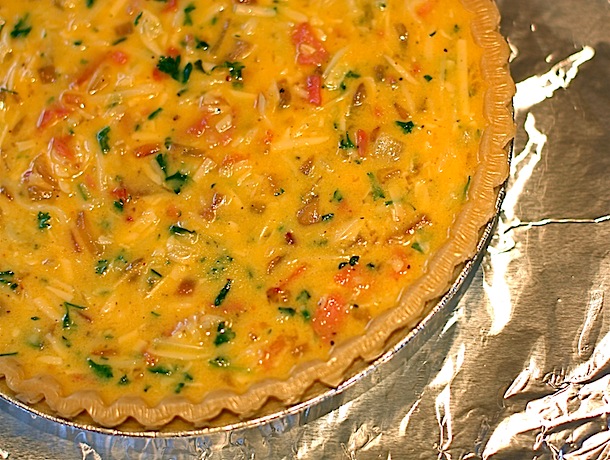 I told him to pick up whatever meat he wanted in the quiche on his way home from work. Black Forrest Ham it was.
This meal came together so easily, and I love how you can add whatever cheese, veggies, or meat that you want.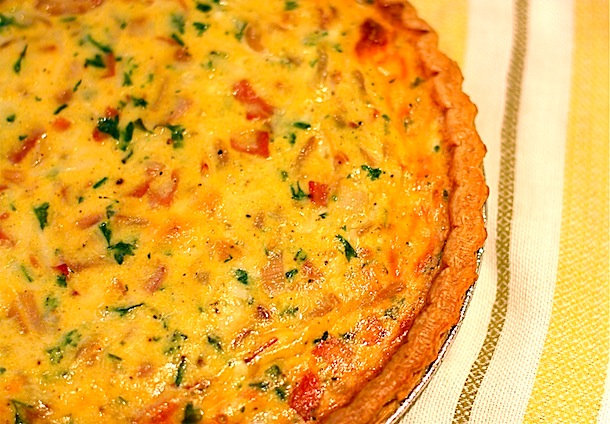 I adapted this basic recipe from Real Simple.
Ingredients:
Olive oil
1 large onion (chopped)
1/2 cup chopped ham (add whatever meat you like, or omit this.)
1/2 tsp salt
1 tsp pepper
1 cup chopped fresh flat leaf parsley
4 eggs
3/4 cup skim or 2% milk
1 tablespoon garlic powder
8 ounces grated cheese of choice (I used Parrano)
1 store bought frozen pie crust in tin
Directions:
Preheat oven to 375 degrees.
In a large pan, drizzle a little olive oil and bring to medium heat. Add onion, ham, salt, and pepper. Cook for about 5-7 minutes or until onions are tender. Add parsley to pan. Cook for 3 minutes until tender. Remove from heat.
In a separate bowl, whisk together egg, milk, cheese, and garlic powder. Add onion mixture to egg mixture. Pour into pie crust.
Place pie crust on a foil lined baking sheet. Bake for 40 minutes, or until filling is set and a knife comes out clean when inserted. Let rest for 5 minutes, cut into wedges and enjoy!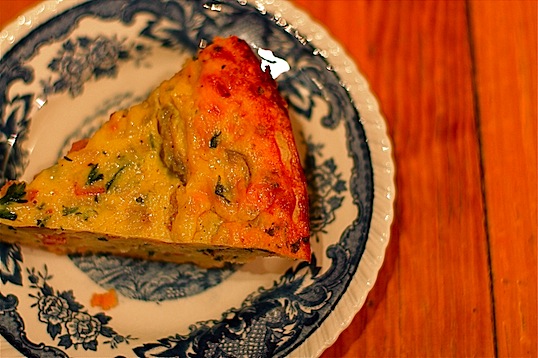 We ate this with a side salad. M devoured this for dinner! So much that she kept asking for more.
I'm excited to experiment with different cheeses and veggies!
Happy Cooking 🙂