De-Stress Away…
Hello 🙂
How are you?
I'm doing much better today then yesterday.
But before I get into yesterday, I wanted to show you what I made.
Remember those Zucchini Fries I made? They were so good I decided to try them with EGGPLANT 🙂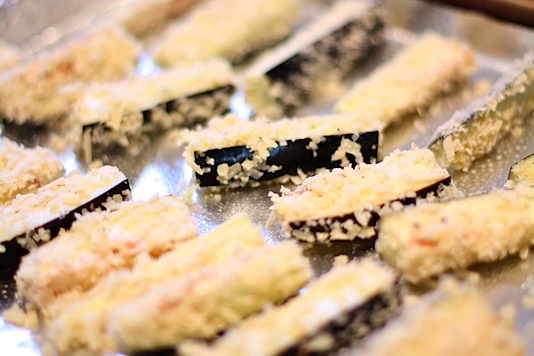 The key with these is to cut them thick. If they're cut too thin they get mushy… no one likes a mushy fry 😉
Here's the instructions:
Preheat oven to 450 degrees
Cut an eggplant into thick wedges
Dunk the eggplant into an egg mixture (1 egg beaten with 3 tablespoons milk)
Coat the eggplant with a mixture of 1/2 cup grated parmesan, 1/2 cup panko bread crumbs, and a few grinds of pepper.
Place on baking sheet sprayed with cooking spray.
Bake for 20-25 minutes until golden brown.
We ate ours with marinara sauce… so good 🙂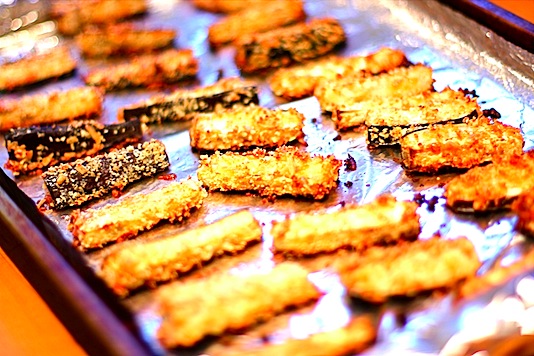 Lindsay made these same fries with carrots and said they were great!
And of course Little Miss M had some of these fries for lunch 🙂
KIDDIE LUNCH BOX… cream cheese & jam sammie, eggplant fries, and strawberries.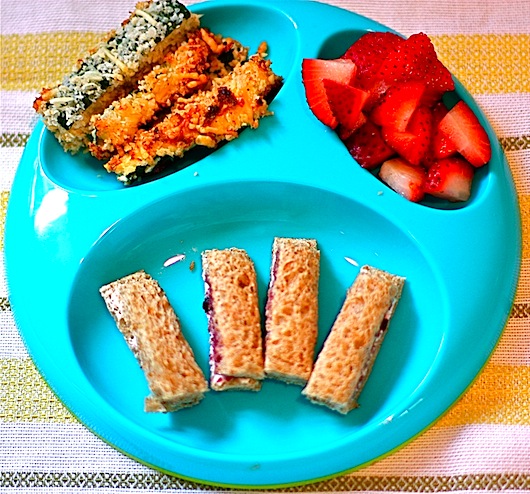 Cream Cheese & Jam sammie Eggplant Fries Strawberries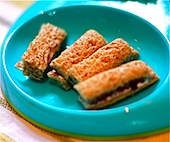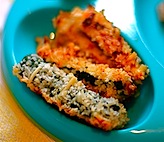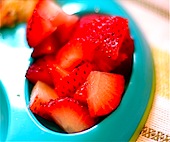 I had an 'off' yoga class yesterday. Does that ever happen to you? Poses that I normally nail every time just weren't working. I kept losing focus and falling out of poses. My mind just wasn't into it… Do you ever have days like that?
After feeling 'off' all day… I realized that I was stressed.
Why was I stressed? I have nothing to be stressed about! Then after reading Maryann's Blog Post yesterday, I came to the realization that I was creating stress for myself. I normally don't stress out about things… I actually have a very calm demeanor. What I am though, is a procrastinator. I consider myself a very organized person… but I ALWAYS wait until the last minute to get things done… or even worse, I keep putting things off, so it stays on my mind… which stresses me out. All the little things that I procrastinate on end up building up… resulting in stress.
So… in order for me to get a handle on my stress, I need to stop procrastinating and get more organized. Here is how I plan to accomplish that:
Create a schedule/plan for my tasks and stick with it.
Set deadlines for completion of my tasks
Work in small time blocks instead of long ones (this is a must since I take care of M all day)
Eliminate distractions… since I'm a full-time mom, I obviously can't ignore my kid… so I need to organize my day and eliminate unnecessary distractions. (ie: television, house tasks, internet surfing)
I procrastinate on things I find boring, like laundry, cleaning bathrooms, organizing my closet, etc… I need to set a schedule to accomplish these unpleasant tasks. I also need to find a way to make them fun… like turn music on, or make it a decorating project for myself 🙂
When it comes down to it… its all about time management and sticking to a schedule. When I had a full-time office job I had no problem sticking to a schedule. Now that I'm home full-time, I have a schedule… but its unorganized, which stresses me out.
What about you? Are you a procrastinator like me? Do you create stress for yourself? How did you come out of it?
Agenda for today:
6 mile run 🙂
Map out a daily schedule for myself and stick to it… because if I don't, I might get stressed out 😉
Newsletter work
Edit articles for "This Mother Can Run"
Work on more cheese recipes 🙂
Have a great day 🙂
P.S. Big congrats to Kath who passed her R.D. exam! Way to go 🙂