Double Dove Chocolate Chip Cookies
My website is fixed! Please update your Google Readers http://weeklybite.com/feed/
What do you do when you have an intense craving for Double Chocolate Chip Cookies, have all the ingredients but the chocolate chips, and there's three feet of snow outside with blizzard like conditions?
You break into the chocolate drawer….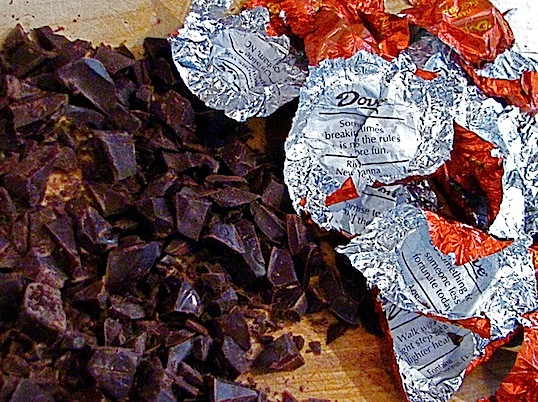 I broke into my beloved Dove Chocolate stash to complete these cookies.
Just so you know… I firmly believe everything happens for a reason.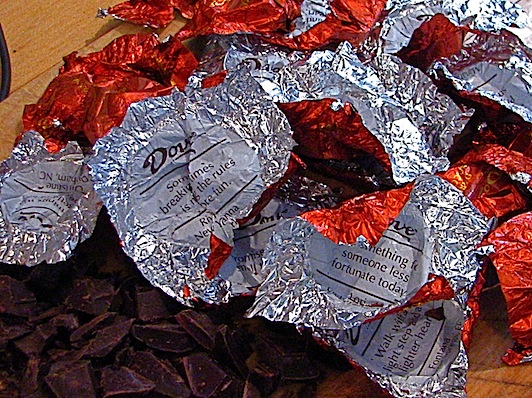 There was a reason I forgot to replenish our stash of semi-sweet chocolate chips.
Dove Dark Chocolate Promises were meant to be a part of this cookie…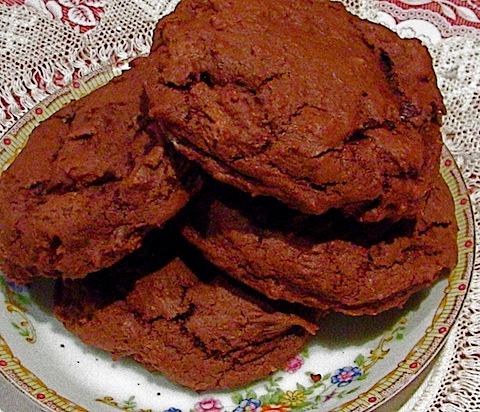 This cookie answered my chocolate cravings! These cookies are so rich, all I needed was half a cookie to satisfy my craving.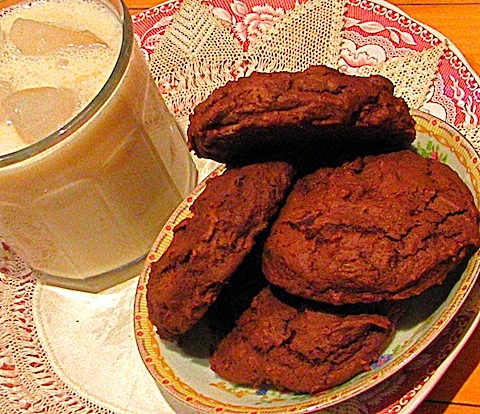 Ingredients:
2 sticks salted butter – softened
1/2 cup granulated sugar
1 1/2 cup brown sugar
2 eggs
1 tablespoon vanilla extract
2 1/3 cups all purpose flour
2/3 cup cocoa
1/2 teaspoon kosher salt
1 teaspoon baking soda
1 1/2 teaspoons baking powder
2 cups semi-sweet chocolate chips, or 3/4 package of Dove Dark Chocolate Promises, roughly chopped
Directions:
Preheat oven to 360 degrees.
Combine flour, cocoa, salt, baking soda, and baking powder in a bowl… mix together then set aside.
Cream butter and both sugars until light and fluffy (about 5 minutes at medium high speed.) Slowly add in flour mixture and mix at low speed until combined.
Stir in chocolate chips. Dough will seem thick… that's okay, its suppose to be thick.
Drop dough (about 2 tbsp worth) onto cookie sheet. These will be a nice size cookie.
Bake for 12-14 minutes.
Let cool for 2 minutes on baking sheet, then carefully transfer to cooling rack.
Enjoy!
~~~~~~~~~~~~~~~~~~~~~~~~~~~~~~~~~~~~~~~~~~~~~~~~~~~~~~~~~~~~~~~~~~~~~~~~~~~~~~~~~~~~~~~~~~~~~~~~~~~~~~~~~~~~~~~~~~~~~~~~~
Question of the Day?
What's the craziest thing you've done to satisfy a craving? When I was pregnant, it was 9:30 at night, my husband was out of town, and I wanted ice cream so bad. I drove to the store in my sweats and Uggs, and couldn't decide what ice cream to buy, so I bought 3 different flavors…. That was the most intense craving I ever had 🙂