Edamame Parmesan Pasta – Kiddie Style!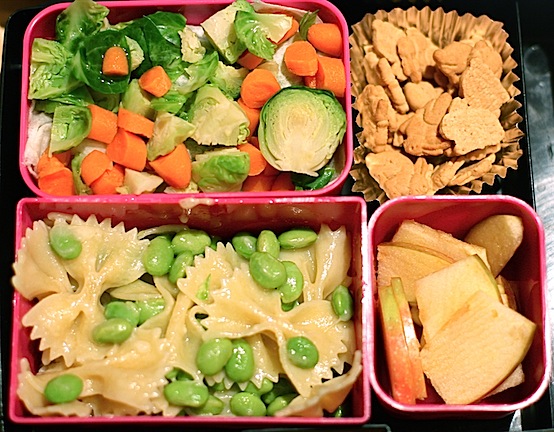 I should just count my blessings while I can…
I keep waiting for the day when all M wants is chicken nuggets, hot dogs, and ketchup… I know its coming… but she keeps on puttin' the food away. Or at least eating a little bit of everything. I'm just gonna enjoy these days while they last…
My kid eats edamame, california rolls, smoked salmon, collards, she dips her apples in hummus, I caught her eating capers from the fridge (thats a whole other blog post), she adores broccoli, and now.. adores brussels sprouts.
As a kid I despised brussels sprouts! I only started loving them again a few years ago.
Last night for dinner I through together a random combination of bow tie pasta, edamame, and parmesan. Brussels and carrots were served on the side. M ate it up! I knew she'd eat the pasta, but this was a first for the brussels sprouts. She loved it so much I packed it for lunch.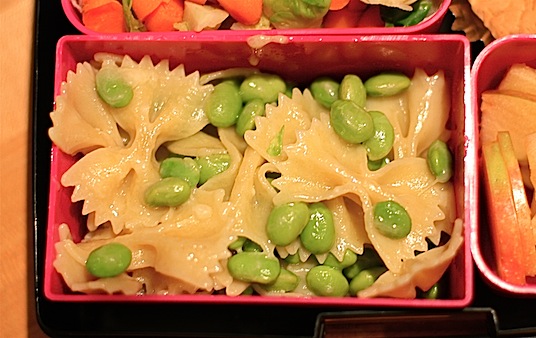 For the pasta dish, I boiled the pasta according to box directions and drained it. I steamed some shelled edamame and added it to the pasta along with a little olive oil and about 1/2 cup of graded parmesan.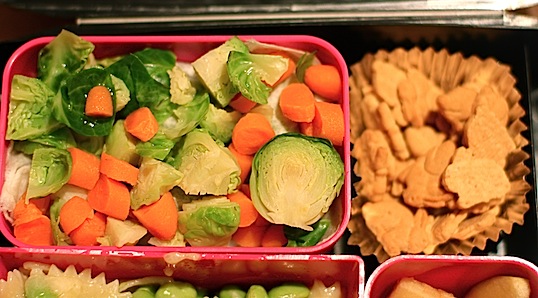 Steamed chopped brussels sprouts & carrots were on the side along with lemon spritzed apples (to prevent browning), and some Annies Honey Graham Bunnies for a treat.
What food do you love now that you didn't as a kid?