Garlic Lentil Burgers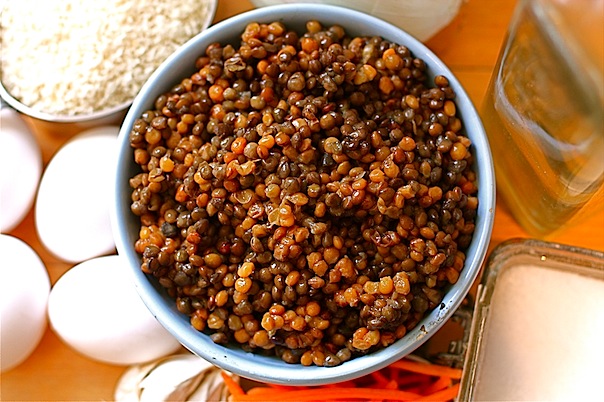 I'm a fan of veggie burgers. Huge fan! There's only one tiny problem… I've never made them before. I've always been a Morning Star Spicy Black Bean kinda gal. You know… just throw it in the microwave, slap it between a couple pieces of bread with some cheese, maybe some extra add ins… you know what I mean… right?
It wasn't until I posted about Meat-free kid lunches that I thought about making my own. Ange mentioned she makes veggie burgers for her daughter all the time. I was intrigued.
I made it my mission to make some killer veggie burgers.
First thing you need is some cooked lentils. About three cups. If you don't feel like cooking lentils, you can do what I did and buy the pre-steamed ones from Trader Joe's. They do the job just fine.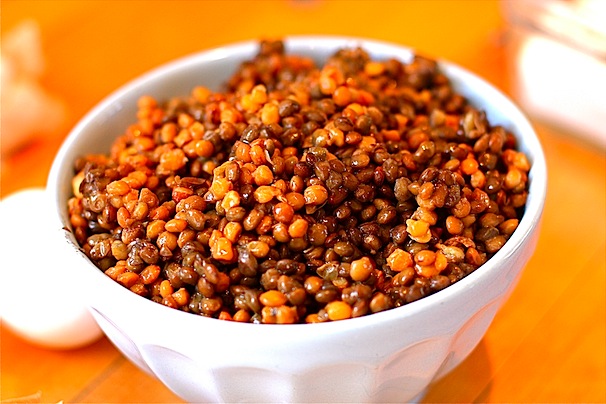 You also need some finely chopped onion…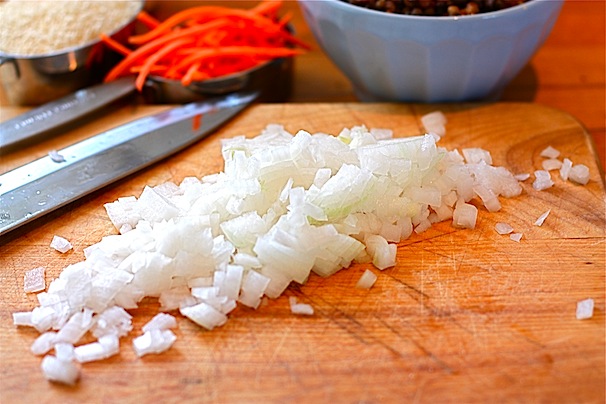 3 cloves of crushed garlic…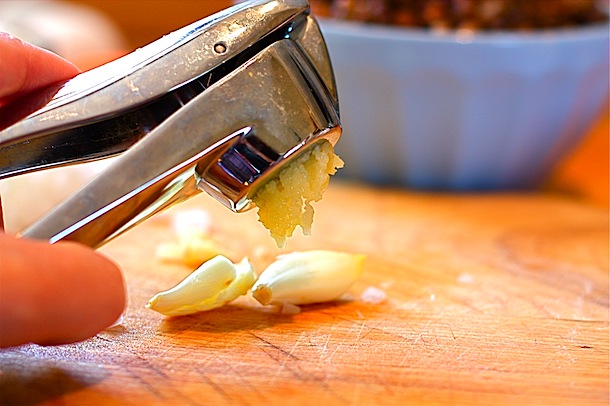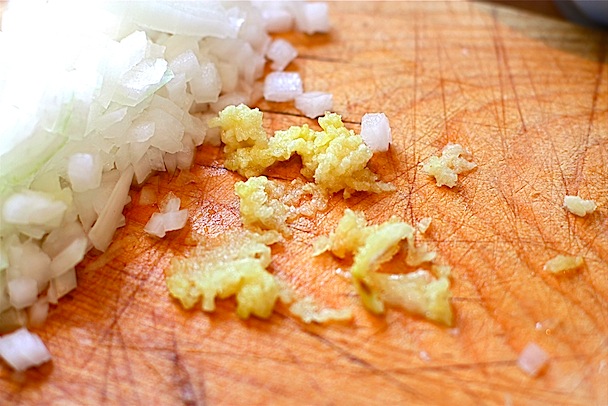 Some chopped carrots… (I had a bag of shredded carrots in my fridge and used those, it makes things easy)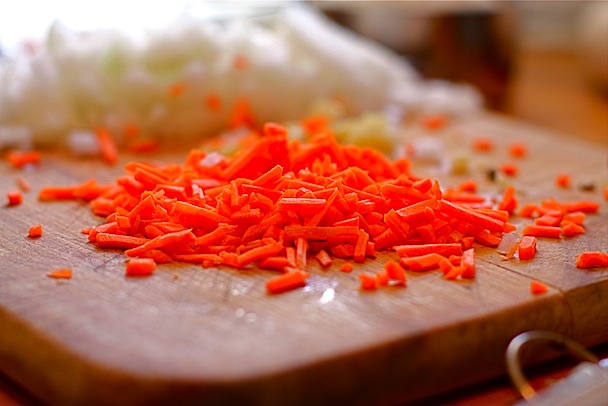 You want to throw the eggs, lentils, salt, and pepper in a food processor and pulse away.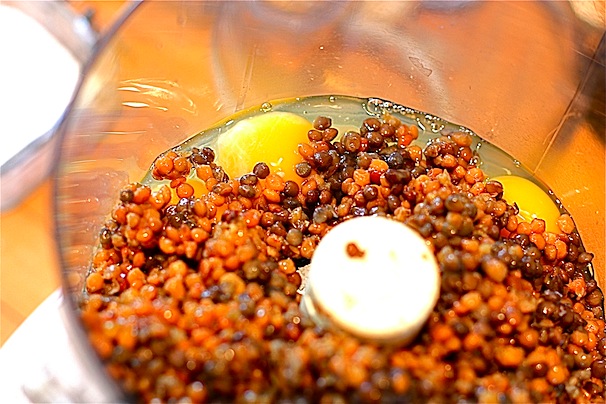 Don't pulse too much. You want the consistency to be like a chunky hummus. Plus it looks cool to see some chunks of lentils in the burger.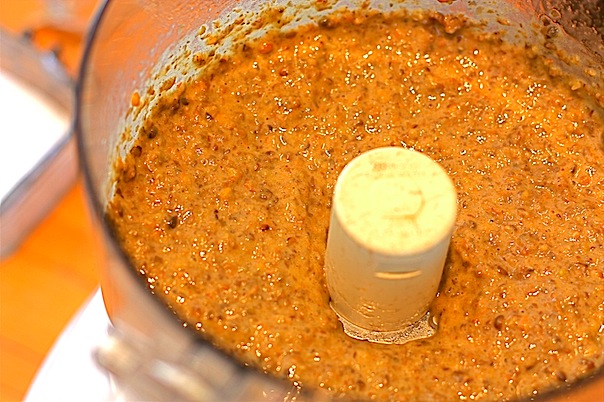 Pour the lentil mixture in a large bowl. Add the carrots, onion, garlic, and bread crumbs.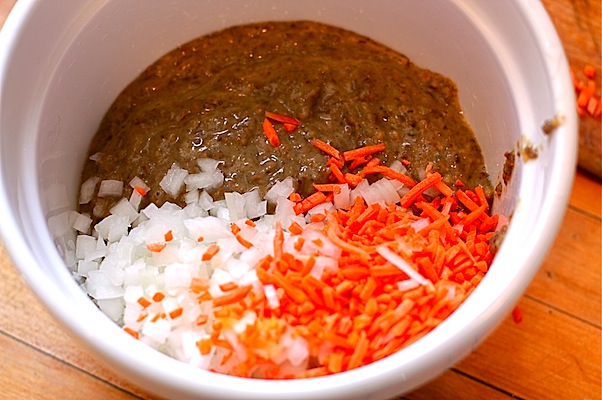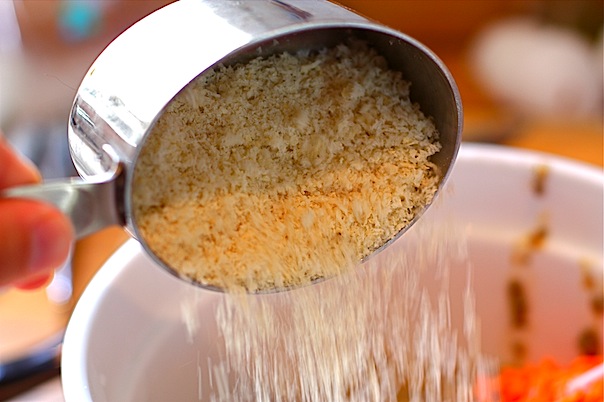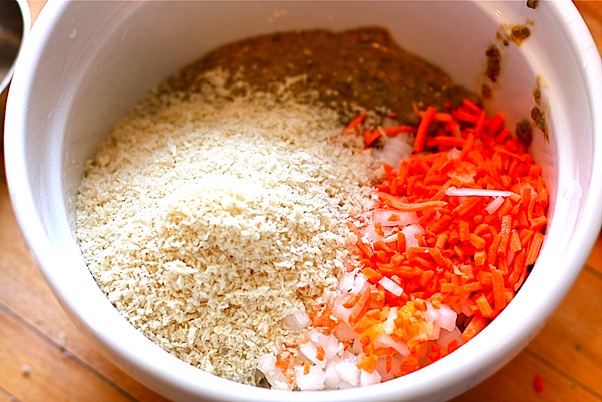 Mix it all up. The mixture is gonna be pretty moist, but you want it that way. This moisture makes for a nice textured burger.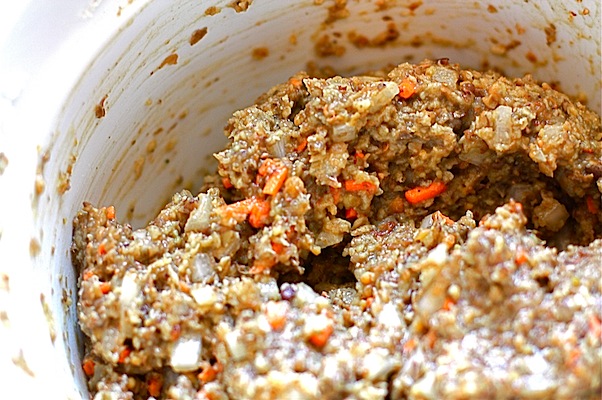 Heat heavy skillet at medium heat with a little olive oil. I used an ice cream scoop to make the portions consistent.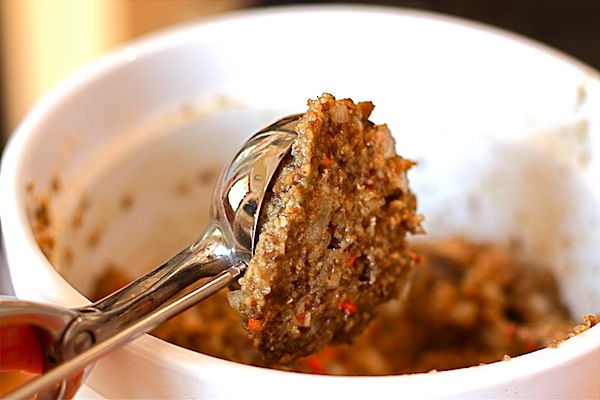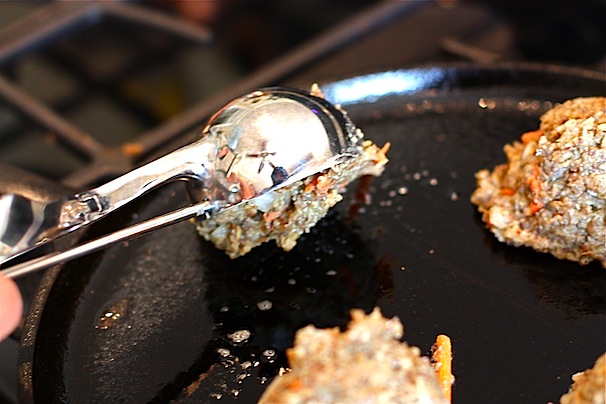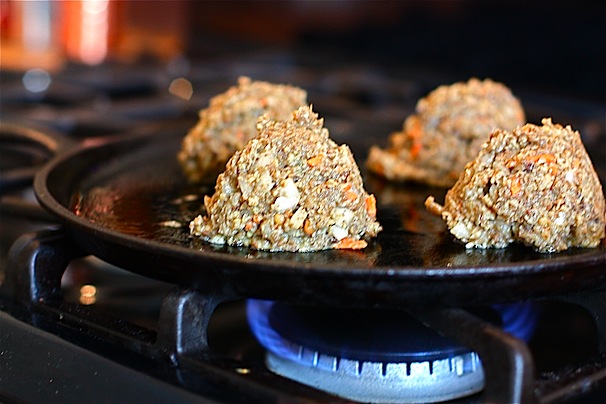 Flatten the burgers with the back of a spoon or just use your hand like me.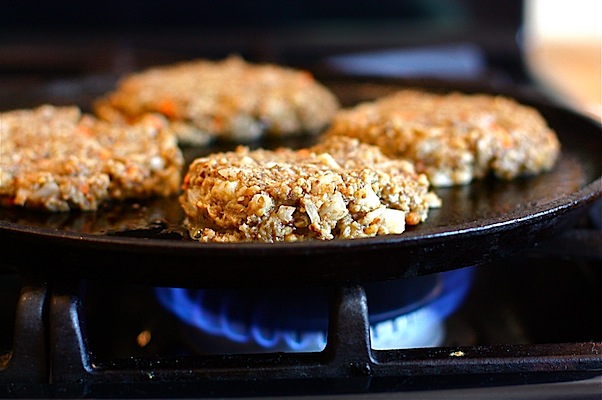 Cook for about 7-10 minutes on each side or until golden brown.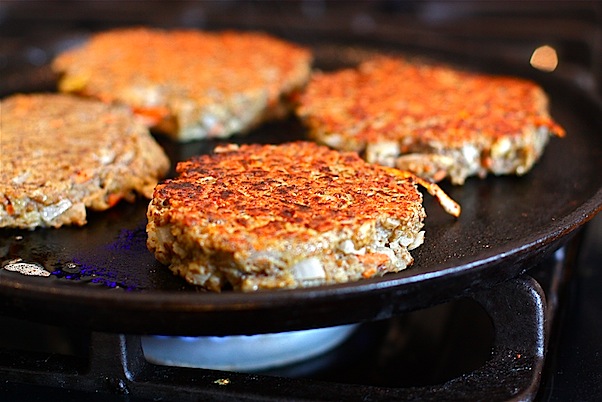 I discovered there's lots of ways you can eat this burger…
Between two pieces of bread (obviously)
On top of a salad
In a wrap
Inside an omelet
Eat it on its own
You can freeze them too.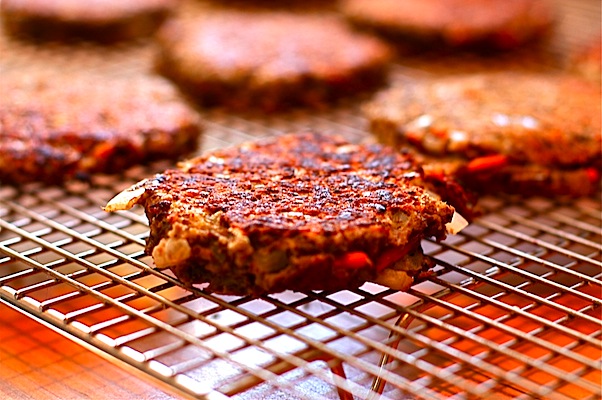 You could eat it like M and dip your entire hand in ketchup, grab a piece of burger, then stick your hand in your mouth. Its lots of fun to clean up!
I ate mine with some melted pepperjack and sliced avocado on top. It was delicious!
~~~~~~~~~~~~~~~~~~~~
Garlic Lentil Burgers (inspired by 101 cookbooks)
3 cups cooked lentils
4 eggs
1/2 tsp salt
1 tsp pepper
1 small onion (finely chopped)
1/2 cup carrots (finely chopped)
3 cloves garlic (minced)
1 cup panko bread crumbs (or whatever bread crumbs you like)
Directions:
Combine lentils, eggs, salt, & pepper in a food processor. Process until it has the texture of chunky hummus. You want to be able to still see some lentils. Pour the lentil mixture in a large bowl. Add the onions, carrots, garlic, and bread crumbs. Mix until combined. The mixture will be moist… you want it that way.
Heat a heavy pan at medium heat. Drizzle a little olive oil or spray with non-stick cooking spray. Scoop the burger mix onto the skillet. I used an ice cream scoop. Cook for about 7 minutes on each side or until golden brown. Cool on wire wrack and enjoy!