Garlicky Brown Rice & Mom Hair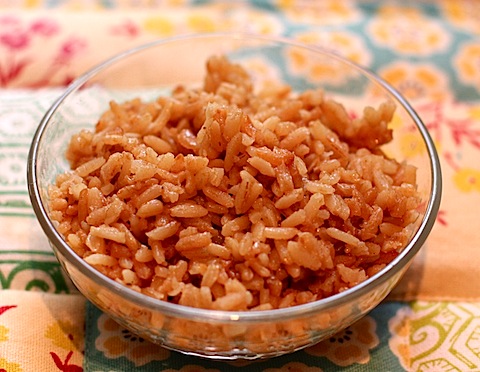 So I'm sitting here in my living room listening to my baby talk herself into a nap… which I know will eventually turn into an all out cry…
I'm just waiting…
While I'm waiting, I want to share this awesome garlic brown rice with you that I made the other night.
But… before I do that, I wanted to talk about something…
Mom Hair…
There was a segment on the Today Show about mom hair and the pressure for mom's to fit into the MILF category.
For the few of you who don't know what MILF stands for… you can get the wikipedia definition here. Or just go watch the original version of American Pie.
The biggest thing that caught my attention was that short hair was labeled as mom hair, and longer more luxurious hair was put in the MILF category.
There was something mentioned about the need to make things as easy as possible, hence… chopping off all one's hair off.
Here's the issue I have with that…
I have short hair! I've had short hair for the past eleven years.
And I don't think I have mom hair.
Also… I think the "mom" look has something to do with the whole package…. If I was sporting mom jeans and crocheted sweater vests, then yes… I would have mom hair regardless of the length…
Here's the deal…. I have a short "edgy" bob (according to Odie, my hair stylist) that falls just above my chin.
And I "think" I dress pretty cool… the keyword here is "think"
So… in defense of my short hair… here are a couple of reasons I came up with on why short hair should NOT be considered mom hair:



Always maintain your hair in a style that complements your face. I have a round slightly heart shaped face and a small frame. I've gone the long hair route, and shorter hair just looks better on me 🙂
Don't always go with the super trendy fashions at the time. Wear what looks good on you above all. Not everyone can wear every fashion that comes around. I like to stick with classic pieces and spend less money on trendy stuff…




So, to me… I don't have mom hair. I "try" to keep it edgy and stylish. On a good day I've accomplished that goal and feel a little better about my daily mom appearance when I like my hair. 🙂
Okay… now time for this super easy rice!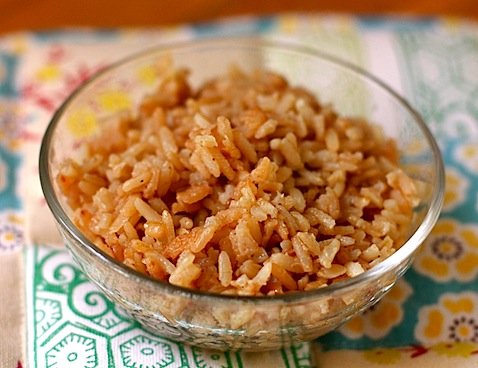 This rice was so easy to make and super tasty! The key is the garlic… I use four cloves!
Here's the recipe…
Ingredients:
2 cups uncooked brown rice
3-4 tablespoons olive oil
4 cloves of garlic, minced
4 cups low sodium chicken broth
salt and pepper to taste
In a large sauce pan, bring the olive oil to a medium heat.
Pour the uncooked rice in the pan and gently toss in the hot oil for a few minutes. You don't want to burn the rice, but just toast is a little.
Next put the garlic in and toss for a couple minutes.
Pour the chicken broth into the pan and bring to a boil. Bring rice to a simmer. Cover the pan and let cook for about 20-25 minutes until rice is nice a fluffy.
Add salt and pepper to taste.
And that's it! That's all it takes to make this awesome side dish! I like to serve it with lemon garlic shrimp on top!
~~~~~~~~~~~~~~~~~~~~~~~~~~~~~~~~~~~~~~~~~
Question of the Day:
So what's your definition of mom hair? And do you have to be a "mom" to fall into that category?