Granny Deb's "Gravy"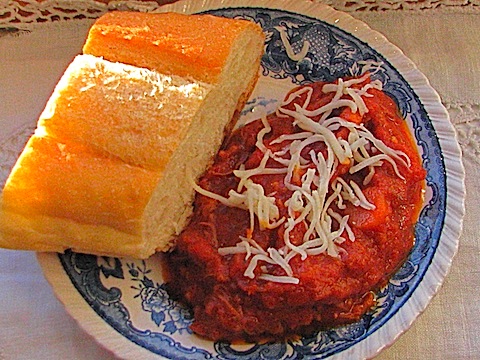 My Irish mother-in-law (known for her meat and potato dishes) decided she wanted to make an Italian style dinner for Christmas.
She went to Uncle Guiseppe's in Long Island, NY (a classic Italian deli) to look for menu items. Having never been there before, she thought she would just wander in and see what to get.
My mother-in-law is never short of conversation. She can carry on a conversation with ANYONE. She met all sorts of people in the deli giving her all sorts of italian cooking tips.
My mother-in-law was at the meat case and picked up some meat that was labeled "meat for gravy." There was a lady next to her who explained what "meat for gravy" was. When someone say's "gravy" I'm thinking they're talking about brown gravy or chicken gravy… not Italian meat sauce.
There was a women standing next to her at the meat counter was who told her that aunt and uncle's Italian deli has the best "gravy". If fact, when this woman makes "gravy" she sometimes puts an entire roast in it.
This random woman rattled off the entire recipe to my mother-in-law, and she quickly went home and made the recipe.
You can eat this "gravy" in a sandwich roll, with bread, or pasta. I didn't really believe it was as good as she said it was until I tasted it.
This was incredible. When it comes to pasta sauce gravy, I'm a Ragu gal… so my expectations weren't really that high.
This takes several hours to cook, so when you have some time… MAKE THIS 🙂
First you want to heat some olive oil in a large pot, and cook the onion, garlic, and Italian seasoning until the onions are tender.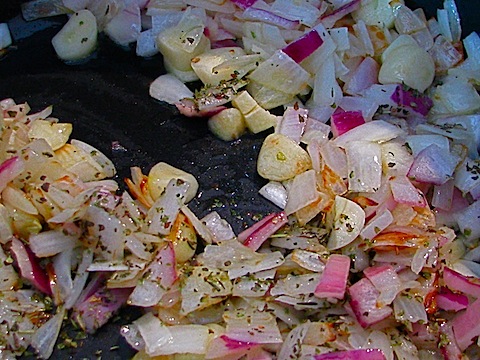 Once the onions are tender, you want to remove them from the pot and put the meat (pork shoulder) in to brown.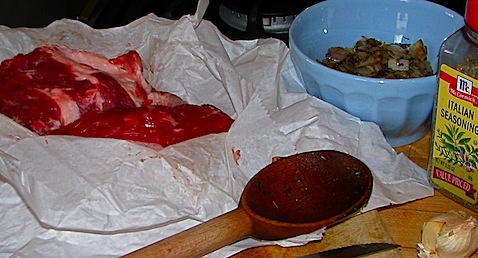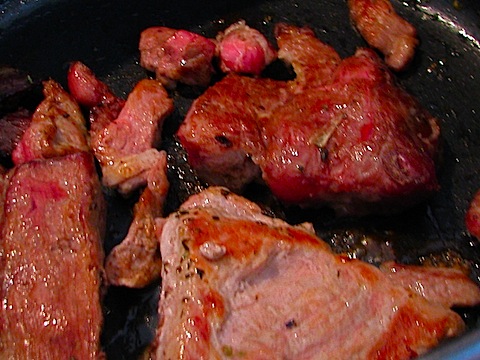 Once the meat is brown, you want to add back the onion mixture, then the crushed tomatoes, basil, and parmesan cheese.
You want to let it cook on low for 2 1/2-3 hours. The meat will naturally fall apart in the sauce.
It was so good I would have eaten it like a bowl of soup!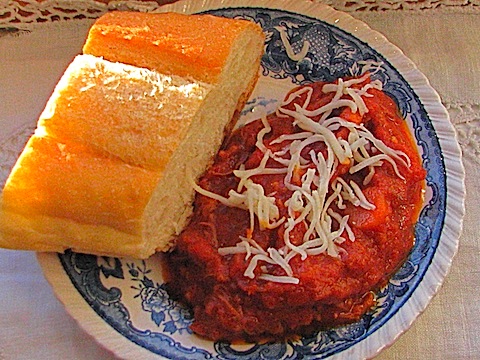 Ingredients:
2 tablespoons olive oil
1 medium onion, chopped
6 cloves garlic, chopped
1 tablespoon Italian seasoning
1 lb pork shoulder
3 – 28 oz cans crushed tomatoes
1 small handful fresh basil
3/4 cup grated parmesan cheese
Directions:
Heat olive oil in pot and cooked onions, garlic, and Italian seasoning until onions are tender. Remove onion mixture from pot and place in separate bowl.
Add the pork to the same pot that the onions were cooked in, and brown though. Once the meat is cooked, add in crushed tomatoes and basil. Cook for about an hour. Then add in parmesan cheese and simmer for an additional hour and a half. The meat should fall apart in the sauce as you stir it.
Add salt and pepper to taste.
Enjoy!
~~~~~~~~~~~~~~~~~~~~~~~~~~~~~~~~~~~~~~~~~~~~~~~~~~~~~~~~~~~~~~~~~~~~~~~~~~~~~~~~~~~~~~~~~~~~~~~~~~~~~~~~~~~~~~~~~~~~~~~~~
Question of the Day?
Have you ever of this "gravy" before? This was my first time hearing of and eating it. After eating this, I will NEVER go back to Ragu again!