Homemade Pizza Crust & Pizza Sauce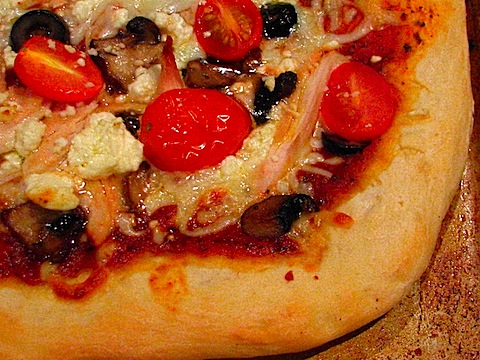 I did it! I finally figured out how to make good pizza crust! Well… good by my standards ;).
My poor husband has suffered through partially uncooked pizza crust, insanely thick and dense crust, and crust so thin it just falls apart.
In case you forgot… my husband loves pizza. You can read all about his love for pizza here.
A few weeks back I purchased some Fleischmann's Pizza Crust Yeast.
I was hesitant to use it. I wanted to use the regular yeast because I wanted to do it right.
I prefer a whole wheat crust, but since I'd messed up so many times I decided to try it with regular flour first.
Even though the package says you don't have to let the dough rise, I stuck in the fridge for a few hours… and boy did it rise!
When I presented this pizza to my husband he was a little worried.
After the first bite… he LOVED it!!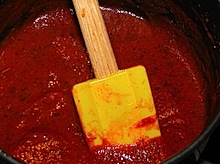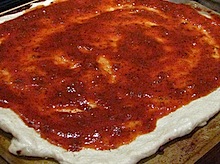 Not only did I score with the crust, but my neighbor gave me a great recipe for homemade pizza sauce.
This was my first time making pizza sauce from scratch…. it was so good!
I doubled the recipe to fit the massive pizza dough I had just made.
At first I thought it was a tad salty, but I trusted the recipe and left it as is.
I'm so glad I didn't change the recipe! Aside from a great crust, the sauce really made the pizza!
Oh, and feta cheese. We love feta cheese in our house and a pizza wouldn't be complete without it.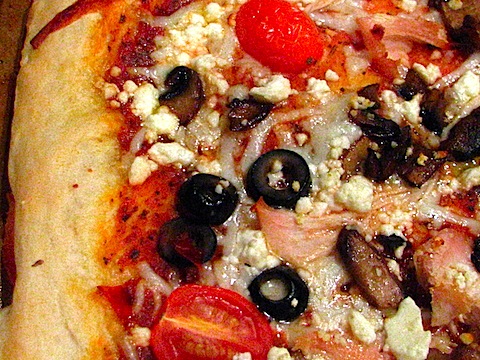 Pizza Crust:
2 cups all-purpose flour
1 envelope Fleischmann's PIzza Crust Yeast
1 teaspoon kosher salt
2/3 cup very warm water
3 tablespoons olive oil
Directions:
Preheat oven to 425 degrees.
Combine flour, salt, and yeast in a mixer with the hook attachment.
Slowly add the water in, then the olive oil. Mix at low speed until a soft dough is formed. The dough will be sticky.
Let it knead in the mixer for about 4-5 minutes.
Take a medium sized bowl and drizzle about 1 tablespoon of olive oil so it coats the inside of the bowl.
Form the dough into a ball and place into the oiled bowl. Cover tightly with plastic wrap and let it sit in the fridge for at least 3 hours.
Once the dough is ready, just shape into whatever shape you like. This works great for a 12 inch round pizza or a big rectangle shape.
Add your sauce and toppings and bake for 12 – 15 minutes. Crust should be golden brown.
Pizza Sauce:
8 oz can tomato sauce
1 1/2 tsp sugar
2 tsp oregano
1/2 tsp garlic powder
1/2 tsp black pepper
1/2 tsp kosher salt
1/4 tsp onion salt
Mix all ingredients and let stand for a while. I made this after I made the pizza dough. While the dough was rising in the fridge, I let the sauce sit. I also doubled this recipe to fit my pizza crust.
~~~~~~~~~~~~~~~~~~~~~~~~~~~~~~~~~~~~~~~~~~~~~~~~~~~~~~~~~~~~~~~~~~~~~~~~~~~~~~~~~~~~~~~~~~~~~~~~~~~~~~~~~~~~~~~~~~~~~~~~~
Question of the Day?
What are your favorite pizza toppings? My favorite is a greek pizza with red onion, kalamata olives, feta, and banana peppers! YUM!