Homemade Pizza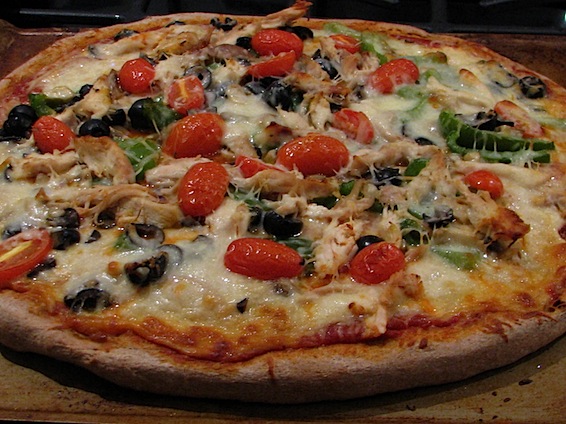 Part One.
My husband recently returned from a business trip in Denmark. He had his share of the local cuisine.
Here is an email I received from him late one night:
So, many lessons learned last night:
If you order bruschetta… it's an english muffin pizza
If you order pizza with chicken… it may also come with peas, onions, mushrooms, and gravy on it, think pot pie pizza
One particular brand of local beer makes me violently ill
will call in morning. love, me
Hmmm, how many beers did he actually have?
Ok, let's forget about the beer thing….
My husband loves pizza. If he could eat it everyday he would.
He's from New York…I think it's in their blood.
So… I decided to make some at home.
This was my first time ever making pizza dough from scratch.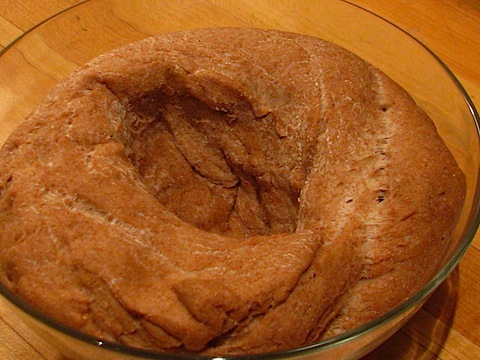 Here's the recipe I adapted from Sunset Magazine:
1 package (2 1/4 tsp) active dry yeast
1/3 cup olive oil
4 cups whole wheat flour
2 teaspoons salt
1. In the bowl of a stand mixer, stir yeast into 1 1/2 cups warm water (100° to 110°). Let stand until yeast dissolves, about 5 minutes. Add 1/4 cup oil, the flour, and salt. Mix with dough hook on low speed to blend, then mix on medium speed until dough is very smooth and stretchy, 8 to 10 minutes. Dough will feel tacky.
2. Cover dough and let rise at room temperature until doubled in bulk, about 1 1/2 hours.
3. Punch down dough and let rise again until doubled, 30 to 45 minutes.
I pressed the dough out on a sheet pan and added sauce, mozzarella cheese, chicken, sauteed bell peppers and mushrooms, black olives, and cherry tomatoes.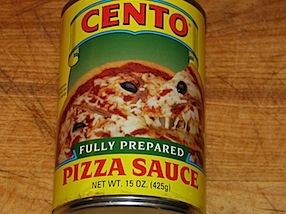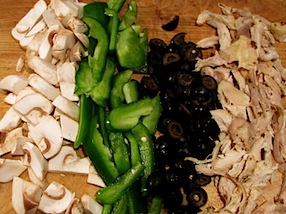 I baked the pizza at 450 degrees for 20 minutes.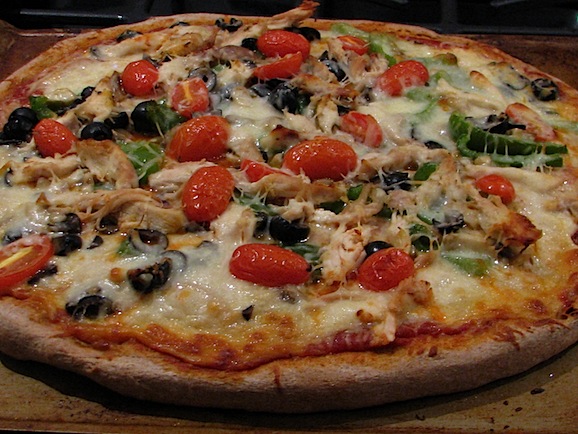 The result… not bad… but not good.
Everything was good but the crust 🙁
What I failed to realize what that the pizza dough actually make four pizzas… oops!
The pizza crust was almost 2 inches thick… like a deep dish pizza. This did not taste good with a whole wheat crust.

Lessons for next time:

Use either whole wheat pastry flour or white flour.
Divide the dough into fours so we're not eating 10 pound pizza slices.
Buy a pizza stone.
Have you ever made pizza dough from scratch?
If you have, do mind sharing the recipe? I've made it my mission to perfect pizza making!
Stay tuned for Part Two.