Irish Soda Bread
I was talking to my brother on the phone the other night.
I told him I was making Irish Soda Bread for the first time.
The first thing out of his mouth was "Does this mean Tim's gonna make you tamales for Cinco de Mayo?" LOL!!
My brother lives in Minneapolis, I live in DC, but both of us were born and raised in Texas.
Born in a Mexican American family… neither of us had heard of Irish Soda Bread until we got older.
I had never heard of it until I met my husband.
I always thought St. Patty's day was just a day you wore something green so nobody would pinch you…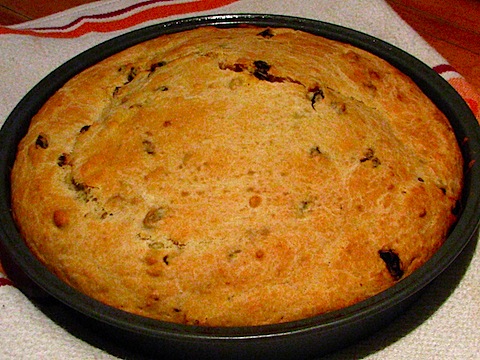 Tim and I started dating in January of 1999 (I know… I'm old). I was a senior in college then.
I remember that year St. Patrick's Day fell on a Tuesday.
He ask me if I wanted to go the local pub and grab a beer with him.
All I was thinking to myself was "Why do we have to grab a beer just because it's St. Patrick's Day?"
I was so naive! I knew nothing!!
Tim is from New York… I'm from Texas… he's Irish… I'm Mexican…
I felt like we grew up in different worlds.
For his family… St. Patty's Day is one of the biggest holidays of the year!
For my family… we wore green so we wouldn't get pinched at school 🙂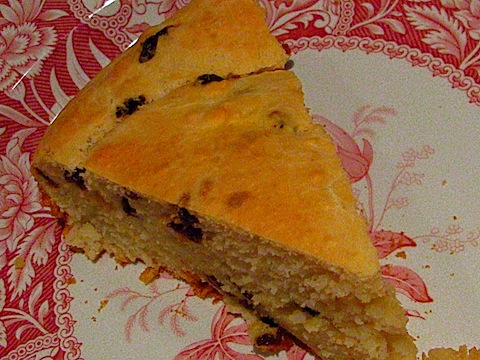 This recipe came from my Irish mother-in-law.
She grew up on this bread… her mom grew up on this bread… and Tim grew up on this bread.
So when Tim asked me to make him some Irish Soda Bread… I knew exactly who to go to for the recipe!
Ingredients:
1 cup raisins
3 cups flour
1 tsp baking soda
1 tsp baking powder
1 tsp salt
1/4 cup sugar
2 eggs
1 1/2 cups buttermilk
3 teaspoons melted butter
Directions:
Preheat oven to 350 degrees.
Soak raisins in about 1 cup of water for 10 minutes to moisten.
Sift flour, baking soda, baking powder, salt, and sugar together… set aside.
In a separate bowl, whisk together eggs, buttermilk, and melted butter. (Make sure melted butter has cooled a little… if its too hot, you'll scramble the eggs.)
Combine the wet ingredients with the dry ingredients. Stir together with a wooden spoon. Drain the raisins and gently fold into dough.
You can use either a loaf pan of a round 9 inch cake pan. Spray with non-stick cooking spray. Spread dough evenly into pan.
Bake for about 1 hour 10 minutes, or until toothpick comes out clean.
Enjoy!