Jogging During Pregnancy
Hola 🙂
Yesterday was a big day in the WB household!
Little Miss M ate yogurt from a spoon… All by herself… And is wasn't a disaster!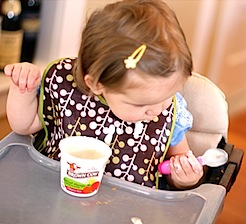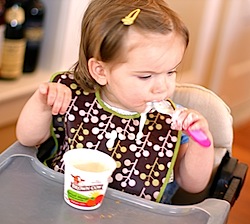 Other than getting a little yogurt on her bib and her mouth… she did great! I was totally expecting her to pick up the container and flip it upside down…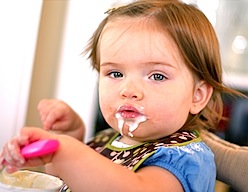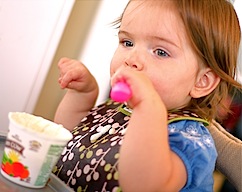 So cute…. I'm such a proud mama 🙂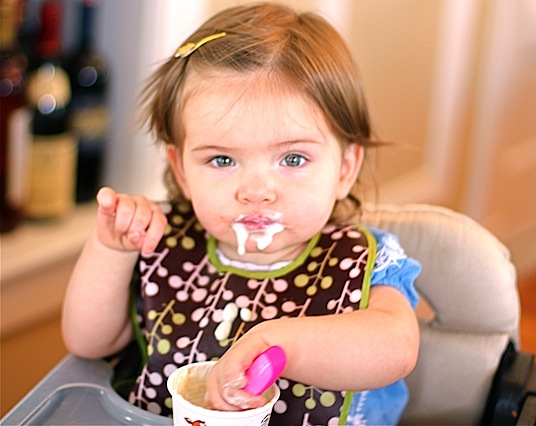 I got my 6 mile run in yesterday…. but it wasn't good. It was one of those runs where I was just glad it was over. You know what I mean… Right?
Since we still have a plethora of zucchini from our garden, I decided to make some zucchini fries.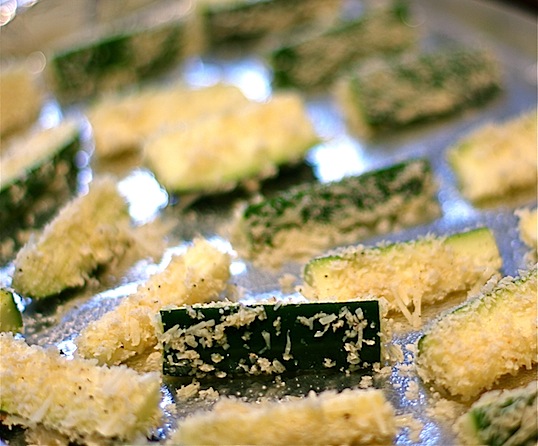 These are so easy and so good! M loves em' too, so its the perfect side for the whole family 🙂

Here's the recipe:
Ingredients:
1 egg
3 tablespoons milk
1/3 cup panko bread crumbs
1/3 cup shredded parmesan cheese
a few grinds of fresh black pepper
1/4 tsp kosher salt
Preheat oven to 450 degrees. Cut zucchini into small wedges or sticks. In a small bowl, whisk together egg and milk. In a separate bowl, mix together the remaining ingredients. Dunk the zucchini into egg mixture, then coat with bread crumb mixture. Place on foil lined pan sprayed with non-stick cooking spray. Bake for 25 minutes or until golden and tender.
These are so good! I like to eat mine with ketchup 🙂
Moving on to the Kiddie Lunch Box 🙂
Pizza Quesadilla and Zucchini Fries!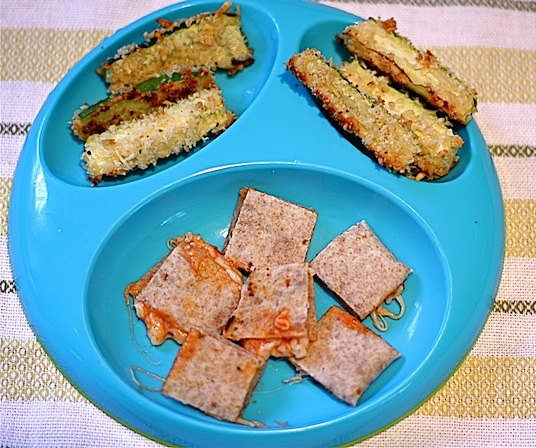 I know I posted a quesadilla on Monday… but the reality of being a mom is sometimes you gotta go with what's quick and easy. I already had zucchini fries made, and I know how much she loves her pizza quesadilla 🙂 She also had a side of sliced strawberries 🙂
Jogging During Pregnancy….
I've gotten many emails asking me if I continued to run throughout my pregnancy and what kind of advice I can give.
I am not an exercise expert, or a doctor, so all I can do is share my personal experience with you. If you are pregnant and would like to continue running, please seek the advice of your doctor before starting.
When I first found out I was pregnant, I asked my doctor if I could continue running. I know of many women who ran up to eight months. At the time, I was running about 30 miles per week… and had been running long distance for close to 16 years (I'm 33 years old). The doctor said I could continue to do what my body was use too, and to use the "talk test" to make sure my heart rate didn't get too high. Right away, I change my workout routine. I ran about 4.5 miles 3x per week. I slowed my pace down and walked any hills that were in my running route. The other days I either walked or did the elliptical. I felt great! I did have morning sickness, but the exercise actually helped. Everything was going great until I was 26 weeks along. Even though I was doing everything right… my small 5'2″ frame couldn't take it. I became at risk for pre-term labor. The doctor down-graded me from running, to just the elliptical. So, I did the elliptical 3-4 times per week for 30-40 minutes. That ended up still being too much for my body. I was down-graded again from doing to elliptical, to walking no more than 30 minutes, 3 times per week. So, without any hesitation, that's what I did. M was delivered three weeks early and was very healthy 🙂
I guess what I'm trying to say is to listen to your body and your doctor. It would've been best for me to completely give up running from the beginning, or at least stop once I hit the second trimester. But who was I to know? And the doctor felt the same as me. If my body was already conditioned for running, then how can it be bad? Like I said before… I know plenty of woman ran up to their delivery date, and felt great.
When you're an avid runner, it can be very hard to give it up… but its not worth risking a pregnancy. Listen to your body. That's the best advice I can give. Its important to exercise and stay healthy during pregnancy… but once you become pregnant… its not about you… its about growing a healthy baby. The way I see it, is that I have the rest of my life to run. After M was born, I was able to pick up running again 🙂 My pace was slower, but after time, I was able to build back up to where I was at before 🙂