Just Call Me Ina…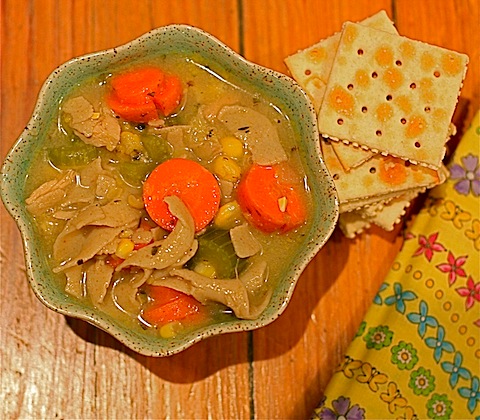 Sometimes I like to pretend I'm Ina Garten. I live in a fabulous house in the Hamptons, I walk barefoot to my abundant garden to cut fresh herbs and flowers, I make the most delicious food, and I have the most fabulous friends who are florists, boutique owners, drive the coolest cars, have beach barbeques, and drink wine with me at my second house. Oh, and I say the word fabulous a lot.
A girl can dream right?
With the fall weather in full force, I was inspired to make roast chicken. I always use Ina's recipe for perfect roast chicken. It does indeed comeout perfect every time!
There's only one problem… I made a seven pound chicken for me, Mr. Weekly Bite, and M.
Enter chicken soup…
This is the easiest recipe for chicken soup!
You're gonna need some chopped onion, carrots, and celery.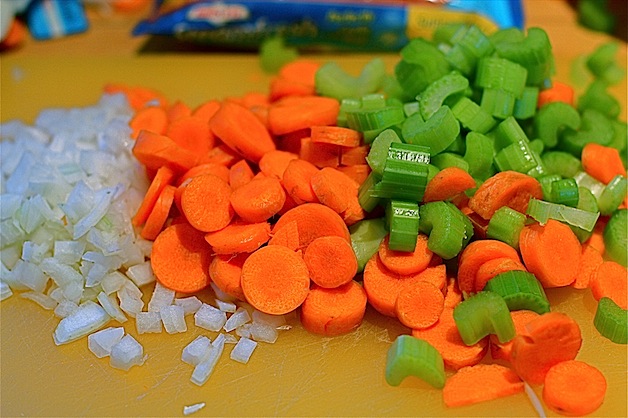 One small bag of frozen corn…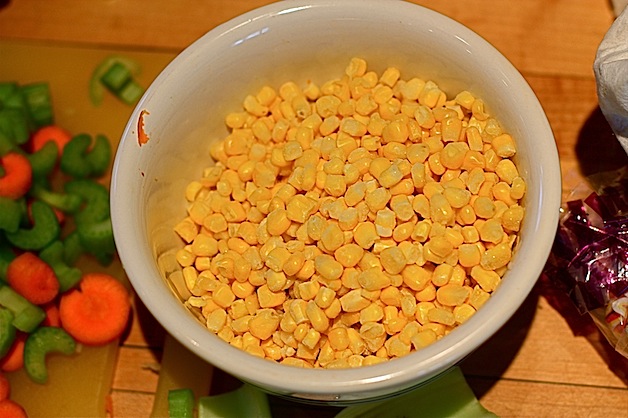 Some whole wheat egg noodles…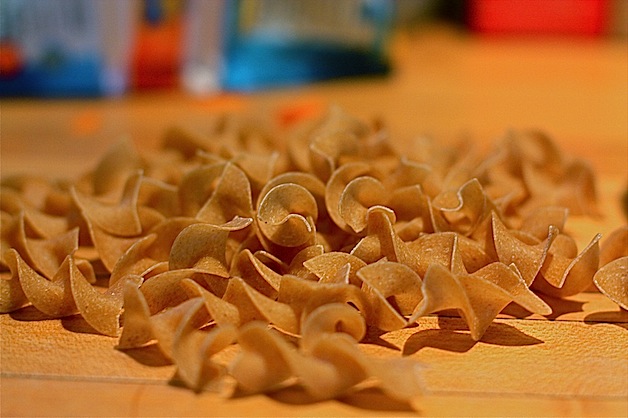 Cooked chicken, and some chicken and vegetable broth.
Heat about a tablespoon of butter in a large pot. Add the onions, celery, and carrots. Saute for about 10 minutes or until the onions are tender.
Add in the corn, chicken, and spices…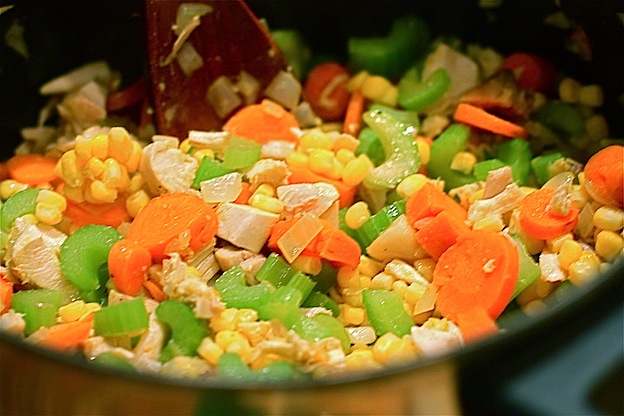 Add in chicken & vegetable broth, simmer and cover for 30 minutes.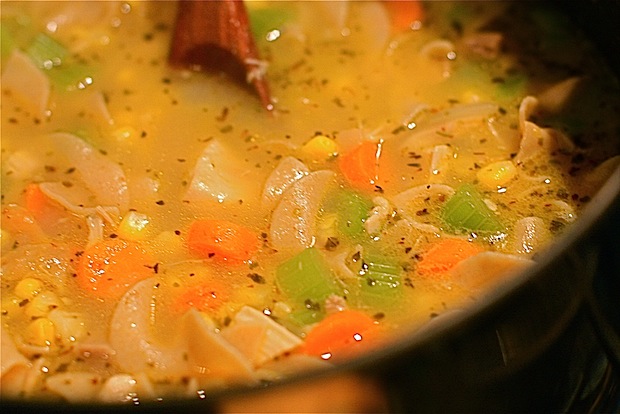 Ingredients:
1 tablespoon butter
1 small onion (chopped)
1 cup carrots (chopped)
2/3 cup celery (chopped)
1 small bag of frozen corn
2-3 cups cooked chicken (cubed or shredded)
4 (14.5 oz can chicken broth)
1 (14.5 oz can vegetable broth)
3 cups whole wheat egg noodles
1 tablespoon dried oregano
1 tablespoon garlic powder
salt and pepper to taste
In a large pot, melt the butter. Add in onion, celery, and carrots. Saute for about 10 minutes or until onions are tender. Add in oregano and garlic powder. Add corn, chicken, chicken broth, and vegetable broth. Bring to a rolling boil. Reduce heat, cover, and let simmer for 30 minutes. Add salt and pepper to taste.
Enjoy with a sleeve of saltine crackers 🙂